Travel Koh Rong Samloem, visitors cannot ignore Saracen Bay – one of the must-see tourist attractions on this island. Most visitors come here on their Cambodia tours to relax in the peaceful atmosphere, but if you are fond of discovery, do not miss our reviews of the top 6 things to do and see on Saracen Bay.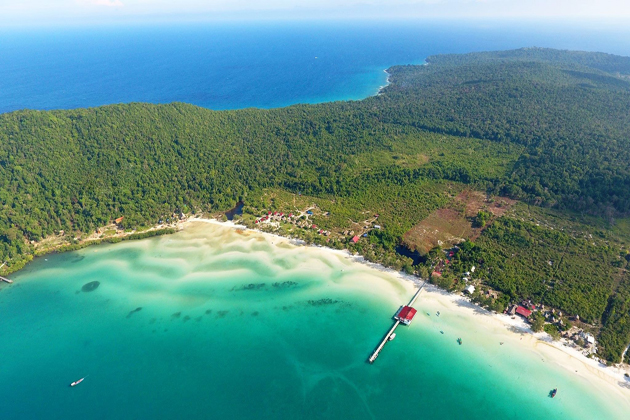 Swim in the Waterfall on Saracen Bay
On the other side of the Saracen Bay, there is a gorgeous waterfall – near the main pier and Freedom Island Resort. Surrounding the waterfall is a mass tropical forest. The waterfall is an ideal place to swim on hot days. With a restaurant and a bar nearby, you can taste the Khmer foods or enjoy a cool drink while beholding the beauty of the waterfall.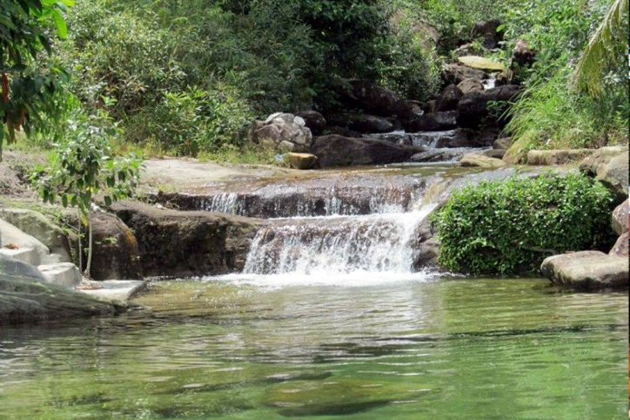 Note: This waterfall tends to be dry in the middle of peak season.
Visit Lazy Beach on Saracen Bay
If you have a separate day on Koh Rong Samloem during your Cambodia trip, we recommend you visit Lazy Beach – a 40-minute walk away from the forest trail. Lazy Beach has recently been voted as one of the top 21 beaches in the world by The National Geographic. So, spending a day at Lazy Beach is a worthwhile trip for your fascinating Koh Rong Samloem excursion. The scenery in Lazy Beach is extremely peaceful and watching the sunset here is a really unforgettable experience.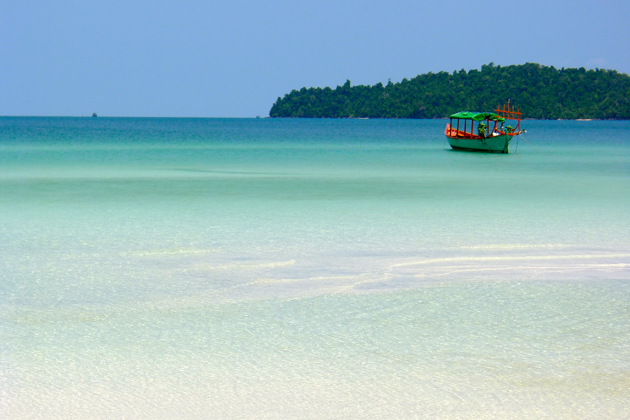 Because tourism has not been exploited much here, the landscape of Lazy Beach still keeps its charms and attractions. However, bars, restaurants, and resorts are available for you to enjoy your best Koh Rong Samloem holiday ever. You can experience underwater activities, or simply walk around the beach and chat with locals to understand their daily life.
Snorkel & Scuba Dive on Saracen Bay
Everyone would like to enjoy and explore sea life when traveling Koh Rong Samloem. Therefore, snorkeling and scuba diving are two of the most interesting activities at Saracen Bay.
Just by going along the beach, you can find the scuba diving and snorkeling center located near the center of Saracen Bay (near Orchid Resort). The best location for diving is at Sunset Beach – west of Samloem.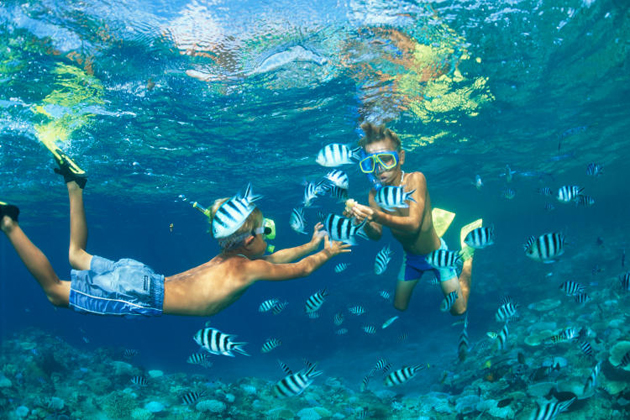 However, please be careful with the black sea urchins. Although it is easy to avoid them, there are many black sea urchins around, and their thorns can be very painful to touch. And remember that if your group has a member who can not swim very well or is not a proficient diver, ask for a life jacket from Lazy Beach, it will be safer for that person and help your Koh Rong Samloem trip more perfect.
Take a Koh Rong Samloem Island Tour
Recently, the boat tours around the Koh Rong Samloem island have become more popular, typically Caribbean Tours, operated by Captain Kem, allowing you to travel around the island, explore beaches, resorts and many other attractions on the island.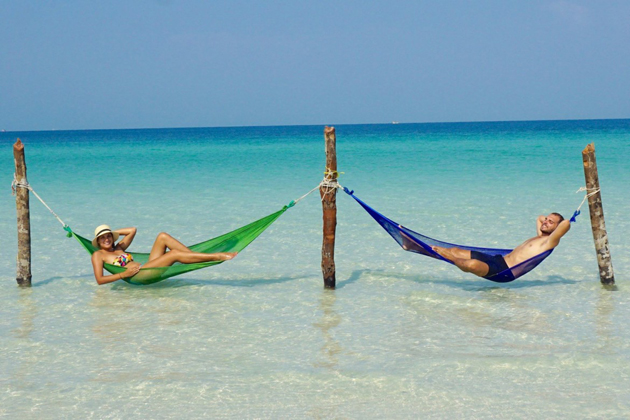 Taking these short tours on Koh Rong Samloem island gives you the chance to stop at any place for diving or fishing. Do not expect modern equipment for your fishing. Fishing equipment is very rudimentary, Khmer people only use a simple fishing rod, but it is enough to catch something for your meal, the restaurant will be happy to cook something from what you caught. Even if you can not fish out anything, it is still great to float on the vast sea by a small boat.
See the Bioluminescent Plankton on Saracen Bay
It is fortunate if you have the opportunity to witness the glowing plankton in Koh Rong Samloem. If you are taking a boat tour driven by locals, they will give their guidance for you to see the bioluminescent plankton. Quickly take photos, touch them to save that great moment in your Cambodia vacation!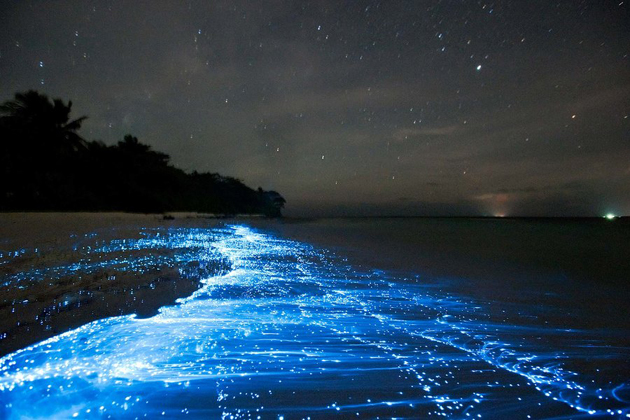 Explore the Lighthouse on Saracen Bay
Opposite the end of the Saracen Bay to the waterfall, close to Paradise Villas and Dolphin Bay Resort, you will find the entrance to the Lighthouse. If you are rich of time, look at the Lighthouse from the top to admire the magnificent scenery of Saracen Bay, Koh Rong Samloem.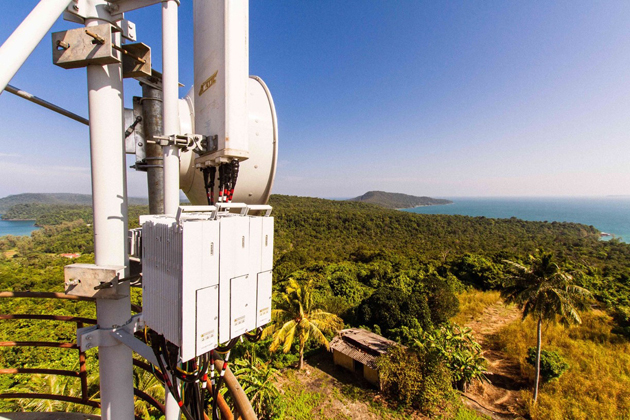 Here are the top 6 most beautiful beaches on Saracen Bay in Koh Rong Samloem, which will be the best suggestion for your Beach Holidays in Cambodia.
Some suggestions for Cambodia beach holidays you may interest: