M'Pai Bay fishing village of many beautiful beaches around is located in the North of Koh Rong Samloem, Cambodia. When the main beach – Saracen on Koh Rong Samloem Island is crowded with tourists especially on holidays, why do not choose M'Pai Bay as your stopover in Cambodia tours? Surely you will find many attractive things no less than Saracen Bay.
M'Pai Bay General Information
We can hear much about M'Pai Bay. For example, this is a beautiful fishing village where anyone who has arrived does not want to leave or a small island of fishermen with an extremely pleasant atmosphere. Traveling M'Pai Bay on Koh Rong Samloem Island, you will have the opportunity to experience the beach activities like most other beaches in Cambodia, such as scuba diving, jungle trekking, snorkeling, and fishing with local people. You also have responsible travel to contribute to the sustainable development of this land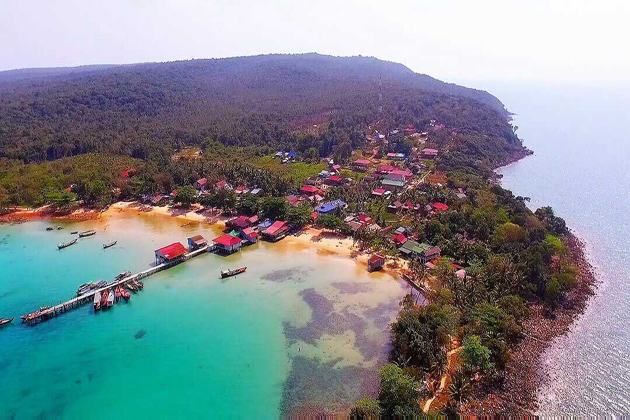 Top 5 Reasons Why should M'Pai Bay be Chosen during your Cambodia Tours
• Many beautiful beaches near M'Pai Bay
• Super cheap price
• Cheap and delicious foods
• The best place for seeing the sunset on Koh Rong Samloem
• The best view of the coral reef
How to Reach M'Pai Bay from Koh Rong Samloem?
It is quite simple to reach M'Pai Bay. Local people on Koh Rong Samloem Island will show you many ways to get to M'Pai, but perhaps the best ways are to take a quick train from Sihanoukville or you can travel from Koh Rong as well as Koh Rong Samloem.
From Sihanoukville to M'Pai Bay: Two-way fare is $22 and there are seven voyages per day from Buva Sea and Speed Ferry
From Koh Rong Samloem (Orchid Pier) to M'Pai Bay: $7/one way and there are 5 voyages per day of Buva Sea
From Koh Rong (Koh Touch Pier) to M'Pai Bay: $7/one way and there are 5 voyages per day of Buva Sea
Reaching M'Pai Bay, quickly, you will understand the charm as rumored of this bay. The village dock where you get off has oddly wooded floors attached to it. As you continue to explore the bay, you will easily see the main road of M'Pai Bay.
Best Things to Do & See in M'Pai Bay
See the Sunset
It is one of the great M'Pai Bay experiences. The two most beautiful sunset views are at the Cliff hostel (from the bar down the stairs) and the rocky left at the pier from the Mango Lounge.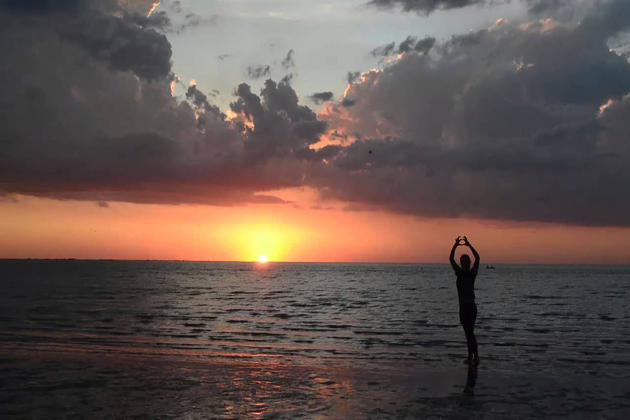 Dive & Behold the Coral Reefs
M'Pai Bay is home to the most beautiful coral reefs in Koh Rong Samloem island. You can see cuttlefish, seahorses, plenty of fish and corals with all colors. You do not need to hire a boat or go for coral reef tours like at other beaches in Koh Rong Samloem and Koh Rong but just go from the M'Pai beach to the old pier alongside the main one.
Trek to Visit Different Beaches
As close to M'Pai, there are many beautiful and unspoiled beaches, so you definitely have to come to take beautiful photos capturing the great moments of your Cambodia tour. The two most beautiful beaches are Clear Water Bay (Driftwood) and Eco Sea Dive, just 15-30 minutes' walk. If you do not walk, you can rent a longtail boat for $5/person/way. Renting full-day boat trips to explore many beaches on the island for $35-50 per boat, which each one can carry up to 20 people.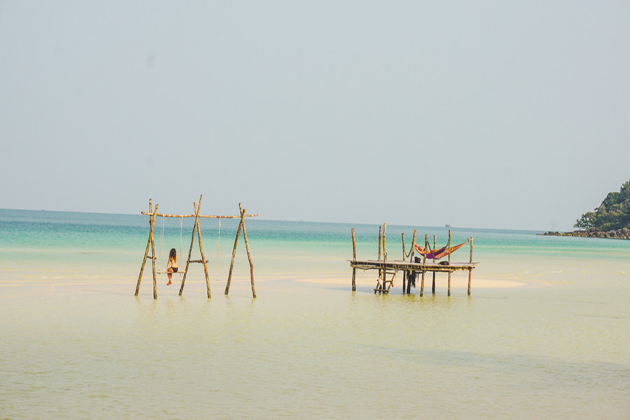 Walk around M'Pai Bay
You can walk, rent a motorbike taxi, or rent a Long Tail Boat. However, it is recommended you walk or hire a boat because the island road is not good for hiking or using motorbikes. Boat rentals cost about $35 per day.
Enjoy the Nightlife in M'Pai Bay
Nightlife in M'Pai Bay is more exciting than in Saracen Bay. There are plenty of bars where cocktails are cheap, especially if you choose the bar at The Cliff hostel, alcoholic beverages here are very cheap.
Accommodations in M'Pai Bay
The motels and hotels in M'Pai Bay are so basic, so they are cheap, but M'Pai Bay is still a great Cambodia tourist destination to stay.
Small restaurants, new guest houses, and bungalow resorts are increasingly springing up in the village. Tourism has not been exploited much but gradually developed.
Cheap Accommodations
Despite the cheap price, these accommodations serve tourists with basic demands and professional attitudes. Names of recommendation are:
The Cliff Hostel
Address: M'Pay Bay, Koh Rong Sanleom M'Pay Bay Village, Koh Rong Sanloem
Tel: +855 12 988 358
Seapony bungalows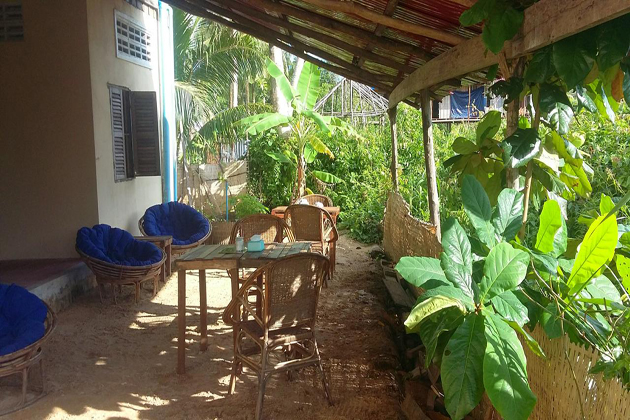 Address: Seapony Lane M'Pai Bai Village, Koh Rong Samloem
Tel: +855 96 546 5916
Premium Accommodations
The state-of-the-art accommodations will give you the best services ever to perfect your trip to M'Pai Bay.
M'Pai Bay Bungalows: the most beautiful bungalow in M'Pai Bay, near the pier, beautiful room with fan, nice bed, very cheap from $25.
Beach House: the only place with air-conditioned, beautiful and clean bungalow, price from $50 or more.
Sunset Bungalows: Beautiful rooms, magnificent sunset view location.
Restaurants 
in M'Pai Bay 
– Khmer, Turkish, or Western?
Fish Hook Restaurant (close to The Cliff Hostel): only $ 8/person with many dishes, seafood grilled, fried vermicelli, buffets cooked by the chefs from Phnom Penh's 5-star hotel s
Seapony guesthouse's restaurant: High appreciations from visitors thanks to mouth-watering dishes and professional staff
Some other cheap restaurants on the right side of the pier have seats right on the beach with foods at reasonable prices. In the village, there are both restaurants serving classic Khmer and Southeast Asian dishes, and Western-style burgers and pasta. One suggestion is the restaurant right on the pier: Babagannus. It serves Turkish delicacies and a family-run, self-catering restaurant serving various buffets (booked in advance) with fresh seafood and local specialties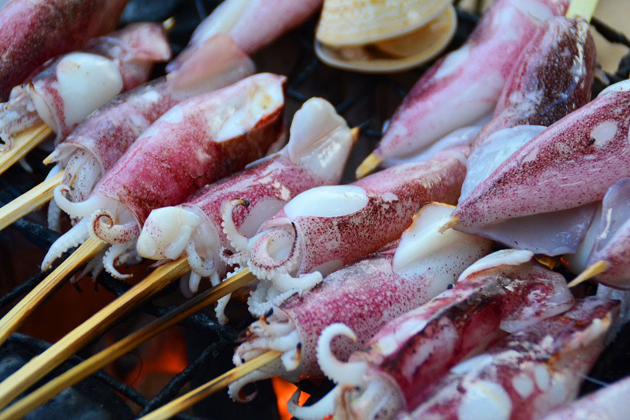 M'Pai Bay is truly an ideal destination if you are looking for a relaxing Cambodia vacation package. With the information we provide, hope that you will have a great Koh Rong Samloem excursion!