Standing Up Paddle Boards is one of the exciting experience that cannot be ignored in Cambodia travel packages. This chance enables travelers to get close to the river and the sea, especially for first-time visitors in Cambodia.
What is Stand Up Paddleboarding?
Stand up paddleboarding, or SUP is one of the famous water sports in the world. In a SUP tour, tourists have a great chance to explore the nearby sea, fishing villages, billabongs, and mangrove forests. The aim of this tour is to offer for travelers to Cambodia a cultural experience with a low impact on the environment, at the same time, it supports the local economy. Through the paddleboarding, it also brings environmental education and recreational therapy to Cambodian youth. In Cambodia, Kampot and Kep are the best places to try this exciting and unique activity for the first time.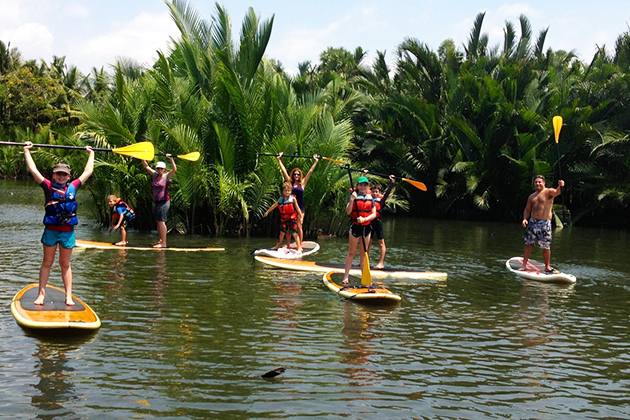 What Can You Expect from Stand up Paddleboarding?
The tour provides up close and personal adventures on many waterways and beautiful sea in the country. Paddle with the Irrawaddy Dolphins on the Mekong, pass through mangrove forests toward pagodas and through floating villages.
At the beginning of the tour, we may have a basic introduction to SUP with experienced instructors and quality equipment. The most popular option is a half-day tour which allows more time on the river and access to super SUP locations in and around Kampot. Every day, the guests will depart Kampot and Kep with the paddle boards. Some places also teach SUP lessons for beginners. Then we may visit a local fishing community and paddle to the sea to learn more about a mangrove conservation project. Besides, we can follow the Kampot river to discover the hidden palm groves and remote locations. The destinations in your half-day tour are based on the number of people in the group, the weather, the tide, and some other factors. However, no matter where you will visit, there will absolutely have an array of paddling and lots to explore.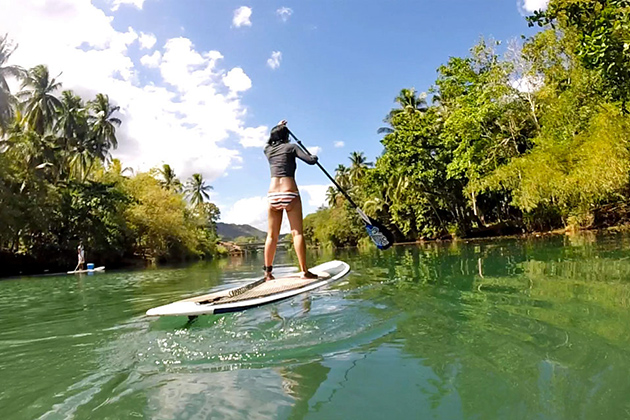 If you don't want to experience with other tourists, the private tours are also available. This type mainly focuses on families and couples who want a more intimate experience without strangers. It is completely possible to customize your own trip. For instance, chilled champagne at sunset, birdwatching, SUP Yoga.
Another option is a 2.5-hour session which combines a lesson and tour with sightseeing and swimming. This tour enables tourists to explore the quiet corners and hidden palm groves in the magical Kampot River. A private session is also available with a group of at least 2 people.
Typical Cost of Stand up Paddle Boarding
The price for a half-day SUP adventure tour is $55 per person, the private tour is $75 per person. For 2.5 hour lessons and tours are $25 per person and the private session costs $45 for each person. So, contact us if you want Paddleboarding to become a part of your Cambodia Itinerary.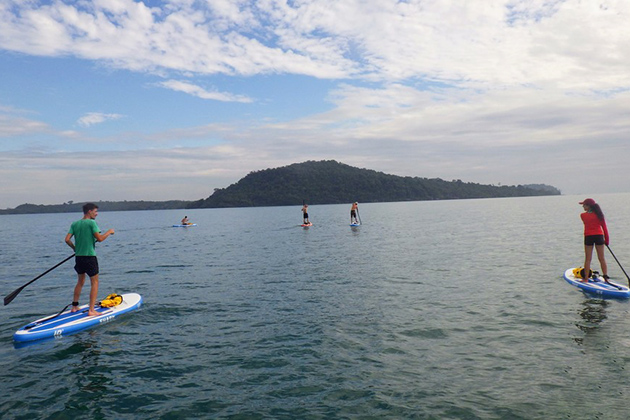 What to Bring?
For the best adventure tour in Cambodia, you should bring a comfortable swimwear and a hat offering protection from the sun. Remember that don't wear bikinis, because we live in a culturally sensitive area and want to be greeted with smiles from the local people, but tank tops and shorts are fine. Don't forget your own sunscreen and a water bottle, life jackets and waterproof camera.