Horror, shudder, and pity the innocent people are feelings remained for anyone who had the opportunity to visit the Toul Sleng Genocide Museum in the capital Phnom Penh, Cambodia. The 4-story building is pretty isolated from the surrounding landscape by the old and lack of human breath, especially without the light and the chilling silence coming in the afternoon.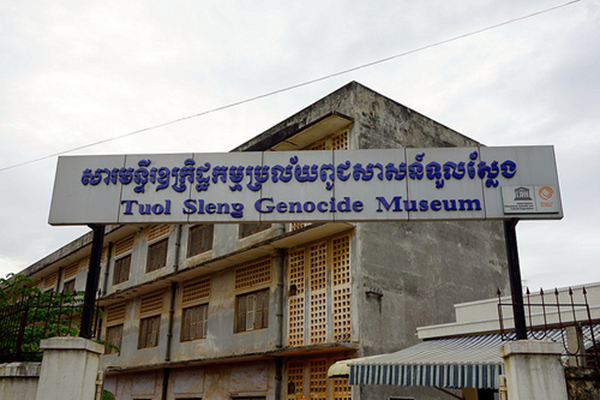 Tuol Sleng Genocide Museum History
"Tuol Sleng", the prison of the Democratic Cambodian administration (commonly known as the Khmer Rouge), is the cruelest prison, marking the genocide of the Khmer Rouge. After the country of pagodas was liberated, Toul Sleng Prison became the Toul Sleng Genocide Museum. This place preserves a lot of documents, thousands of photos of the victims, many of which still are on display as well as the artifacts found after the Khmer Rouge had been controlled on May 01/1979. Former prison on the outskirts of Phnom Penh exposes to light atrocities of the Khmer Rouge leader Pol Pot and honors 17,000 innocent people who were sacrificed here.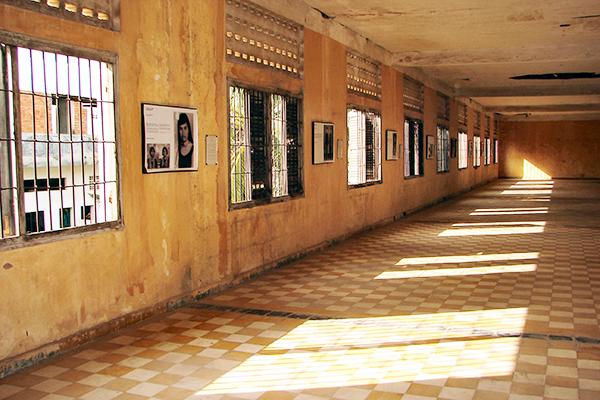 Prior to 1975, Toul Sleng was a high school. When Pol Pot's Khmer Rouge got power, on May 5/1976, they turned this site into a prison and interrogation place called S-21 (Security Office 21). According to the documents that the Documentation Center of Cambodia found, the S21 is designed specifically for interrogation and elimination of the "betrayal" elements.
Toul Sleng has 4 main buildings used as a place for execution, detention, interrogation, and torture. Cambodian society that day was almost destroyed when there were no markets, schools, hospitals, and currency. Religious activity also was banned.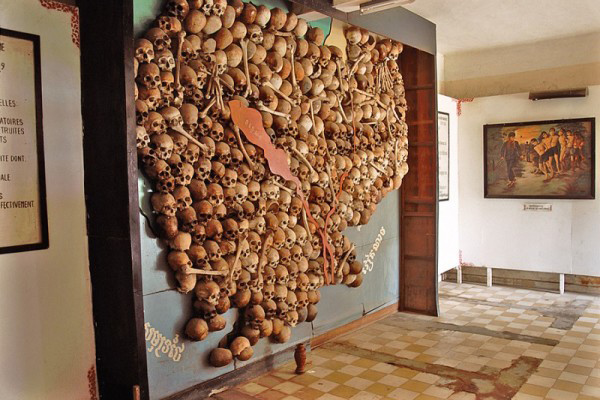 During 4 years, from 1975 to 1979, S21 detained 20,000 people (not including the number of children killed). In which, there were many victims of foreign nationalities such as Vietnam, Laos, Thailand, India, Pakistan, UK, USA, Canada, New Zealand, Australia, but mostly Cambodians. They are all sectors: farmers, workers, engineers, mechanics, teachers, professors, students, and even ministers, diplomats …
Tuol Sleng Genocide Museum Image & Stories
These innocent victims were imprisoned in small cell ranges built of wood, brick, close together without light, the area is less than 2 square meters, feet are shackled with iron chains buried tightly in the wall or floor. For prisoners chained in a large prison cell, their feet were shackled on the short or long bar shackles. All the prisoners had to sleep on the floor. Every day, prisoners must wake up at 4:30 am to prepare for the interrogations. When sleeping, if they want to change positions, the prisoners have to ask the guards. One of the popular forms of torture in S21 is pulling fingernails, toenails; pouring acid on the face, carving chest to drop centipede, using hammers, axes, whip to beat … The prisoners here were tortured brutally, sometimes lasting for months until they had to "confess "or died of exhaustion and disease. After the confession, they were killed savagely.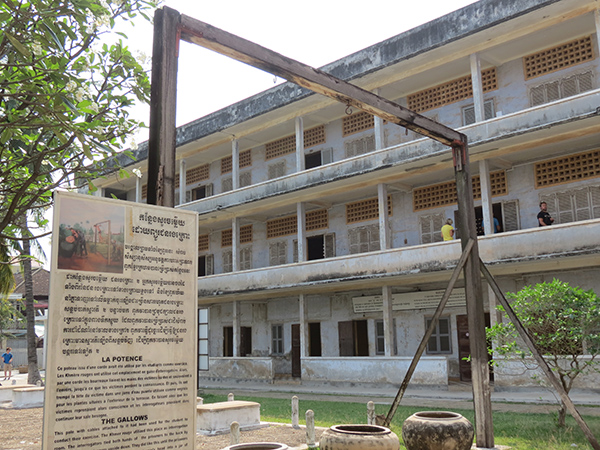 Tuol Sleng Genocide Museum is a trenchant reminder of the appalling crimes that humanity can cause. A visit to this place can leave in the mind of tourists' sadness, however, it is undeniable that this important monument expresses a commemoration of those lives that have gone under the regime of the Khmer Rouge.
Tuol Sleng Genocide Museum Opening Hours & Ticket Price
Opening Hours: 8 am – 5 pm from Monday to Sunday
Ticket price:
Non-Cambodian Adults: $5.00
Non-Cambodian Citizen: between 10-18: $3.00
Audio Guide: Non-Cambodian language: $3.00 (Available in Khmer, English, French, German, Chinese, Vietnamese, Korean, Japanese, Spain, Dutch, and Italian)
Photography for non-commercial, personal, or research use is permitted. Permission is required for any commercial purpose.
Visitors will be admitted only with appropriate clothing. As in many places in the world, Cambodian culture dictates that legs and arms be covered at commemorative and religious sites.