Cambodia has just developed in the recent year mainly due to a boom of tourism. Therefore, it doesn't offer too many options for transportation. Modern vehicles and planes are mostly used by travelers. Below is the list of the most common means of transportation for your consultation.
Getting to Cambodia
 Air Plane in Cambodia
So far, only two airports in Cambodia have been installed international flight routes including Phnom Penh International Airport and Siem Reap International Airport. The first one is the largest airport in Cambodia and the latter is the busiest one since it is set near the famous tourist site – Angkor Wat. With the development of tourism, they open a  new airport, Sihanoukville International Airport, serving for the moving of many visitors to come to the beautiful city. It's freaking convenient to travel between Asian countries like China, Vietnam, Laos, Cambodia, and Thailand from these transnational flights in Indochina tours.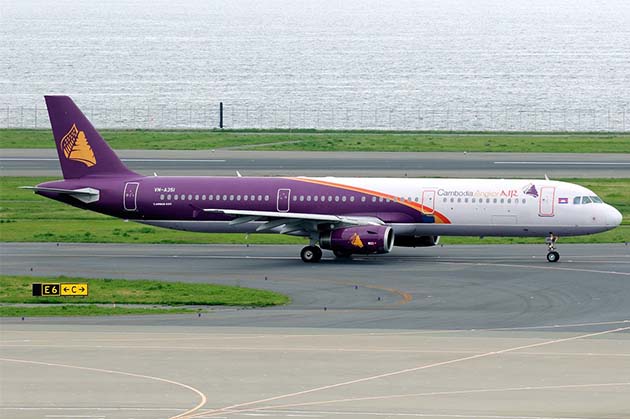 Daily domestic flights provide a quick way to transfer between Phnom Penh, Siem Reap, and Sihanoukville. Cambodia Angkor Air is usually picked. The ticket will be soon booked up in tourist season (November until February) for wonderful Cambodia tours.
 Entering Cambodia by Land
From Cham Yeam, an international border checkpoint in the west of Koh Kong Province (Thailand), tourists can access Cambodia by land. Visa is available.
Getting around Cambodia
 Motorbike in Cambodia
Traveling by motorbike is the common image you can see in Phnom and Siem Reap for the cheap, quickness and convenience. On the adverse side, not all moto drivers are able to speak your language and some of them even try to make a rip-off.
 Travel to Cambodia by Boats
Boats are mainly used for rivers and lakes travel. Many boat trips along Mekong River and Tonle Sap Lake are usually arranged, which offers spectacular scenery along the way. Because there are limited numbers of passenger travel, boat companies are taking the turn to cruise, normally, one company a day.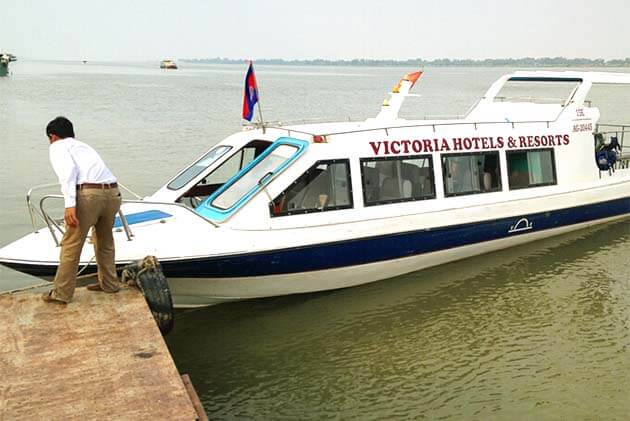 Taxi in Cambodia 
Taxis are available outside the arrival hall of airports. Bringing a map attached to both English and Cambodian will help you a lot. The price from the airport to the city center costs no more than $8. In Cambodia, there are a lot of Taxi Company. Here are some Taxi company you should know:
Uber ride – hail long apps: it's very convenient. Uber has come to Cambodia and the service test in the capital of Cambodia. And Uber is used easily for both foreigners and the locals. Uber accepts cash and credit card payment.
Travel Cambodia by Cyclo
Cyclo might be a spicy way to relish a real Cambodia. If you tend to do a slow city tour, go for it. Remember to ask the price before you get on. However, the cyclo charge is the cheapest price in most of the transportation.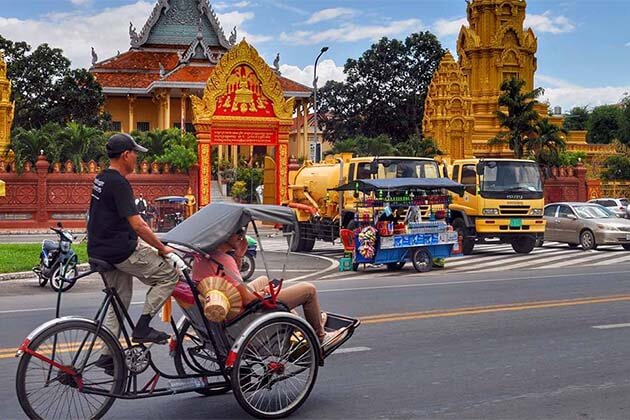 Train in Cambodia
In Cambodia, the royal railway is the most popular which provide the train from Phnom Penh to Takeo, Kam Pot, and Sihanoukville. For each of the train, there are 74 – 76 seats for passengers.
You can buy the ticket at Phnom Penh in Railway Station with cost $6 to Kampot and $7 to Sihanoukville.
Bus in Cambodia
In fact, there is a lot of Bus company in Cambodia between Phnom Penh and other provinces. With the aim to service the passengers, most the buses are air-conditioned and equipped with video TV, Wi-fi. Mostly, the Bus stations are located around Phsa Thmey area and the riverside, where the passenger can find easily. However, they also divided into two types of local buses and city buses.
Phnom Penh City Bus
Nowadays, it's very convenient to travel to the city by Bus which is a municipal public transport system. In Cambodia, the first time they opened to the public in September 2014 with 3 lines. And in 2018, there are 11 lines run throughout the city. The system covers Prek Pnov (North), Ta Khao (South), Chbar Ampov (East), and Special Economic Zone (West), and the plant to stretch still opened in the future.
The daily bus from 5: 30 in the morning until 20:30 at night
Local Buses
During the distance of your journey to Cambodia, you can buy the ticket at the time you go, you can call the number of Bus Company and then they will pick you up. Remember that you should check the place you want to go with the Bus Company to avoid the misunderstanding.