General Information
Duration: 6 Days/ 5 Nights
Start/ End: Phnom Penh/ Phnom Penh
Tour Route: Phnom Penh – Takeo – Kampot – Sihanoukville – Kampong Speu – Phnom Penh
Tour Type: Explore and Experience
Tour Categories: Cambodia Cycling & Adventure Tours, Cambodia 1-Week Itineraries
Tour Customizable: Definitely! (Tell us about your specific requirements in the inquiry form)
Guides: Local Tour Guide (English Speaking Guide or Other Languages upon your request)
Transportation: Bike and Private vehicle
Accommodation: Upon your request.
Brief Itinerary
Day 01: Phnom Penh Arrival – Takeo
Day 02: Takeo
Day 03: Takeo – Kampot
Day 04: Kampot – Sihanoukville
Day 05: Sihanoukville – Kampong Speu
Day 06: Kampong Speu – Phnom Penh Departure
Day 01: Phnom Penh Arrival – Takeo (D)
Your adventurous tour will start by cycling from the vibrant capital city Phnom Penh toward south out on Norodom Boulevard to Takeo. On your way on National Road 2, there are full of food and drink sellers like sugar cane juice and tuktuk (mixed shake fruit juice) vendors. On weekends, when people head to the seaside, the road can be busier than usual. Reach Takeo in the afternoon and the tour guide will take you to the hotel arranged before.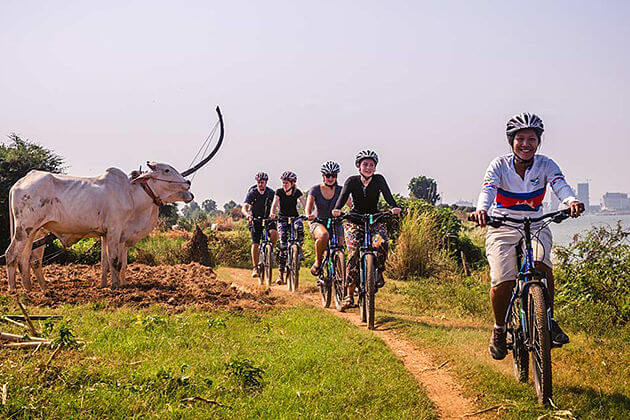 Day 02: Takeo Tour (B, L)
Spend the morning to visit Phnom Da, Ta Mok's House and Angkor Borei Archaeological Museum with your mountain bike. Stop at Chhuk to have lunch with its choice of a few food stalls and restaurants.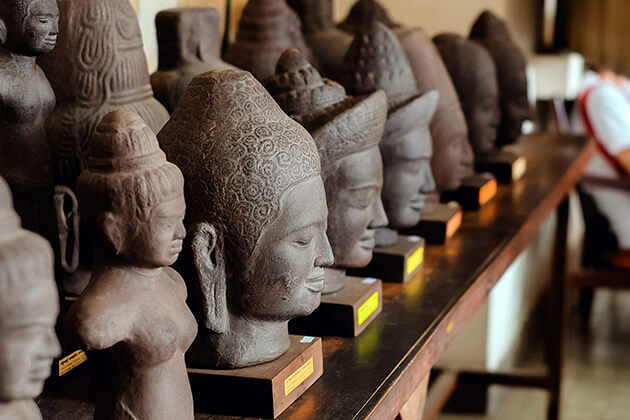 In the afternoon, following a small crossroad to reach National Road 3, turn left once to the main road. En route, you can easily find something to eat and drink. You will go through several Muslim villages with very noticeable from the change in the dress of the locals.
Day 03: Takeo – Kampot (B)
Arrive in Kampot and check in your hotel. Around the town, you may find the usual choice of street food and tuktuk stalls. We highly recommend a man on the riverfront who does a roaring trade in fried vegetarian noodles with the price just around 4,000 Riels.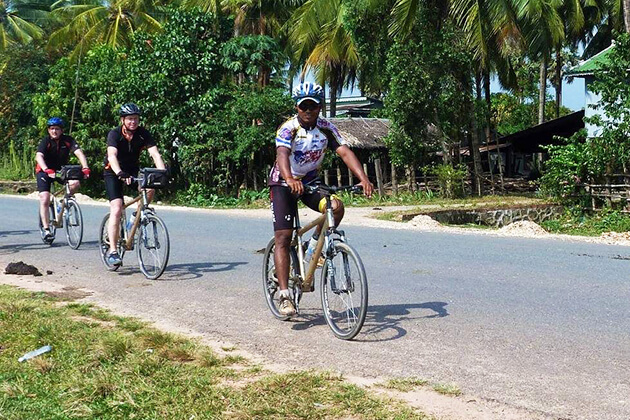 If time permits, you can stay in Kampot and do a loop out to Kep for the day. It would be a great idea to cycle out to some waterfalls 7km from the town on the opposite side of the river, a famous picnic and swimming spot with locals.
Day 04: Kampot – Sihanoukville (B, L, D)
This will be the most exciting part of your adventure cycling tour, even in the rain. The road is in superb condition with a paved shoulder until you reach the junction with National Road 4 toward Sihanoukville. Stop at the little fishing ports where can make fantastic pictures and keep an eye out for shrimp drying by the side of the road.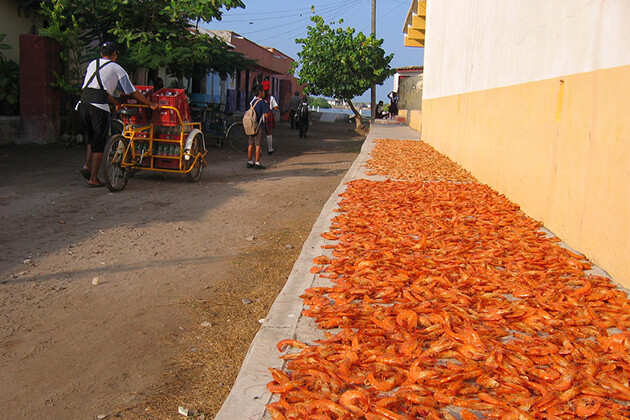 Turn left onto National Road 4 in Veal Renh Town. If you find something to eat, look for a Chinese restaurant on your right when you turn from National Road 3 onto National Road 4, where you can get a tastily fried noodle. On your way to Sihanoukville, there are a few sizable hills and no shops, thus, ensure that you bring enough water. In the high season, you should stay near the beach for the attractive option, but in the low season, it is better if you stay in a town where more things are open.
Day 05: Sihanoukville – Kampong Speu (B, L)
Continue your itinerary by leaving Sihanoukville, cycle over the hills and back to the junction town of Veal Renh. Traffic has potential to be heavy on National Road 4, therefore, be careful with what is coming up behind you and feel free to pull over onto the dirt shoulder if vehicles are coming in both directions. After farewell Veal Renh, go through some palm oil trees and after the first few villages, there's very little to eat or drink. Enjoy a cup of cold drink and snacks when you see them because it will be a long distance to get another chance to buy them. The town of Stueng Chhay is an ideal place to stop for lunch, with several restaurant and street stalls.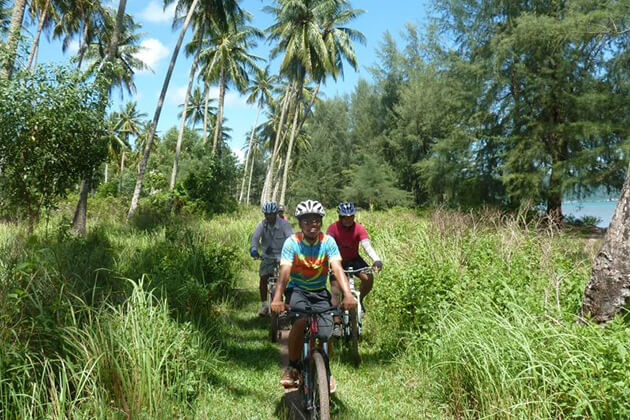 The town of Chamkar Luong, 86km from Sihanoukville, offers food and drinks. Continue down the road where you can see huge signs for the Picnic Retreat with bungalows costing $10 and a restaurant that is outrageously priced, so it would be better to bring your own dinner and breakfast as there's nothing around the resort. Out of the resort, there is the road climbs to a peak where are many shrines to offer prayers.
Day 06: Kampong Speu – Phnom Penh Departure
From Kampong Speu there are three clustered together when you exit the town and head to Phnom Penh or carry on into Phnom Penh for a long day. Follow the National Road 4, takes you down to the riverfront. Then keep going straight and come back to the capital Phnom Penh in the late afternoon and end your trip.