Cambodia Itineraries 1 Week | Cambodia Tours & Travel in 7 Days
If you intend to a Cambodia Tour and have not planned where to go, what to do and see in this stunning homeland – a hidden gem in Southeast Asia, followings are a recommended itinerary for you.
Within 7 days itineraries in Cambodia, you have a chance to take a look at the diverse history, the quaint temples, various cuisines, pristine beaches, and islands, to friendly people and lively nightlife. Here, we suggest to you the Itineraries in Cambodia in a week, which will lead you to the best highlights in Cambodia!
Cambodia Cycling & Adventure Tours
Do not hesitate if you want to have a true Cambodia Adventure tour. Spend one week exploring all of the Cambodian spotlights including amazing sightseeing and interesting activities. Become an adventurer to unlock the hidden charms of this gorgeous country. With 7 days tour package in Cambodia, let's enjoy the majestic landscapes in Cambodia.
---
Top Cambodia Itineraries in 1 Week:
Phnom Penh – First Destination in the Itinerary
Phnom Penh, the vibrant chaotic capital of Cambodia, is a center of religion for all Cambodians to practice. There are thousands of charming destination could make your days. Flights arrive at Phnom Penh International Airport from Singapore, Hong Kong, Hanoi and other regional air travel hubs in Southeast Asia.
Accommodation in Phnom Penh
For the reasonable prices, you should find the city's cheapest hotel on the street around Sisowath Quay, near the Riverside area. If you look for higher-end hotels, it will be available in Boeung Keng Kang 1, former French colonial part of Phnom Penh.
Phnom Penh Nightlife
After arranging accommodation and taking a rest, it will be able to enjoy the nightlife in the city. Starting off the night early is really attractive, especially in happy hours. Between 5 p.m and 7 p.m, if you like a cup of beer at the super cheap price, which is just around 50 cents, head to Street 51 and the riverside area. From 4 p.m to 9 p.m, the hotel's swanky Elephant Bar is a great deal with the cheapest price starts at $12. Or if you are interested in the capital hip crowd, go down Bassac Lane, a vibrant alley, located in Street 308, where is a home for a cute collection of boutique bars and diners. Before you hit your bed, Street 51 and Street 172 outside Pontoon offer many kinds of food carts, burgers, fries, rice dishes to soak up the booze that enables you to have a better sleep.
Phnom Penh Attractions
For your second day in Phnom Penh, a trip to the Royal Palace is a great start. Being one of the most splendid architectural achievements in Phnom Penh, Royal Palace attracts a large number of tourists with some spectacular buildings which serve as the royal residence of the king of Cambodia. The Palace is divided by walls into 4 main areas: the south side is the Silver Pagoda, the north side is the Khemarin Palace, the central compound contains the Throne Hall and the west side is the Inner Court. To the north of the Royal Palace, it is the National Museum. If you have a passion for history, you cannot ignore this site. This is one of the world's largest collections of Khmer art such as sculptural, ceramics, bronzes and ethnographic objects. The museum includes more than 14,000 items from prehistoric times to periods before, during and after the Khmer Empire. Tuol Sleng Genocide Museum is a former high school converted into a prison and hiding camp under the Khmer Rouge era, now it is a historical museum. This site has 4 main buildings A, B, C, D. Building A holds the large cells where the bodies of the last victims were discovered. Building B contains numerous galleries of pictures. Building C consists of small rooms for prisoners. And Building D keeps the memorabilia including instruments of torture.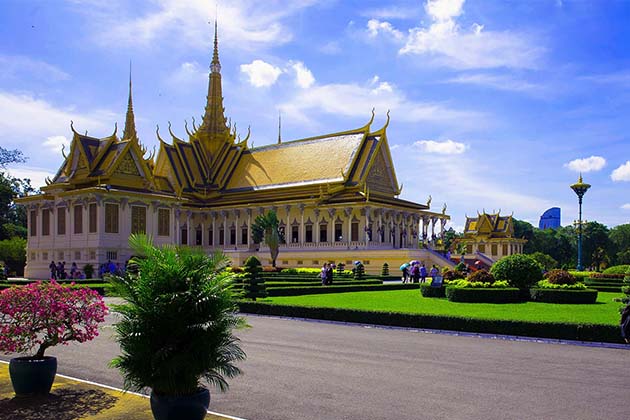 Central Market is one of the best attractions to shop for souvenirs, cheap clothes, and accessories, however, bargain to get the best prices. Inside the market is a dazzling display of jewels and gold, electronic goods, stationery even secondhand clothes.
Siem Reap – the Second Destination to Highlight Your Cambodia Itinerary 1 Week
Traveling to Siem Reap
Definitely! Siem Reap and Phnom Penh are 2 destinations cannot miss in
Cambodia Tours
. There are two ways to get to Siem Reap from Phnom Penh: by plane or on a minivan along National Highway 6. It depends on your budget. If you are clinking with plenty of money, you should fly there, it is absolutely the fastest way. A flight would leave frequently from Phnom Penh International Airport, taking about 45 minutes. In contrast, if you travel on a strict budget, the minibus is the cheapest way. It will take 5 to 6 hours at a cost of $8 to $10 for a ticket.
Explore Siem Reap
After arriving Siem Reap, tourists should spend a day to explore the township of Siem Reap. Walk along the river, visit temples, relax in a spa and enjoy impressive traditional Khmer cuisine. You may even expect to register for a Cambodian Khmer cooking class to gain a memorable experience. When the mantle of night fell into the city, explore the Angkor Night Market and pub street is also a good idea. But you should not stay out too late. An early night is highly recommended before exploring Angkor Wat. Angkor Wat is a temple complex in Cambodia that combines two basic plans of Khmer temple architecture: the temple-mountain and the later plan of concentric galleries. Angkor Wat faces to the west, hence, tourists head to Angkor Wat so as to enjoy the spectacular sunset. Focus on the lake instead of the sky, with the extremely intense colors, the reflection of the temple and the cloud into the water is stunning. Watching this beautiful moment at Phnom Bakheng or the Terrace of Srah Srang is the best view with the sun over the forest. For that reason, tourist should visit Angkor Wat from 5 a.m for welcoming the dawn and 5 p.m for waiting for the dusk. From Angkor Wat, move on to the ancient city of Angkor Thom to see the Bayon with numerous smiling face sculptures which may watch you from all direction. The most convenient way to see all the park is on a private tuk-tuk tour which is available for the day from $12 to $15. Or you can walk through Angkor Thom.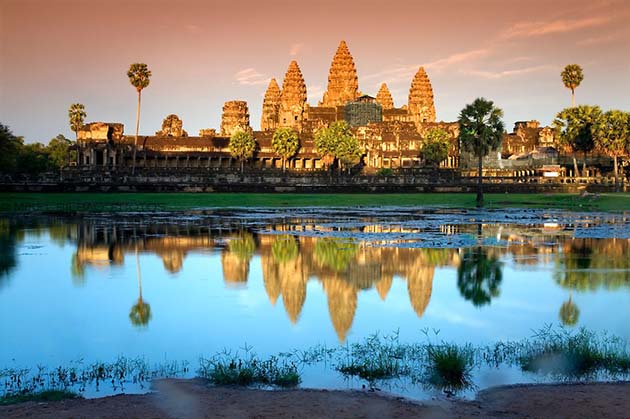 After visiting Angkor Thom, go across the moat to see Takeo – five-level pyramid temple which is built by using sandstone blocks reaching around 40 meters above ground level. Last but not least, Ta Prohm, a Bayon-style temple, is the so-called Tomb Raider Temple. Ta Prohm is covered in dappled shadow, its crumbling towers and walls locked in the slow muscular embrace of vast root systems. It is obvious that the most atmospheric ruin at Angkor, it should be lying on the hit list of every tourist.
Plan Itinerary for Sihanoukville as the next Destination in Your Vacation
Sihanoukville beaches are considered as the Maldives of Cambodia.
With a 1-week itinerary in Cambodia
, you should spend one day and night exploring Sihanoukville for yourself. Hire a bike at price $5 and head to Otres Beach and Independence Beach which are the main attraction in Sihanoukville. Besides, Ochheuteal Beach and Serendipity Beach will be also stunning landscapes to explore. Wat Leu temple is the iconic Buddhist pagoda in Cambodia. The most special point is the three-headed carved white elephant, a statue of the Lord Buddha decorated with gold and giant black.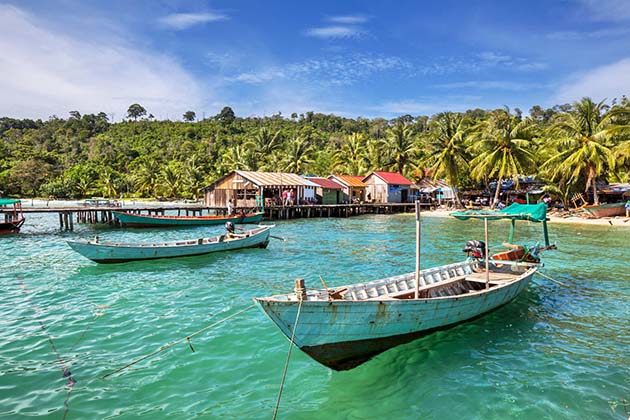 Kbal Chhay Waterfall is 14 meters high, which can be best viewed during the wet season in Sihanoukville, which is between July to October. The location of the Kbal Chhay Waterfalls is also a common picnic destination besides a picturesque sight. Starfish Bakery and Café, which is an ethical non-governmental organization supporting the local community, which provides both fresh produce and opportunities to disabled people working on programs to improve healthcare, housing, and business in the local areas. The Golden Lions Roundabout is the place that you cannot ignore when visiting Sihanoukville. This spot is an iconic landmark in this province. The special characteristic about this attraction is a lion and a lioness covered in gold-yellow paint sporting that shows scary faces and unrealistic proportions.
Kampot – the last Destination in the Itinerary
Kampot, the riverside town, with the streets overwhelmed by dilapidated shophouse architecture. Thus, it is not strange when tourists become fascinated with Kampot. Its dreamy quality, as if someone had hit the button a few years ago and the entire town had forgotten to wake up. The Kompong Bay River, an estuary, to be exact, rises and falls with the moons, serves both attractive landscapes and water sports for guests staying in boutique resorts and backpackers.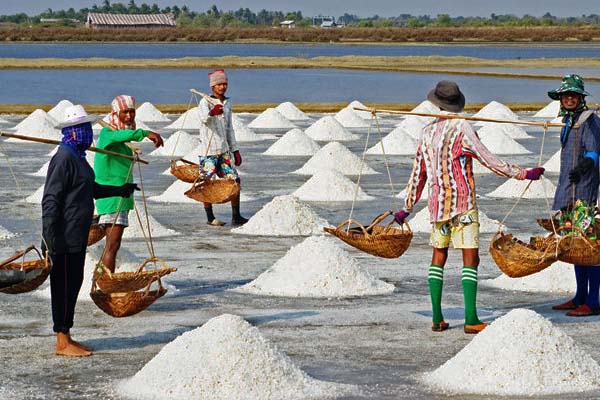 Handicraft in Kampot
This town is well-known for the handicrafts made of the seashells and corals. They are sold along the beaches and very popular with travelers. They wash the coral until it is absolutely white, and sold on the beach to the local and foreign tourists. Due to the fact that coral is increasingly disappearing, the environmentalists do not encourage tourists to buy this kind of souvenirs.
What to Do in Kampot
Tourists often stay a few kilometers out of town at one among numerous guesthouses in peaceful locations on the river. Stand up paddleboarding, kayaking and swimming off are enjoyable, which are the favorite outdoor activities. Many guesthouses can also provide guided trips on wooden longtail boats down the river. Even you would like to take a sunset and firefly river cruise on larger boats, it is available. As you probably know, Kampot is home of salt and pepper, hence, visit the Salt Fields and a Kampot pepper farm are great. The Salt Fields are just outside of town, where the sunrise is spectacular scenery. Towards the beach town Kep, a large number of pepper plantations that produce some of the best pepper in the world. There has even a free pepper tour getting good reviews from travelers.
Recommended Itinerary for 1 Week in Cambodia
Day 1:
Phnom Penh arrival
Day 2:
Phnom Penh city tour
Day 3:
Siem Reap: Angkor Wat
Day 4:
Siem Reap: Angkor Thom
Day 5:
Day trip and activities in Siem Reap
Day 6:
Sihanoukville
Day 7:
Kampot – Trip ends