Cambodia Cycling Tours – Cambodia Cycling Adventures
Cambodia Cycling Tours aims to take tourists to see the real Cambodia and Indochina region. Most of our cycling routes are off-road and back roads to enjoy the countryside, the villages, local people to experience their cultures and their wonderful smile children.
If you are an adventurous person, you cannot ignore our Cambodia Cycling & Adventure Tours in which you may experience exciting things. Prepare for a unique adventure loaded with ancient sites and breathtaking beauty in case you may be astonished by what we can offer. Discover this stunning homeland by biking tours around the countryside, climbing to the interesting mountains, or trekking into the jungles. All of this will be combined into one Cambodia adventure tour package.
Go Cambodia Tours carefully designed and newly develop cycling routes for fun and enjoyment to suit all levels of cyclists. Our team has always worked hard to develop new products for our clients. Booking Cambodia cycling & adventure tours with us, ensure the best travel service, enjoyable off the beaten track, authentic Cambodia. If you cannot find any Cambodia tour packages that suit your need and interest, don't hesitate to let us know your ideas, we will help you to create your own trips in Cambodia.
Cambodia Cycling & Adventure Tours
Welcome to Cambodia! the land is known for its incredible scenery, fantastic food, and unique culture. During this 9-day tour to Cambodia, we bring you a great experience, in which you can just enjoy the beautiful scenery and join in some serious outdoor adventures such as hiking, cycling, and kayaking. What's more interesting when participating in the interesting experiences in Cambodia. Take your backpack and follow us!
---
Top Cambodia Cycling & Adventure Tours
Top 10 Amazing Adventure Activities in Cambodia
Many flocks to Cambodia for the prospect of witnessing spectacular temples, timeless ruins, undisturbed beaches and to experience its rich cultural heritage. But not many people know that Cambodia has amazing activities for visitors because it has beautiful landscapes to captivate visitors. From cruises, passionate about water sports, swimming with elephants, riding on temples on bicycles, to the unstoppable shopping adventure, there, a promising adventure awaits. Every visitor to this ancient kingdom. In fact, with so many things to do in Cambodia,
Go Cambodia Tours
will offer you the top 12 amazing adventure activities list in
Cambodia Adventure Tour Packages
chose by the adventurous lovers.
1. Cycling - Discover Siem Reap
Considering that Cambodia is all about lush greenery, pristine temples, and a tranquil, relaxed atmosphere, tourists want to keep it that way as they explore it. Therefore, bicycle trips are a convenient way of visiting and are one of the most popular things in Cambodia for backpackers. Walkthrough the tranquil countryside trails amidst spectacular natural surroundings that allow you to escape the crowds and busy roads These tours often include Ta Prohm tours, rooftop elephants, Bayon and other famous temples of Angkor. Discovering this wonderful country by bike is one of the interesting things in Cambodia.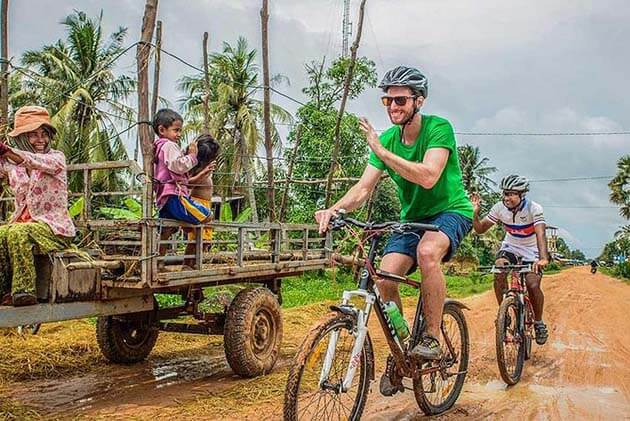 2. Cruises - Watch Dolphins and Sunset
Cruising on the Mekong River is one of the most interesting experiences for visitors coming here. Sailing from Phnom Penh to Siem Reap on a traditional Cambodian boat is one of the most interesting and richest things to do in Cambodia. Other than the relaxing journey, the beautiful view of the sunset that one can witness from the train is like a cherry on the cake! On the journey, one can also easily spot the Irrawaddy river dolphins in the water, the rarest underwater mammal. Observing these peaceful, friendly creatures in their natural habitat is one of the new things to do in Phnom Penh.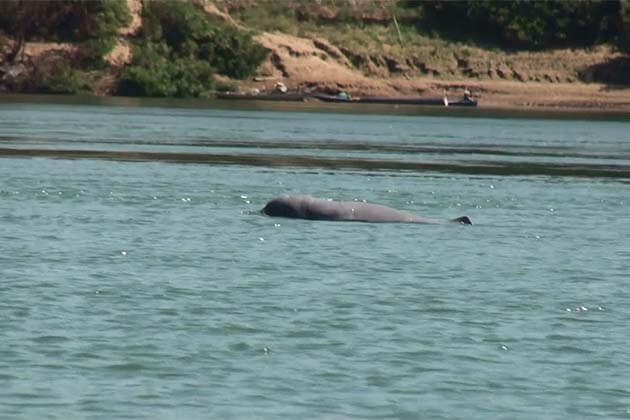 Talking about the most popular destinations in Cambodia, we cannot ignore Tonle Sap Lake in Siem Reap. The best way to discover this Great Great Lake is by cruising to enjoy the fascinating life of people living in floating houses along the lake and earning a living, raising crocodiles and creating souvenirs. for sale in the floating market. The flora and fauna around the lake are also truly stunning, with the rich biodiversity of fish, birds, reptiles and other mammals.
3. Zipline
This can make your heart race and your blood keep pumping, which means it is awesome. Zip-liner may look a little confusing to some, but really, it has a high level of security and comes with clear instructions. It is not simply an outdoor fun but also helps improve strength, athletic skills, and self-esteem. This is not a bad way to explore the Angkor forests and complexes, as tourists can gather lots of interesting things along the stream while experiencing the chill feeling.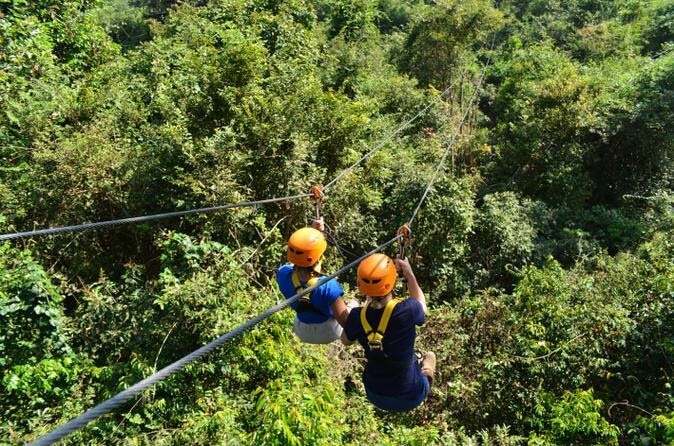 4. Quad Biking
This entertainment may seem a little rough at first, but in fact, it can be fun for individuals, small groups and even families; and it's safe because Cambodian service providers will give you professional instructions and mechanics to accompany each team. Discovering terrain roads, rice fields, forgotten temples and life in the local community in a four-wheel bike is not an ordinary experience you can find it anywhere. In case you still feel hesitant, all bicycles are fully automatic making them easy to ride and use. Enjoy the feel of an action movie and a while in your Cambodian adventure!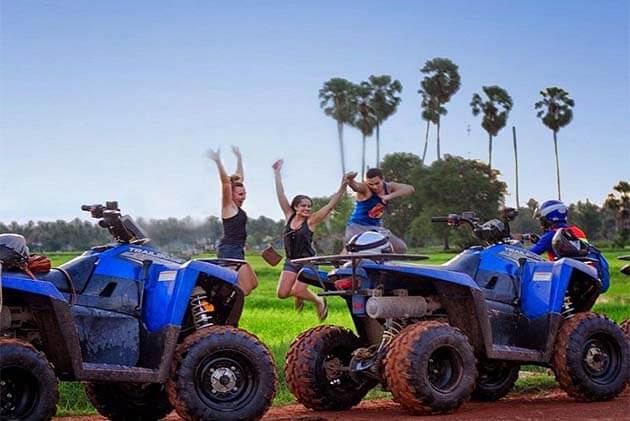 5. Swimming with Elephants
This is one of the weird things to do in Cambodia. The Elephant Valley Project at Mondulkiri is a group of passionate, passionate, dedicated individuals dedicated to caring for and preserving abandoned, injured, overworked orphans. Known as a place where elephants become elephants again, EVP feeds, protects and provides shelter for elephants. Tourists can come here with reservations to have the opportunity to be with these gentle, lovely creatures. Visitors can play and swim with these elephants, which is better than riding them and adding to their misery.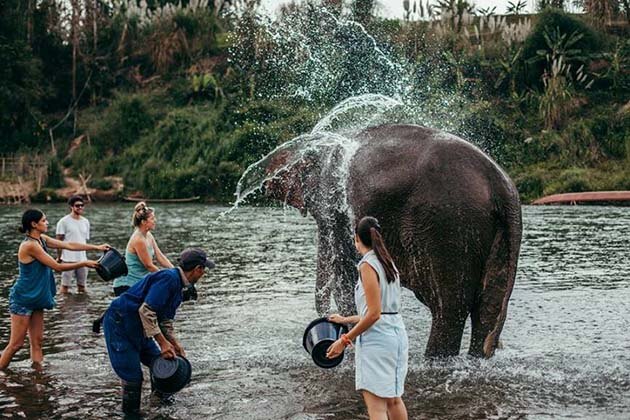 6. Diving under the Sea - Explore the World below Sihanoukville
The beauty of Cambodia is not limited to what one sees on the surface, but also in the vast, vibrant world below. Sihanoukville's diving destinations are blessed with clear water, favorable water temperatures, colorful corals and a variety of marine life including seahorses, whale sharks, stingrays, eels, snakehead fish, barracuda, nudibranch, starfish, and many more. Adventure seekers around the world find diving to be one of the most interesting things in Cambodia. With a favorable climate all year round for diving, except for a little visible during the monsoon, the sea of Cambodia attracts divers from around the world every year.
Best time to dive in Cambodia:
November to May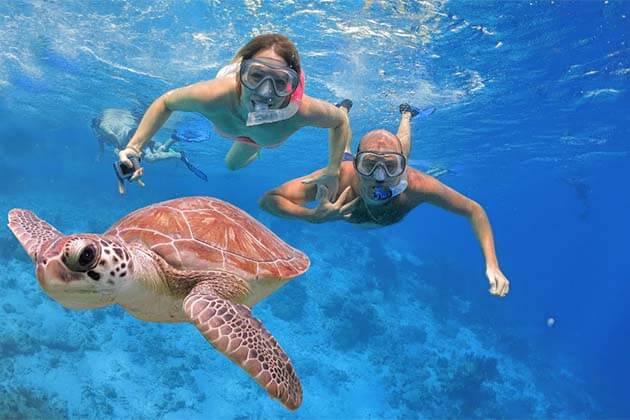 7. Visit Killing Cave - Battambang Bat Cave
Located at the foot of Sampeou Mountain is Battambang Bat Cave. Also known as Killing Cave, this is one of the most tourist attractions in Cambodia and also one of the most unique things to do in Cambodia. Because bats are nocturnal birds, they leave the cave at night. So many tourists come here to watch bats fly out of the cave to nearby trees and branches. The scene is interesting and lasts about 40 minutes. But it is safer to leave this place for 10 minutes. Some bicycles will pull you up the hill and back.
8. Phnom Tamao Wildlife Rescue Center
People may run out of ideas when choosing unique experiences to do in Cambodia in 5 days, but thanks to the Phnom Tamao Wildlife Rescue Center, you can visit your favorite animal many times. Home to about 1200 animals, you can find different species here. Needless to say, this is also one of the most unique zoos in Cambodia.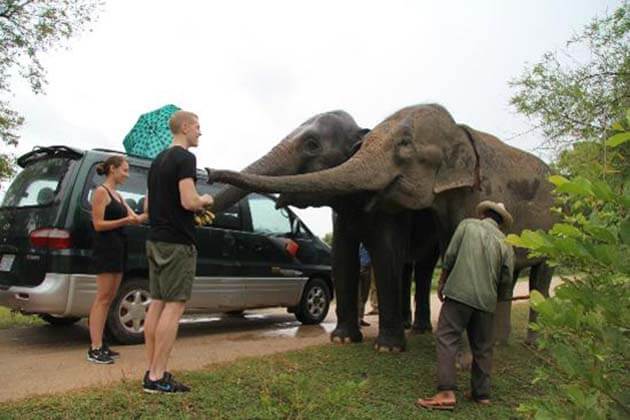 9. See the Majestic Waterfalls
Among the free or cheapest things to do in Cambodia, visiting Popokvil Waterfall is one of the experiences you must have on your vacation. It is located in Kampot province, about 3 miles from Ta Lon Mountain, and is a stunning two-story autumn with a shallow lake in the middle. Over time, this fall has also become a famous scenic spot.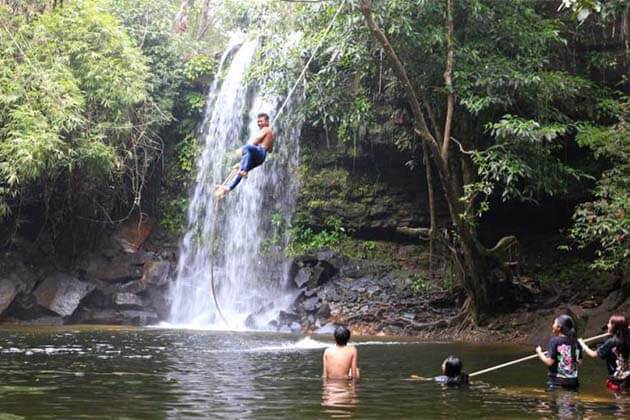 10. Discover at National Park
Not interested in temples? We have you covered. In addition to an endless number of temples, Cambodia's attractions also include many different national parks and wildlife sanctuaries, home to some of the rarest species of flora and fauna in the world. Visiting these places is one of the most interesting things in Cambodia for adventure seekers and nature lovers. While Virachey National Park is home to elephants, sun bears, tigers, jaguars, and many different bird species, Ream Park is famous for endangered birds of prey across the globe, such as Brahminy kite, gray-headed eagle and white sea eagle.