Siem Reap is an attractive stopover on a Cambodia tour. The impressive traditional culture of the Khmers is impressed by the temples of Angkor. Not only that, if you want to save some memories of this trip, do not forget to visit the popular shopping places in Siem Reap below: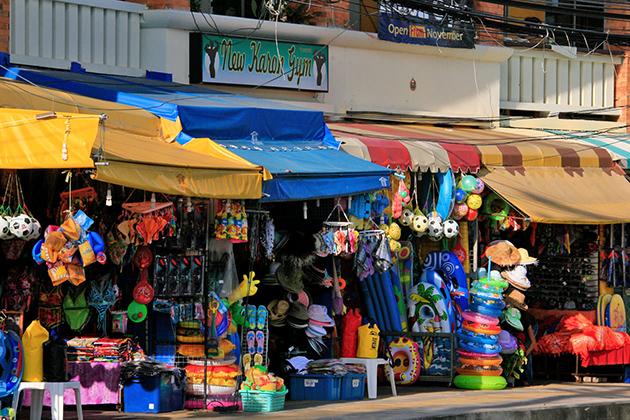 Angkor Night Market
One of the most popular shopping spots in Siem Reap is the Angkor Night Market. Established in 2007, the purpose of opening this market is to preserve traditional handicrafts of the Khmer as well as improve the lives of local people. Initially, there were only 100 booths and over 300 booths were designed in the traditional way. They are made of natural materials such as bamboo and wood.
Exploring Angkor Night Market is an enjoyable experience while traveling to Cambodia. The items sold are mainly clothes, silk paintings, handicrafts. Most of the products here are very unique and can hardly be found anywhere else. Travelers can buy a lot of souvenirs for friends, relatives.
• Opening hours: 4 pm to 12 noon
• Address: Off Sivatha Boulevard, Siem Reap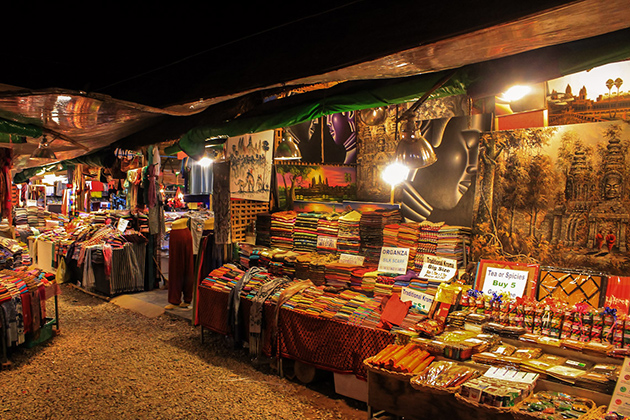 Artisans d'Angkor Shop
Founded on a three-year project, Artisans d'Angkor is an independent organization of more than 1000 skilled craftsmen who have been trained in the traditional Khmer handicrafts. This is a popular shopping spot in Siem Reap so that visitors have the opportunity to learn more deeply about the culture of the local people. The products that tourists usually buy are sculptures made of wood, sandstone,…
• Opening hours: 7:30 am to 6:30 pm
• Address: Stung Thmey Street, Siem Reap
• Tel: +855 63 963 330
Khmer Ceramic Center
Located along the road leading to the famous Angkor Wat temple is the Khmer Ceramic Center. This place will give visitors an insight into the art of making pottery of the Khmer people flourished in the early 9th century to the 15th century. Inside, there are many products such as bottles, pots, oil burners,… All are made of ceramic and have very elaborate decorative details.
In addition, visitors can see the process of making pottery by the local people and can buy some ceramic products to make memories. Especially, you have the opportunity to try pottery if you are interested in this. There will be a local guide to help visitor the basic steps to make a craft pottery.
• Opening hours: 8 am to 7 pm daily
• Address: Vithey Charles de Gaulle, Khmer Slorkram, Siem Reap
• Tel: +855 17 843 014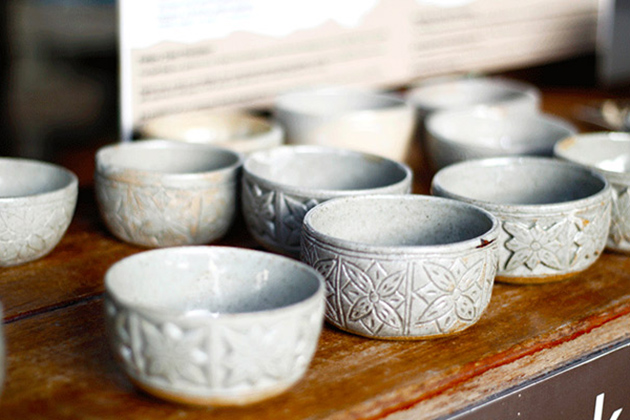 Old Market (Psar Chas)
This old market is located along the Siem Reap River. It is the oldest Khmer market in the city, also known as Psar Char. Indigenous people rushed to this outdoor market in the morning to buy fresh produce as well as household items. There are plenty of souvenir shops at reasonable prices near the entrance to the market along with items such as silk, jewelry accessories, shoes, and antiques.
One thing to keep in mind when shopping here is that you pay for the price because most of the items here are sold to tourists, so the prices go up to the "ceiling".
• Address: Psar Chas Road, Siem Reap
• Opening hours: 07:00 – 20:00 daily
Made in Cambodia Market
Made in Cambodia is a lively outdoor market located in front of the Shinta Mani resort in Siem Reap. There are live shows, local food, and souvenirs. Opened on Saturdays, Sundays, and Tuesdays, famous local artists straddle Oun Khum Street to showcase their creations.
These include clothing, cosmetics, jewelry, paintings, and toys. One of the featured items sold here is Sombai rice spirit with cinnamon, mango, anise and red pepper. If you are feeling hungry, the Made in Cambodia market is full of many of the best restaurants in Siem Reap.
• Address: Oum Khun Street, Siem Reap
• Opening hours: 16:00 – 21:00 Tuesday, Saturday, and Sunday
Gemological Institute of Cambodia
Gemological Institute of Cambodia is an independent company with a wide variety of real gems from around the world. Founded by Jean-Philippe Lepage, this site is built to exhibit more than 150 gems from Cambodia, Myanmar, New Zealand and Colombia. Although it is not a shopping mall in Siem Reap, it is a reliable shopping place in Siem Reap if you are looking for gems.
The Gemological Institute of Cambodia also offers a $ 30 USD half-hour course and an hour of English and French gems. Visitors will be introduced to the gems found in Cambodia such as zircon, ruby, sapphire, garnet, topaz, aquamarine, crystalline quartz, and chalcedony.
• Address: Kna Village, Sangkat Chreav, Siem Reap
• Opening hours: 08:00 – 19:00 daily
Angkor Trade Center
Angkor Trade Center is the first shopping center in Siem Reap with international chain restaurants, independent shops, entertainment halls, and supermarkets. This center is located in Siem Reap's Mondul 1 village, just 2 minutes walk from the old market (Phsar Chas).
Compared to the shopping places in Siem Reap, Angkor Trade Center seems to be a normal shopping mall with nothing special. But this is definitely a good choice when you need to buy something for your trip. There are also games and movie theaters on the 3rd floor and fast food restaurants, ice cream parlors like Swensen's Ice Cream and Pizza Company on the ground floor.
• Address: Mondul 1 Village, Svay Dangkum, Siem Reap.
• Opening hours: 09:00 to 18:00 daily.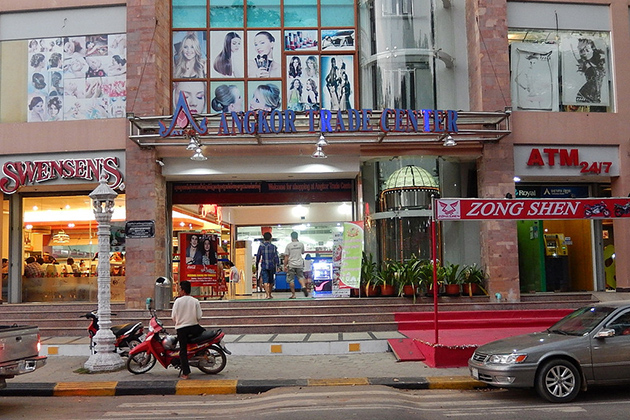 Angkor Handicraft Association
Angkor Handicraft Association is a trading market with more than 20 orthodox handicraft shops. It is situated in the Traing Village. Visitors can look at the local craftsmen who are working, learn about the Khmer sculpture traditions, and participate in many workshops.
Items that visitors can find here including silk, silver, stone and bronze statues, paintings, and bags. 100% of the profits here will be given to craftsmen, their families, and the local community. Angkor Handicraft Association also offers 12 different types of activities for visitors of all ages, from sculpturing to oil painting and flute making.
• Address: Road 60, Traing Village, Siem Reap
• Opening hours: 10 am – 8 pm daily
Louise Loubatieres Gallery
The mixture of tradition and modernity is what made a name for Louse Loubatiere Gallery. This is a very special shop with all the furniture is white. There are wooden furniture, ceramics, and textiles from indigenous craftsmen. Graduated from the Royal College of Art in London, Louise also combined with native craftsmen to produce traditional objects mixed with contemporary colors.
The price of the souvenirs here range from $ 20 to $ 55, visitors can find countless souvenirs for their relatives, from bowls and bright color trays to necklaces, beads, as well as silk shawls in full colors. Louise Loubatieres Gallery also has a collection of antiques, cushions, and vases from the UK and Vietnam.
• Address: 7, Hap Guan Street, Siem Reap
• Opening hours: 10 am – 6 pm daily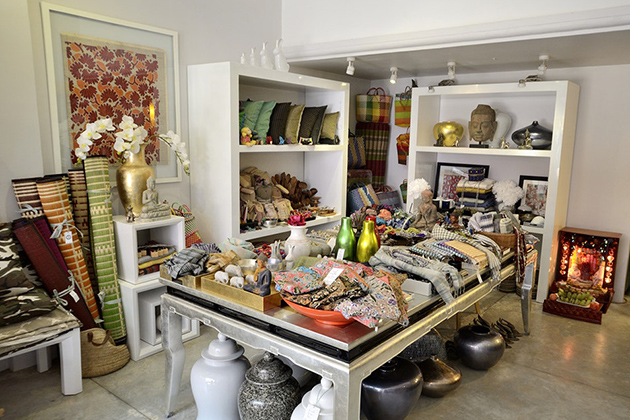 Theam's House Gallery
Theam's House Gallery is an ancient art studio located in Siem Reap's Veal. Coming to Theam, you can buy original paintings and pottery. Both spaces and products are made and selected by the eminent artist and designer of Cambodia – Lim Muy Theam.
The discovery journey begins with a showroom displaying statues of the Buddha stately. Then there was the on-the-spot workshop with 55 skilled craftsmen working under the supervision of Theam. Under the hands of skilled craftsmen, clay figures, lacquers, handicrafts are shaped and became more alive than ever.
Because of its "hidden" location, the best way to get to Theam's House Gallery is by tuk-tuk. It takes only 10 minutes from the National Museum of Angkor.
• Opening hours: 8 am to 7 pm
• Address: 25, Veal Village, Siem Reap
• Tel: +855 78 208 161