In addition to the world-famous tourist attractions of Cambodia tours such as the Royal Palace, Angkor Wat, Angkor Thom, etc., there are also extremely scary historical sites in the Khmer Rouge genocide which always attract the curiosity of visitors.
Killing Field Choeung Ek Cambodia
Perhaps no place in the world can make the tourist heartbreaking, as well as pity and fear as in killing field Choeung Ek Cambodia.
Located 14.5 km from Phnom Penh and only 30 minutes by car, the Choeung Ek field is one of the most popular tourist destinations in Cambodia. This is the place to give visitors the most genuine and pity look of the horrors that occurred in Cambodia under the rule of Pol Pot.
Choeung Ek was originally a fruit orchard, but later it was used by Pol Pot as a mass murder camp in Cambodia. Although it has been included in travel, anyone who dives into the field of death has a choking sensation when witnessed by countless mass graves, including anonymous but many The tombs are full of names.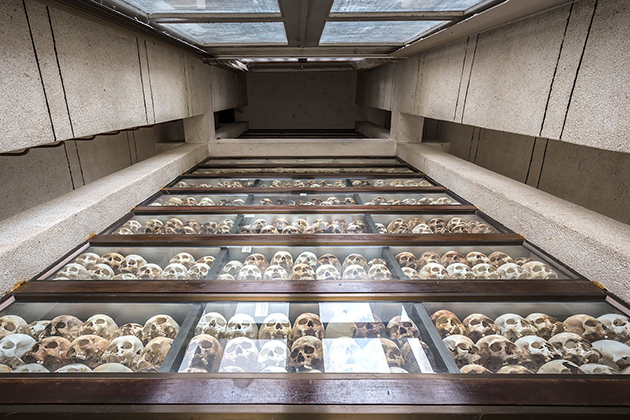 Choeung Ek will bring you a tragic atmosphere as soon as you step into this place. You will find more than 8,000 skulls stored in a glass tower, scattered human bones and a memorial tower that was inaugurated in 1988. Visitors are advised not to take children to this place by the terrible haunting that it brings about makes adults shudder. If you walk around the Killing Fields, watch the mass graves and read the narratives of what happened at Choeung Ek, you will envision this place like hell. Choeung Ek is just one of about 400 Killing Fields scattered across Cambodia reporting the genocide of the Khmer Rouge regime with an estimated 1.7 million to 2 million killed people.
There are still pieces of clothing and bones left at Killing Field Choeung Ek. 43 of the 129 mass graves have not been unearthed yet, and the most obsessive visitor to this place is the Tree of Death. Khmer Rouge soldiers used to smash children into the trunk to save ammunition. Older people are beaten to death or stabbed with sticks, knives or other sharp objects. Many people do not know what happened in Cambodia but if you have visited Killing Fields, you will have to look at a Cruelty took place under the rule of Pol Pot.
The museum is where visitors can find their own explanation of the events that took place here through the drawings and story tragedy that the guides repeatedly. At the Capernaum, you can hear historical stories from living witnesses who have been tortured under the Khmer Rouge regime. There will be a story by Him Huy, a guard who talks about how they use to kill women and children. Although the Killing Field is a historic landmark, we still want to warn you if you decide to come here because of the horrible phobias it brings about even though it happened only 50 years ago.
After visiting the Killing Field, many visitors did not hold back their tears and felt the same choked feeling.
To better understand the crime journey, visitors continue to visit S21 prison.
Toul Sleng Genocide Cambodia Museum (S21 Prison)
Toul Sleng Genocide Museum, also known as the S21 Prison, is one of Cambodia's most intriguing historical sites for visitors in their Cambodia tours. Here, visitors will understand more about the crimes of the Khmer Rouge. According to records, before becoming S21 security prison, this place is a high school. The prison has detained and tortured about 20,000 people including workers, farmers, engineers, teachers, professors, students and even foreign diplomats and employees.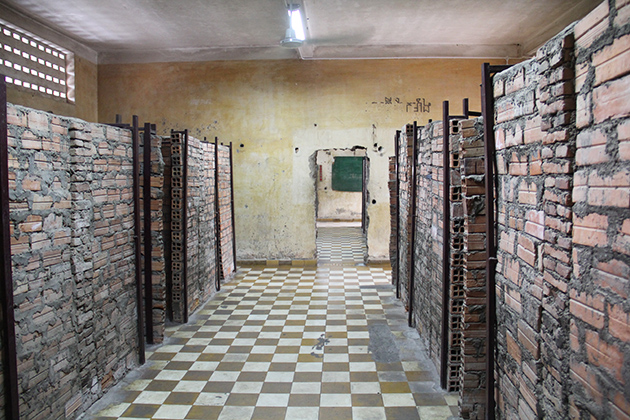 Today, the S21 prison has become a museum for visitors to explore, but every time visitors here will feel a cold air, overcast by feeling a real prison. The house has been renovated, built a more electric fence, corridors are all steel wire. At the entrance, the museum has "No Smile" hanging – "Forbidden to laugh". In addition to prisons, prisoners, the museum also left the tools and paintings of brutal torture such as nail removal, toenail, acid pouring, using the hammer ax to beat prisoners, with the aim of helping viewers have a more comprehensive view.
Anlong Veng Cambodia
Traveling from Siem Reap, heading for the Cambodian – Thai border about 165 km, you will arrive at Anlong Veng, known as the base of Pol Pot – the leader of the Khmer Rouge that has terrified many people. The road to the base still carries an obsession with unexploded ordnance signs, a traces of the Khmer Rouge used to protect the base. At the top of the hill, visitors will see a 1000m2 house is completely ruined and ruined. This place has a very important position, able to cover the entire foothills wherever you are in any place in the house.
Although Cambodian monuments such as the Death Pass, Toul Sleng Genocide Museum, etc. attract a lot of tourists around the world, many visitors are still shy when entering these scary attractions.