Every country in the world has a specific style of clothing associated with the formation and development of the country. The Kingdom of Cambodia is no exception to the traditional Sampot costume. One day, if you have a chance to travel to Cambodia for the festivals, you can see this colorful dress wearing by Cambodia women.
The History of Sampot – Traditional Dress in Cambodia
In the reign of Funan, at the request of the Chinese envoy, a Cambodian king ordered his subjects to wear sampot. Cambodian traditional dress appeared from there. Since then, silk weaving is an indispensable part of our productive life as well as in the ancient culture of Cambodia. With the development of silk weaving, sophisticated weaving methods, and delicate patterns are developed. In particular, Cambodians from this era possessed their own non-patterned cross-weaving techniques, although there is currently no clear explanation for the application of this technique. The silk sampot is used as an inheritance in every family, wedding, funerals, as well as for decoration in temples.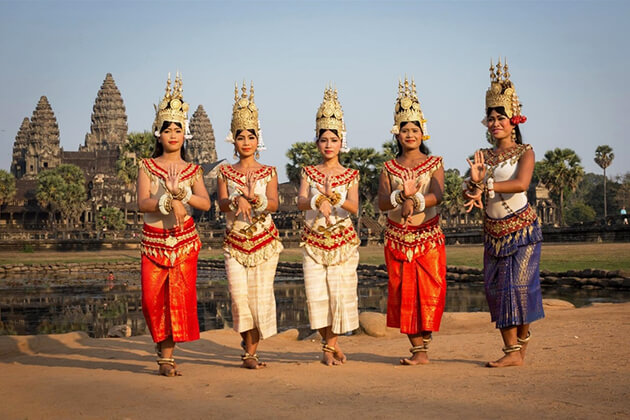 Characteristics of Sampot
Cambodian traditional dress is made from soft silk combining sophisticated knitting techniques to create exquisite pieces of fabric. It was designed as a rectangular piece of cloth, about 3 meters long and 1 meter wide, wrapped around the waist to cover the abdomen and tie it in front of the abdomen. The wearer will skillfully arrange and tie with a knot, then pulled up between the legs and fixed by a metal belt. Sampot is more like a pair of pants than a skirt.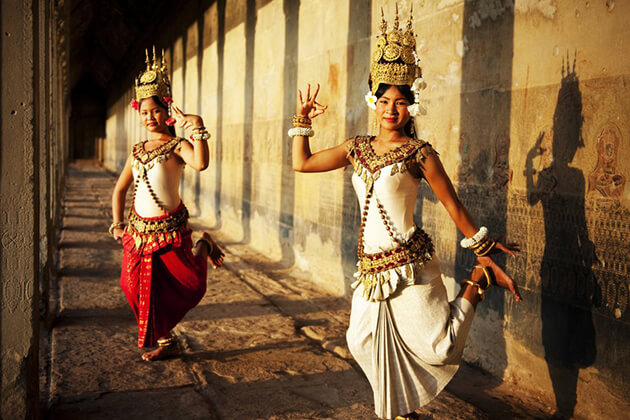 The upper body, in traditional costumes, Cambodians will use Chang Pong – a cloth of any color, crossed the shoulder, and can cover the chest of the woman just a little belly for the purpose of iron. The appeal of Asian women in general and Cambodian women in particular.
Types of Sampot
Sampot Chang Kben
In Cambodia, sampot is divided into different categories with a few characteristics. Sampot Chang Kben is different from normal Sampot. It is rectangular trousers about 2.7m long and about 1m wide. This type of sampot is usually wrapped around the waist, loosely attached and tied to a small button in front of the abdomen, held firmly by a metal strap. Almost all Cambodian women choose Sampot Chang Kben for special occasions or festivals.
Sampot Phamuong
This type of sampot is another type of textile that Cambodians like. At present, there are 52 different colors used on the Sampot Phamuong, even when the luxurious Sampot Phamuong models use up to 22 different needles to create, accompanied by countless paintings, flower, and leaf geometry. The best quality silk used by the Cambodians is the famous silken satin in the Kingdom of temple – Cambodia.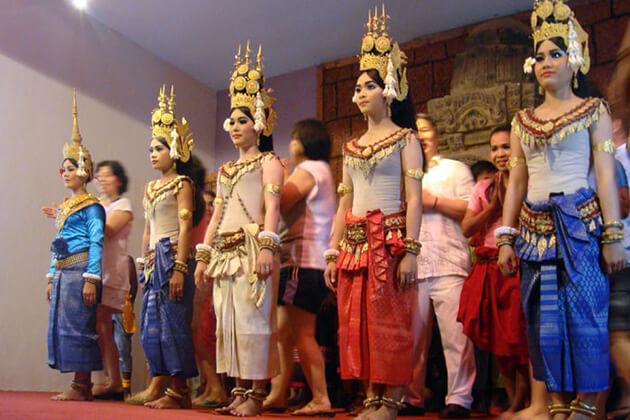 Sampot Hol
It is also one of the most famous traditional costumes in Cambodia with two basic types: one is a conventional dress and the other is cross-woven. The Sampot Hol dress uses fabrics similar to Indian patola fabrics, and, in addition, undergoes a long development period, patterns and knitwear have created a delicate Hol that we see today. This type of sampot consists of 200 patterns with yellow, red, brown, blue, and green colors according to the motif of flowers and animals.
These three types of sampot are the three most common types of sampot in Cambodia. There are also other types of sampot such as Sampot Tep Apsara, Sampot Samloy, Sampot Chorabap, Sampot Sâng, Sampot Seai Sua, Sampot Lerks, Sampot Alorgn. These types of Sampot are not very famous but still, have their own characteristics that make their difference.
Although modern times are more progressive with a variety of costumes and materials, which are easier to buy and easier to wear, for Cambodian people, Sampot entered their subconscious, from the royal family to the Government officials, whether the rich or the poor, they still choose sampot to wear because it is the national costume, which represents the cultural tradition of a friendly country.