Sickness is unavoidable, especially when traveling on long trips to many countries, it is easy to get sick if you do not take care of your health care while traveling. If you are traveling in the country, it is not difficult to find a good hospital or at least a good pharmacy. But if you travel abroad, especially in countries where health is not as developed as Cambodia, finding a good hospital or pharmacy is not easy.
"Siem Reap is not the best place to get sick." That's because medical-health services here are either expensive or the expertise of the medical staff is not good enough, or both. If you or your relative is seriously ill, we recommend that you go to Bangkok for treatment if possible. In case you are only mildly ill, we suggest some following hospitals and pharmacies- the better places to look for when getting sick in Siem Reap.
Recommended hospitals and clinics in Siem Reap
Royal Angkor Hospital (Private)
This is a prestigious hospital. This hospital is affiliated with another hospital in Bangkok in case patients need to transfer to another service. For serious injuries or illnesses, this should be your first point of call. This hospital is expensive. Make sure that you're insured, or have access to money if you're going here. The first sign you see when you walk in the door is for the cashier's desk, and there's a reason for that.
Address: Route 6 Airport Rd, Siem Reap
Phone: (855) 63 761 888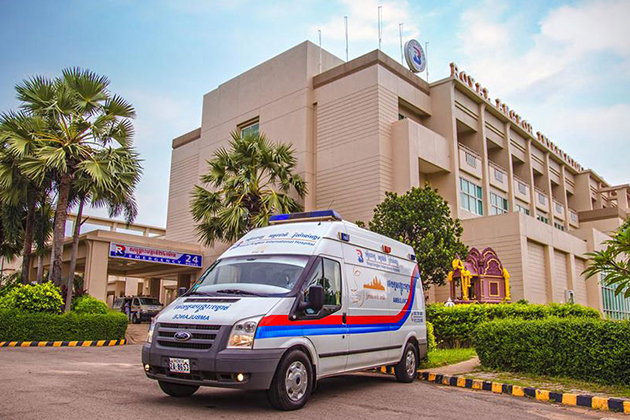 British Khmer Clinic
This is a clinic where the staff speaks both Khmer and English. The medical team here is well trained and experienced. The environment of the British Khmer Clinic is clean and friendly.
Address: House A73 Charles De Gaulle, Siem Reap
Phone: 0974204217 (English) or 070893213 (Khmer)
Ly Srey Vyna II Health Clinic
Ly Srey Vyna Clinic's chief doctor is western-trained and mentored by American and Singaporean doctors for patient's care. The doctors here can speak French and English, and a consultation fee is $50.
Address: #113 National Route 6, Siem Reap
Opening Hours: Monday – Sunday, 24 hours
Phone: (855) 63 965 088
Doctors Rithy Kong & Sok Leng (Private)
They can provide reliable basic care for non-major medical issues. They speak Khmer, basic English, and French.
Address: No. 0011, National Road No 6, Wat Bo Village, Sangkat Sala Kamroeuk, Siem Reap
Opening Hours: 7 am – 8 pm
Phone: 063 963 182
Angkor Hospital for Children
Angkor Hospital for Children was founded in 1999 with the belief that "every child has the right to a healthy life". This is a non-profit organization. AHC's mission is to improve healthcare for all of Cambodia's children by creating a sustainable, replicable model of a healthcare institution in cooperation with the Cambodian government. You can do charity or donate blood here.
Address: Tep Vong (Achamean) Road & Oum Chhay Street, Svay Dangkum, Siem Reap
Opening Hours: Mon-Sun: 08:00am – 06:00pm
Phone: +855 (0) 63 963409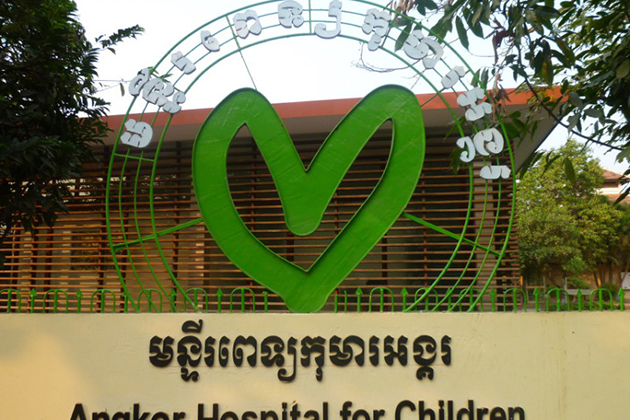 International Dental Clinic
International Dental Clinic (also known as IMI Dental Clinic) with Qualified European Dentists and up-to-date technology. The clinic is staffed by qualified national and international dentists, has the latest sterilization technology, and is conveniently located on National Route 6 about 3 minutes from downtown Siem Reap. IDC is using new dental technology which is called Laser Fox. This technology will improve your comfort, eliminate pain, and greatly reduce the need for any anesthesia.
Address: No. 545, National Road 6A, Siem Reap
Opening Hours: Monday – Saturday, 8 am – 12 am, 14 pm – 18 pm
Phone: (855)63 76 76 18
Naga Clinic
Naga Clinic is led by a Dutch doctor. He speaks Khmer, French, English, and German.
Address: 660 Hup Guan St, Central Market Area (parallel to Samdech Tep Vong and behind the main ANZ Royal Bank), Siem Reap
Phone: (092) 793 180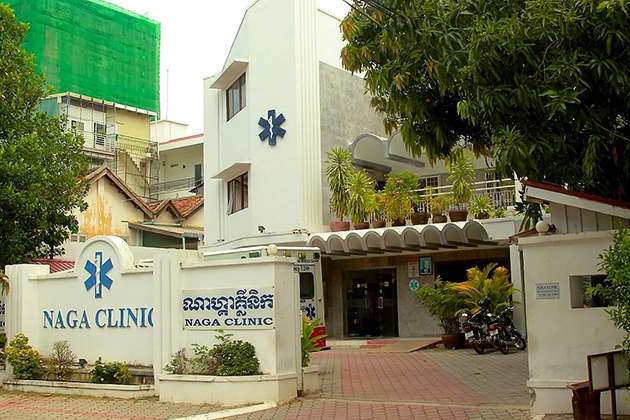 Recommended Pharmacies in Siem Reap
Ucare Pharmacy
UCare is a pharmacy you can find anywhere in the world. This is the first chain of health and beauty pharmacy in Cambodia. At the UCare pharmacy, you can find a variety of medicines to treat common illnesses like flu, fever, burns, and many other drugs. In addition, you can also buy drug-store cosmetics of famous cosmetic brands such as Nivea, Dove, Neutrogena, and so on. The team of pharmacists here is well trained. You can be assured of the quality of this chain of health and beauty stores.
Address: Hospital Road (at the end of Pub Street), Siem Reap
Opening Hours: 8 am – 10 pm, every day
Phone: (855) 63 965 396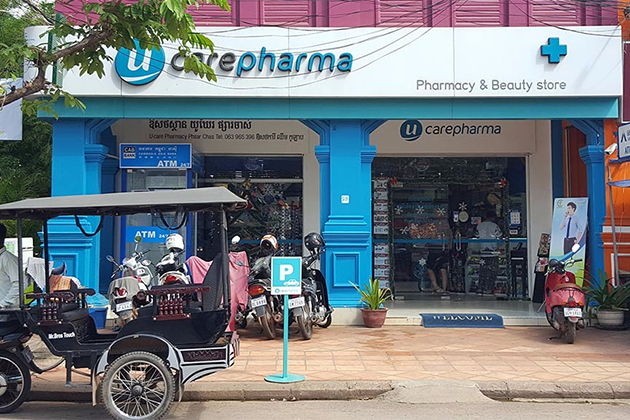 Angkor Thom Pharmacy
Like UCare Pharmacy, Angkor Thom Pharmacy is a chain of health and beauty stores. Here you can easily buy the medications you need as well as ask your pharmacist for advice. In particular, there is a French-speaking staff.
Address: St.Sivatha Mondol Pir Village, S/K Svay Dangkum, Siem Reap
Opening Hours: 8 am – 11 pm, every day
Phone: (855) 63 963 759
Preah Vihear Pharmacy
Preah Vihear Pharmacy is one of Siem Reap's largest pharmacies, conveniently located on Tep Vong Street.
Address: No. 24-25, Tep Vong (St.), Sangkat Svay Dangkum, Siem Reap
Phone: 063 965 800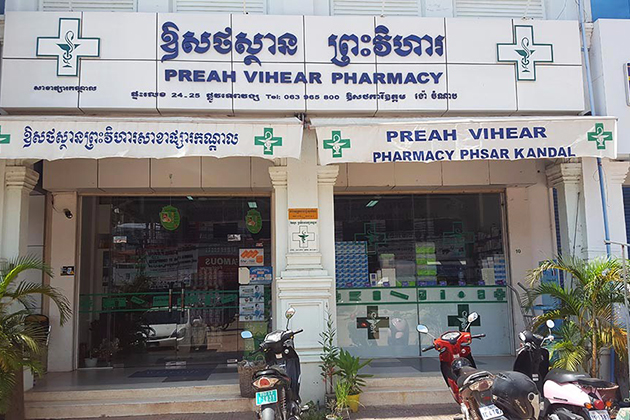 After all, no one wants to sick or have trouble with health during the vacation in Cambodia. With the list of hotels and pharmacies above, it's easier for you to find if you need to support it.