When booking a tour, the first thing that most people think of is where to go, what to eat, what to drink in that city or that country. Sickness or illness is perhaps one thing that very few people concerned about. However, when traveling to another city, especially when exploring a foreign country, it is essential to learn about medical centers or hospitals. A hospital is a place where people can be treated, and small malpractice can have an unintended consequence on health, even life. Therefore, choosing a quality hospital for treating illnesses is essential for each person, especially when traveling to a country where the health sector is not developing as Cambodia. If you are in Phnom Penh Tour & Day Trip, Cambodia, in case you need medical care, here are the top 10 medical centers and hospitals in Phnom Penh.
Top 5 Best Hospitals in Phnom Penh
Calmette Hospital
The best of the local hospitals, with the most comprehensive services and an intensive-care unit, but it really helps to go with a Khmer speaker.
Contact information:
Address: No.3, Monivong Bvld, Sangkat Sras Chok, Khan Daun Penh, Phnom Penh, Cambodia
Tel: (855) 23 426 948
Fax: (855) 23 724 892
Hotline: (855) 11 426 848
Out Patient Department (OPD): (855) 11 414 065
Royal Phnom Penh Hospital
International hospital affiliated with Bangkok Hospital. Boasts top facilities, Expensive.
Contact information:
Address: 11 Street 592, Toul Kork, Phnom Penh
Tel: 023 991 000; 023 365 555
Sen Sok International University Hospital
Their official website says "The first International level hospital", it is run by the highly skilled and well-experienced Physicians and Surgeons. All the facilities that you can expect from a hospital in the developed world; you can easily find them in the SSIUH. The prices are competitive with any other hospital in Cambodia and you will feel like a home environment in their hospital.
Contact information:
Address: Building 91-96, Street 1986, Sangkat Phnom Penh Thmei, Khan Sen Sok, Phnom Penh, Cambodia.
Ambulance: +855 78 838 493
Telephone: +855 70 888 251; +855 23 883 712/13
Fax: +855 23 883 713
U-Care Pharmacy
International – style pharmacy with a convenient location near the river. With many central locations, Ucarepharma is the first chain of health and beauty stores in Cambodia. Each store offers a large range of international cosmetic brands such as L'Oreal, Vichy, Nivea, Avene, as well as a pharmacy attended by a qualified pharmacist, who provides only certified medication, mostly imported from France.
Contact information:
Adress: 39 Sihanouk Blvd Phnom Penh – Cambodia
Tel: 023 22 41 99
Naga Clinic
A reliable, French-run clinic.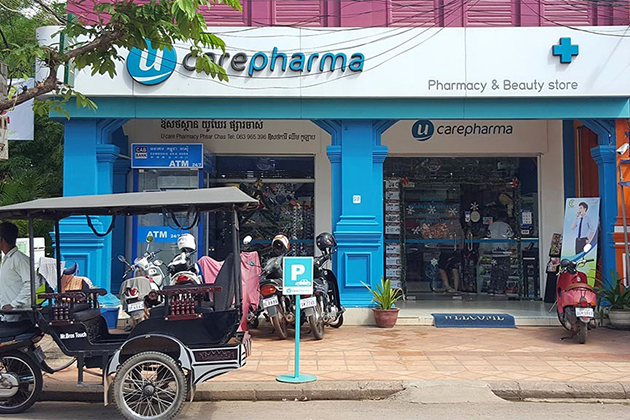 Contact information:
Adress: Senei Vinnavaut Oum Ave (254), Phnom Penh, Cambodia
Tel: +855 23 211 300
Top 5 Recommended Hospitals in Phnom Penh
Women-Baby's Center ANNA
Women-Baby's Center ANNA is a trusted provider of specialist gynecology and obstetrics, women's wellness and reproductive health services.
Contact information:
Address: No.23, Street 112, Sangkat Phsar Depo 3 Khan Toul Kok, Phnom Penh
English: +855 (0)98 800 921
Khmer: +855 (0)98 800 055
European Dental Clinic
It Has international-standard dental services and a good reputation
Contact information:
Address: #9 Street 306. P.o.Box 2378, Phnom Penh
Tel: 012 340 393
International SOS Medical Center
Top clinic with a host of international doctors (and prices to match).
Phnom Penh Office
#148ABC, 2nd Floor,
St. 63, S/k Chaktomuk
Khan Doun Penh
Phnom Penh
Cambodia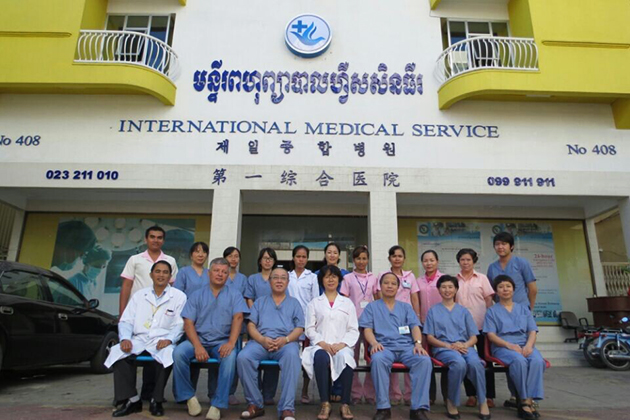 Raffles Medical Phnom Penh Clinics
House 161, Street 51 (Pasteur)
Sangkat Boeung Raing
Khan Daun Penh
Phnom Penh 12211
Tropical & Travellers Medical Clinic
It is run by a highly qualified British doctor with a wealth of experience in a variety of medical fields and good knowledge of the best laboratories and referral facilities available here.
Contact information:
Address: No. 88, St. 108 (Wat Phnom Quarter)
Postal address: PO Box 2068 Phnom Penh, Cambodia
Tel/Fax: (855) 23 306 802
Pharmacie De La Gare
Pharmacy Station aims to provide health care and advice by its qualified pharmacists who speak Khmer, French, English, and Chinese. It offers a wide range of high-quality medicines and paramedical products.
Contact information:
Address: No 124Eo Preah Monivong Blvd (93), Phnom Penh, Cambodia
Tel: 092 711 711; 093 711 711
After all, we also want you to have a wonderful vacation in Cambodia, however, unluckily, if you have trouble with your health, the list of the hospitals as well as the clinic with high quality, and the doctors, nurses can speak English well can support to you.