Cambodia is an attractive destination for many tourists because of the mysterious and majestic beauty of the Angkor complex and the wild and modern beauty of many unspoiled areas. But if you set foot on the beautiful Cambodian land you will be surprised by the glamour of Cambodia nightlife when the street begins to light up and people gradually become less rush. So now, go on a Cambodia tour, and travel with us!
Things to Do & See in Cambodia Nightlife
Bars & Restaurants
In Cambodia, there are many bars and restaurants but there are very few clubs and live music venues. In the bars, clubs, restaurants, pubs … you can smoke. Some clubs are open 24 hours round the clock and none close early. The restaurant scene runs parallel, that is to stay late, along with the nightclubs. However, bars in Siem Reap or Phnom Penh, they are pretty much so identify which place before you go.
Cambodian Night Market
Phnom Penh and Siem Reap are one of the most popular tourist destinations in Cambodia. Especially, exploring the night markets in these two cities is an exciting activity that can not be missed. Night markets in Cambodia are opened from dusk to midnight, buyers and sellers make the night market atmosphere is busy and crowded. Coming to the night market, you will visit the shopping of handicrafts, souvenirs, jewelry, or clothing at different prices. You also have the opportunity to enjoy a lot of food here at night. Street entertainers at the night market serve traditional Cambodian music. The night market is a pleasure not only for tourists but also for the Cambodia people. All make a very special feature of Cambodian life at night.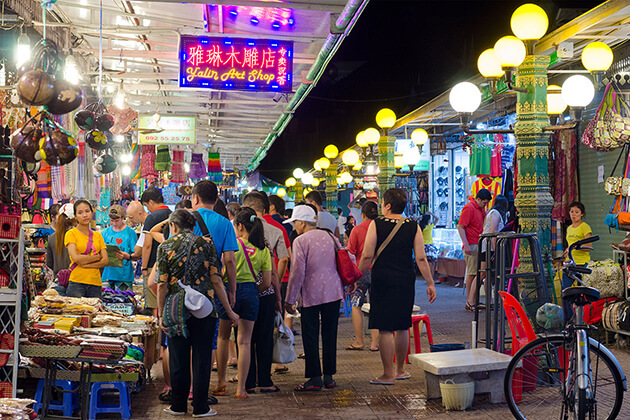 Things to Eat & Drink in Cambodia Nightlife
Foods
When living a nightlife in Cambodia and visiting the famous night markets of Phnom Penh and Siem Reap, you will enjoy thousands of street food from many countries around the world. Chinese, Japanese, Korean, Thai, European, and Vietnamese cuisines are easily found in this area. In Siem Reap, you can find these dishes along the riversides or in Pub Street. In Phnom Penh, you can enjoy attractive food at the night markets, the back street, or the riverfront area in front of the Royal Palace. In addition to foreign dishes, there are many traditional Cambodian dishes such as Bai Sach Chrouk, Kuy Teav, Amok, … at reasonable prices.
Drinks
Choose a bar, enjoy a cool glass of Angkor beer, chat with friends is the pleasures of many visitors while traveling to Cambodia. The vibrant music, the neon lights of the restaurants and bars make visitors feel like living in another world. Coffee, cocktail, frappes are also savory and cheap drinks, which are suitable for travelers' budgets.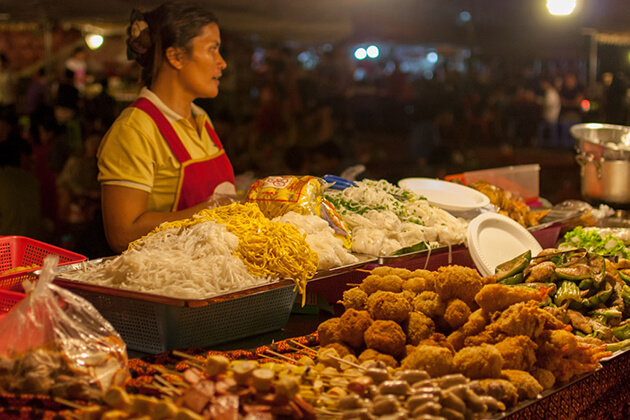 Other Activities for Nightlife in Cambodia
Weekly, there are Apsara (traditional Khmer dance) performances at many restaurants and hotels. The characteristic of the dance is that there is an Apsara dancer leading a group performing subtle movements such as fairies roaming the gardens. In the past, the Apsara dance was only for kings but now it is very popular in society. The movement is flexible, sophisticated, eye-catching costumes, melodious music create a gentle space, relax for visitors. The dance festival takes place from November to March next year, mainly in the tourist city – Siem Reap. Gambling is a big amusement in Cambodia, with many casinos permitted to operate in Sihanoukville and neighboring countries such as Thailand and Vietnam. One of these casinos is Casino Nagaworld – the most famous and biggest casino in Cambodia.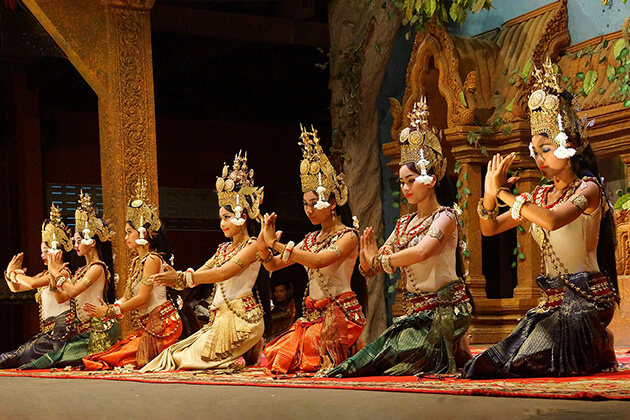 Some Things to Keep in Mind for Cambodia Nightlife
Walking around at night is fun because the road is yours, everything is yours. But there are also things you need to pay attention to:
The most convenient vehicle is a motorbike, you can rent a motorcycle, remember filling up gasoline because it is hard to find gasoline at night. If you do not have a motorcycle you should rent a bike. You do not need to send when using the bicycle and can take it anywhere. It is quite convenient.
For safety, you should not go alone because you may meet people who are not very noble such as theft, bandit, opium fiend.
Warmly dressed, bring identification, do not bring much money and valuables (telephone, jewelry, etc). This is just a precaution, you may not have any problem but to avoid bad things you should not carry valuables.