When the mantle of darkness is let down on Siem Reap, The Moon Sky Bar becomes a great entertainment destination for those who are really into exploring Cambodia nightlife. A cup of cocktail associated with a little soft music in the moonlight is an ideal thought for enjoying yourself. Coming to Cambodia tours, enjoy your beautiful night in one of the most famous bars in Cambodia.
The Moon Sky Bar Compositions & Attractions
The space of the bar is divided into 3 layered floors outfitted with tall tables, low tables, and armchairs. Tourists are welcome to take a sit and listen to music and songs from singers. Amazingly, the music from resident artists are not a mind to the guests, instead, they prefer respite for those who want to relax with soft music after a busy day. The bar attracts tourists from the first sight with a spectacular colorful peacock decoration, besides dozens of food and drinks, which make tourists confused to choose.
The green panting structure is reflected from the lights in pink which is set at the peacock's plumage attracts patrons to the core column in which displayed a great number of wine bottles as layers on the bar, guest tables are full of tourists sitting and sipping on cocktails. The tail of the peacock made from iron by a Khmer designer is appreciate by guests as workman's an evident skill which has made the Sky bar become a unique addition to Siem Reap.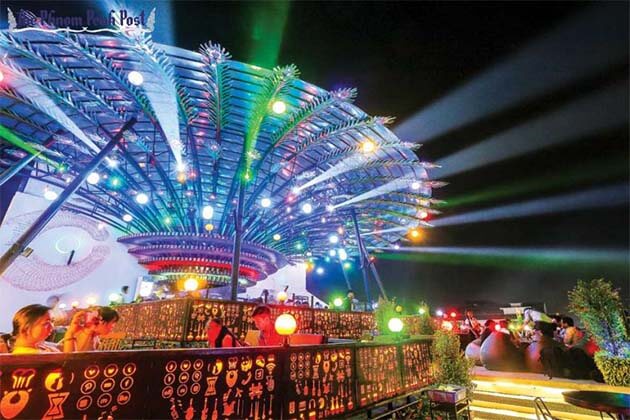 Tor Seyha, the owner of the establishment, said that the Khmer designer living in the area had submitted for him and he is extremely impressed with the peacock tail. Because of the peacock tail designed to be made out of iron, it demanded the workers spending significant time to constructed it, and that too with tremendous patience. Thus, Seyha needs to be so patient. He said that was what Khmer designed was all about…it took a lot of time and patience to achieve what was ultimately demanded.
Fascinating Drink in the Moon Sky Bar
Patrons come to the Moon Sky Bar love a green colored house cocktail called Pretty Moon, which costs $25 for three liters. Another drink named Five Color Syringes costs $8. In fact, Sky Bar is also a home for a range of drinks and food from Khmer fare to Chinese and Europen cooked at its kitchen in the second floor. Seyha said that Patrons love their Lamb Chop ($12.50) which has reasonable price and delectable.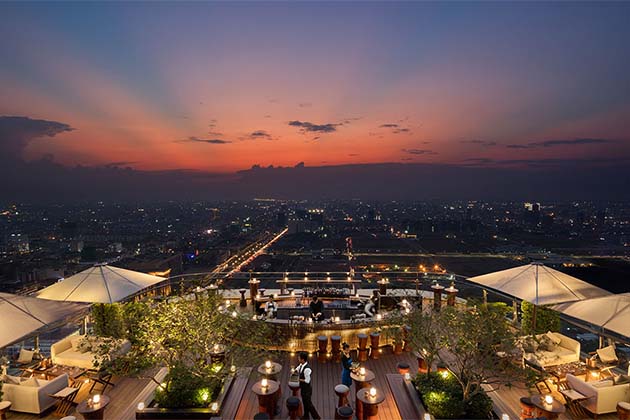 Moon Sky Bar Brief Information
Located: on the 4th floor, Asia Plaza, Preah Sanga Reach Tepvong street, Siem Reap
Opening time: 5pm – 2am
Contact: Seyha, 017999023.