Handicrafts are lively reflections of culture, especially in Asian countries. The land of majestic Angkor temples with the glorious period of the Khmer Empire surely contains a great art of making handicrafts. During your Cambodia Trip, Go Cambodia Tours suggests the top 5 places providing traditional handicrafts in Siem Reap that will bring you back Angkor Era.
Main Showroom
No matter what you are a tourist, a businessman or a cultural researcher, you will find your favorite items in the main showroom. The showroom sells a huge number of locally handmade products such as wood carvings, stone statues, lacquer wares, ceramic furniture, silk garments, pieces of jewelry …inspired by the great Angkor culture. All of the crafts are totally made by hands by qualified artists in handicrafts workshops around Siem Reap. They bring both traditional and contemporary styles. Especially, you can witness the process of making crafts at the nearby workshops.
Location: On Stung Thmey St, Siem Reap Downtown, about 2 minutes walking from Old Market.
Tel: +855 (0) 89 624 686 / (0) 63 963 330 ext. 210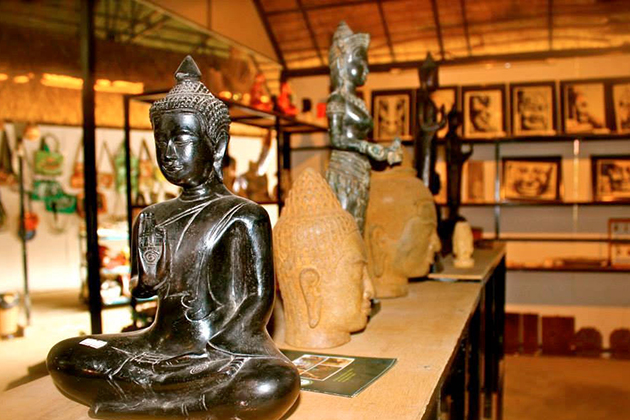 Angkor Artwork
This incredible workshop is amazing in Siem Reap whose work is a mixture of ancient Khmer techniques. It owns qualified artists of Cambodia who will give us the most beautiful Buddha statues made wood and stone, colorful lacquer wares, silk paintings…and many other odds and ends with extremely décor. With such efforts and enthusiasm of the artists, the items here are sold at reasonable prices. You definitely do not miss this place when shopping in Siem Reap.
Location: Sala Lodge Road, Salakamreuk Village, Sala Lodge Rd, Krong, Siem Reap.
Tell: +855 63 967 160
Theam's House
Theam's House is not simply a shop, it is a precious gem of Angkor. It is the combination of museum, gallery, workshop, home. It offers a lot of elegant handmade crafts bringing every shape and size. Cambodian artists have spent many years to revive and develop Khmer handicrafts and this house is their excellent result representing the creation of arts. Visitors will feel so inspiring to be here and listened to Theam's creators talking about their work and life.
Location: No.25, Phum Veal, Khum Kokchak, Siem Reap
Tell: +855 12 712 039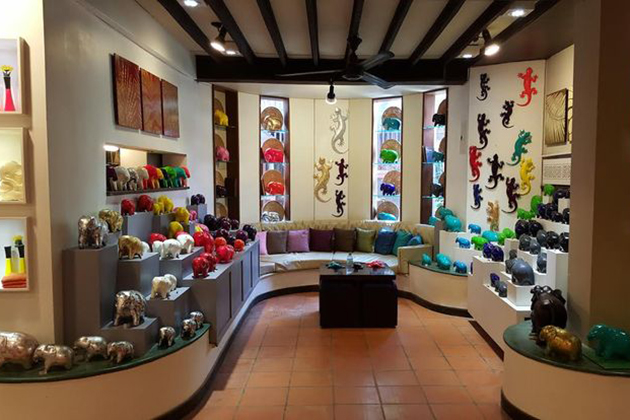 Cambodian Handicraft
Cambodian Handicraft was officially opened in 2012 by the two artists named Rachana and Edward Koopmans. They offer a wide number of handmade crafts including weavings, embroidery, silk and cotton clothing, wooden carvings, stone statue and so on. In particular, you can purchase items directly in the shop or order online with free shipping over the world. Half of the profit will be donated to a charity organization to help disadvantaged people in remote poor villages of Siem Reap.
Location: At Siem Reap Art Center Night Market
Tel: +855 973 139 881.
Artisans D' Angkor
Artisans Angkor is the most famous craft shop in Siem Reap. It is operated to revive, preserve and develop Angkor traditional handicrafts. This is the livelihood of thousands of local people. Tourists can choose to visit the workshop first where artisans create great crafts before deciding to buy which ones for yourselves. The shop offers a very diverse selection of every kind of handicrafts such as wood carvings, silk weavings, lacquer paintings, clothing, stone statues…Besides, it is also equipped air condition to visitors to freely watch the stuff.
Location: Chantiers-Ecoles, Stung Thmey Street, Krong, Siem Reap
Tel: +855 63 963 330