As soon as you enter Cambodia and grace your eyes with the enchanting landscape and emerge in the rich culture of this country, you will understand why people consider Cambodia a hidden gem among other famous destinations in Asia. Cambodia manages to maintain its authenticity and stays off the mass tourism map in Cambodia tours, making it the perfect place for people looking to indulge in the holy atmosphere of ancient architecture and the refreshing feeling inflicted by the vibrant local scene.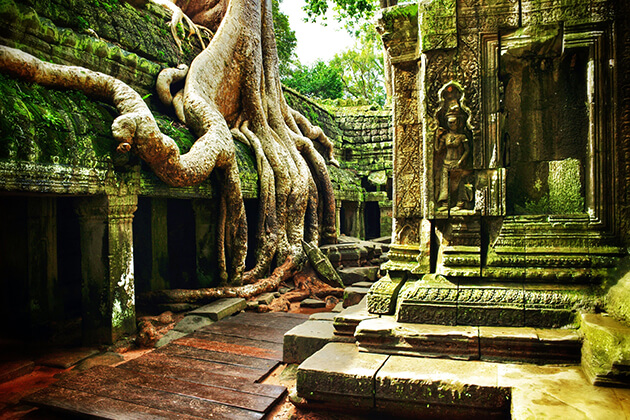 Things to Do and See in Siem Reap
The Renowned Angkor Wat
The temple complex of Angkor Wat is the largest religious monument in the world and is considered the heart and soul of Cambodia. The prestigious travel site Lonely Planet has described it as "a stunning blend of spirituality and symmetry".
You will be amazed by the number of people waking up at 5.30 in the morning just to marvel at the stunning sunrise over Angkor Wat. It sounds like nothing special, but you will the experience to be unforgettable as Angkor Wat, an ancient temple complex rising at the heart of a jungle, definitely offers you some great photo opportunities.
Angkor Wat is the most well-preserved temple in the complex with thousands of exquisite carvings of Apsaras and nymphs. Other lesser-known temples are worthy of your time as well, especially if you want to get away from the crowd.
You should also consider stopping by the Angkor National Museum to gain some insight into the meaning of the structure and its symbolic decorations so that your trip can become more sophisticated than pure sight-seeing.
The "Tomb Raider Temple" – Ta Prohm
Standing humbled by the famous Angkor Wat is Ta Prohm, a temple ruin reclaimed by the jungle, and was made famous by the movie Tomb Raider. The temple was overgrown by giant tree roots, creating an otherworldly view that leaves everyone in awe. Being the "astonishing merger of nature and architecture," according to Atlas Obscura, the temple is most impressive early in the day and at sunset. You may not want to miss its mesmerizing view and a chance to explore the maze-like corridors and iconic tree roots.
Off the Beaten Track in Siem Reap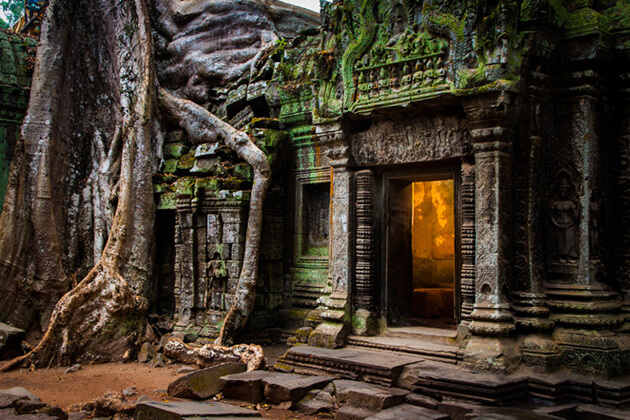 Mysterious Beng Mealea
For adventure and authentic experiences, you can stop by the mysterious twelfth-century temple, Beng Mealea. It brings the same timeworn feel as Ta Prohm, but without the tourists striking an Angelina Jolie pose in front of it. You will feel like a true explorer scrambling around piles of crumbling bricks and roots wrapped around sandstone.
Exploring the majestic jungle surrounding it can inflict a sense of legend upon visitors as the trees stand lush, dense and tall while its serene atmosphere cleanses your mind and body.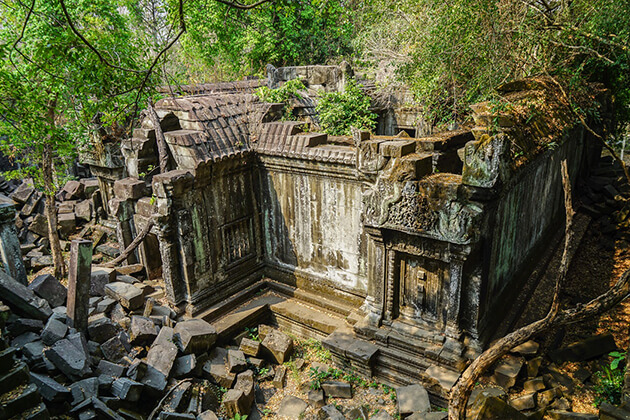 Kbal Spean River
It's a small river hidden in the jungles of Angkor that runs over a series of elaborate carvings that line the shore and cut deep into the very stone of the riverbed. The carvings are in the form of low circles and images of Hindu deities.
The cryptic symbols in Kbal Spean River won't let you down if you are looking for a sense of adventure and archaeology.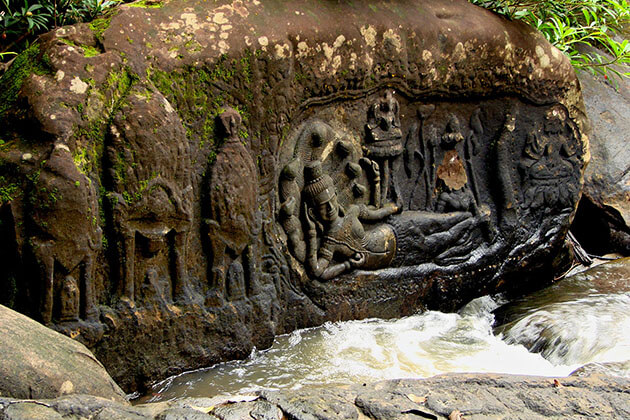 The War Museum
The War Museum in Siem Reap displays landmines and tanks from the Khmer Rouge in 1975 and the Vietnamese occupation in 1979. If you want to learn more about the country's turbulent history, you should consider paying a visit.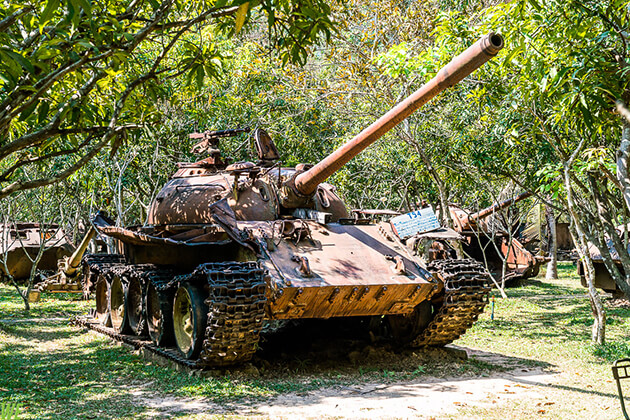 Lively Pub Street
Pub Street is always full of life no matter what time of the day it is. Whether you plan to have a drink, eat lunch or socialize, Pub Street is the place to be. During the day, you can gather and chat over a cup of coffee. In the evening, all the nightclubs and bars open and you can stop by for some recreational activities.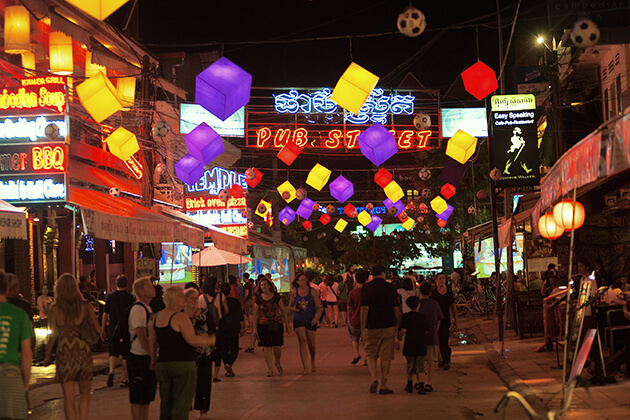 Vibrant Markets
If you want to get a taste of Cambodian ways of life and socialize with people, you should check out the local markets. Most of the markets sell a variety of tropical fruits like mango, tamarinds, dragon fruit, jackfruit, pineapple, and star fruits.
Eating (or watching as others eat) tarantulas is also an exciting experience. Tarantula is deep-fried in chili to have a fiery kick and a crunchy texture if you're brave enough to eat it.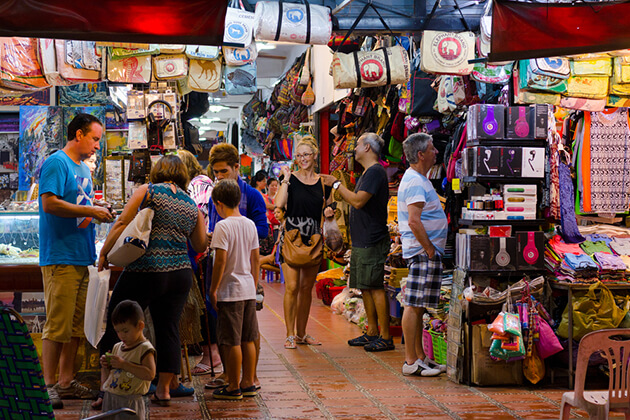 Things to Do and See in Phnom Penh
Tuol Sleng Genocide Museum
Tuol Sleng Genocide Museum serves as a testimony to the most gruesome time in Cambodian history – the genocide caused by the Khmer Rouge. This place used to be a high school, but it was taken over by Pol Pot's security forces and turned into the dreaded Security Prison 21 (S-21), where thousands of prisoners were killed. Tuol Sleng Museum is built upon what left of S-21 to remind people of this tragic time and not to make the same mistake again.
The museum displays walls of disturbing portraits of prisoners and the instruments of torture used upon them. On account of this depressing experience, this is not a place for the squeamish, but more for those interested in the country's sophisticated and tragic history.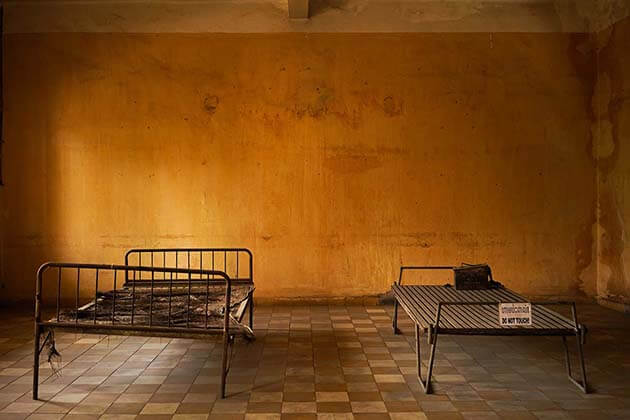 The Royal Palace and Silver Pagoda
Holding a special place in the hearts of Cambodians, the Royal Palace is an ornate structure served as the residence of the King and a venue for court ceremony. Visitors are allowed to visit only the Throne Hall and a clutch of buildings surrounding it. People have to wear proper outfits when coming to the palace; otherwise, they will have to buy a sarong to cover their clothes at the ticket booth.
Located in the palace compound is the Silver Pagoda, which gained its name from the gleaming silver floor. Everything seems to be adorned with diamonds, jewels, gold, and silver. It is one of the few places in Cambodia where you get to look at the brilliance and richness of Khmer civilization. Guests can stroll along with the manicured gardens and appreciate the expensively adorned temples, libraries, and galleries inside the palace grounds.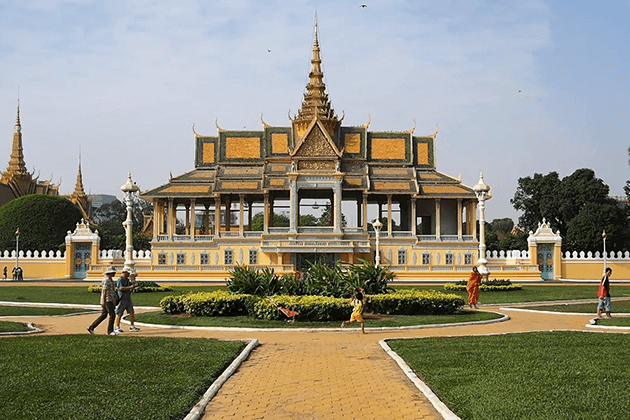 Cambodian cooking class
If you're looking for an authentic experience in Phnom Penh and it has something to do with local cuisine, you may want to visit the famous Frizz restaurant as it offers guests cooking classes that last a day or half a day. Starting with a tour around the local market to buy ingredients, budding chefs will then learn how to create a range of typical Cambodian dishes. You can also appreciate the view while learning how to cook as classes are held on a shaded rooftop overlooking the city.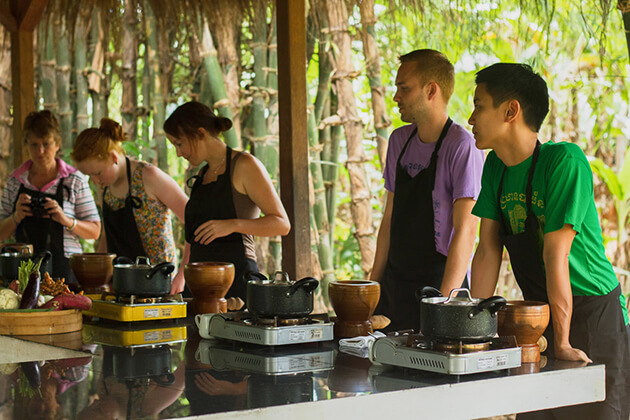 Things to Do and See in Battambang
The Floating Villages of Tonle Sap Lake
Tonle Sap Lake is the largest freshwater lake in Southeast Asia. Visitors can settle on a boat and enjoy the cool and refreshing water of the lake. As the water level will rise and fall with the seasons, it's best to visit from July to December when you are able to course through the waterways, chilling under the warm sun and cool breeze.
The lake is home to an exceptional array of wildlife biodiversity, ranging from rich aquatic life to endangered bird species. Along the skirts of the lake, floating forests have developed where trees have evolved that can withstand strong water current for months.
Far-flung floating villages like Kampong Phluk are accessed by canoes. You can also visit a lush bird sanctuary called Preak Toal.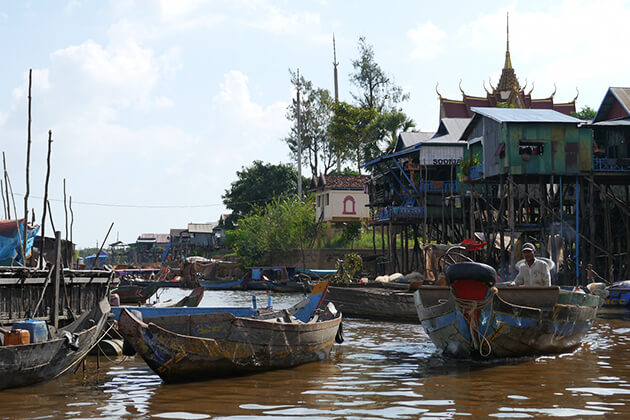 Brilliant Shows in Phare Ponleu Selpak
Phare Ponleu Selpak is an internationally acclaimed circus committing to reviving Cambodian art and educating children. Watching a show at Phare Ponleu Selpak is a must when coming to Battambang. The talent of young artists here will blow your mind! The lovely dance and beautifully done music will create an unforgettable experience, so enjoy every second of it if you are in Battambang.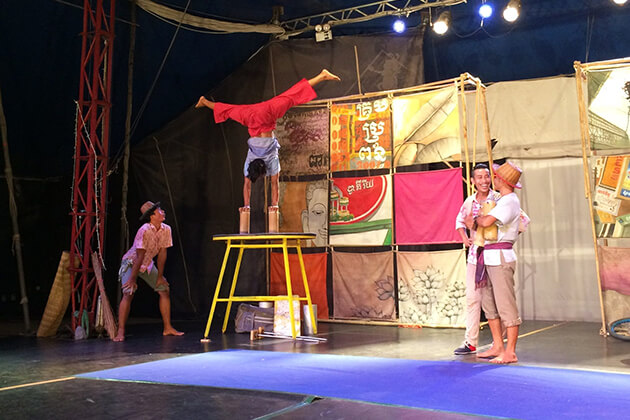 Things to Do and See in Sihanoukville
Long Stretched Beaches
Cambodia is full of breath-taking landscapes that will make any visitor stop and stare, especially their tranquil beaches with long-stretched shores, and the easily-accessed islands scattered here and there. If this sparks your interest, then Sihanoukville is the place for you.
You will be amazed by the number of options available since every beach has its own charm. For example, if you're looking for a place to party while enjoying the landscape, you should choose Ochheuteal Beach and Serendipity Beach. On the other hand, if you want to retreat and get away from the crowd, or even do some exploring activities, Otres Beach is the place to be. It is less developed compared to its neighbor Ochheuteal Beach, but its long stretch of clean and white sands makes up for the lack of modern facilities. Otres Beach is the quietest beach in Sihanoukville and is perfect for sunbathing and exploring. The other options include Victory Beach, Lamherkay Beach, Koh Pos Beach, Independence Beach, and Sokha Beach.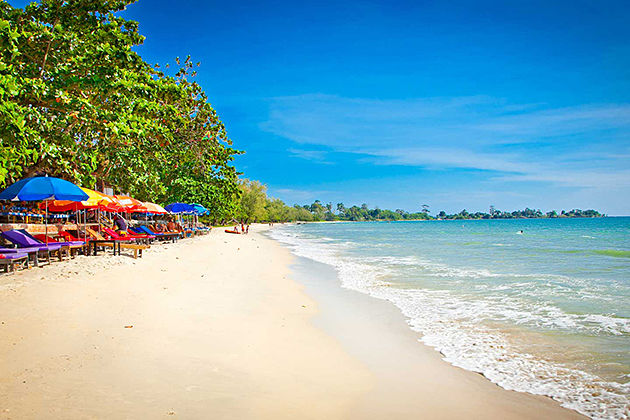 Cooling off
Tourists can take the water taxis to nearby islands for diving, snorkeling, and other activities. Compared to other neighboring countries, Cambodia does offer some of the cheapest scuba-diving in the least crowded waters. In quiet months, you can even have the ocean to yourself.
Splendid Waterfalls
Located 18 kilometers to the north of Sihanoukville town, Kbal Chhay Waterfalls are in the middle of extensive forests. It is a great place to relax, listen to the splashes of water, and emerge yourself in the beautiful nature of Cambodia.