Handicraft is an essential part of the field of arts and design. They are the results of the skillful hands of talented artists, displaying the beauty of the ingenuity and the traditional techniques that no modern machines can create up. Cambodia is very renowned for wonderful handicrafts and the capital Phnom Penh is a must-to-be-mentioned destination when reminding this unique kind of arts. Have a wonderful opportunity to take a Phnom Penh Tour Package and you can also add the handicraft shops in your Cambodia Tours. Here are the top 5 ideal places to purchase handicrafts in Phnom Penh below is highly recommended:
Peace Handicraft Shop
There are a lot of amazing handmade crafts in this beautiful little shop. They sell a variety of items such as bags, wallets, accessories, pieces of jewelry, clothes, scarves…made with recycled materials that help to protect the environment. However, their quality is excellent at a very reasonable price. Especially, the shop creates sustainable jobs for many local people who suffer from landmines, so buying the products means that you support partly for their lives.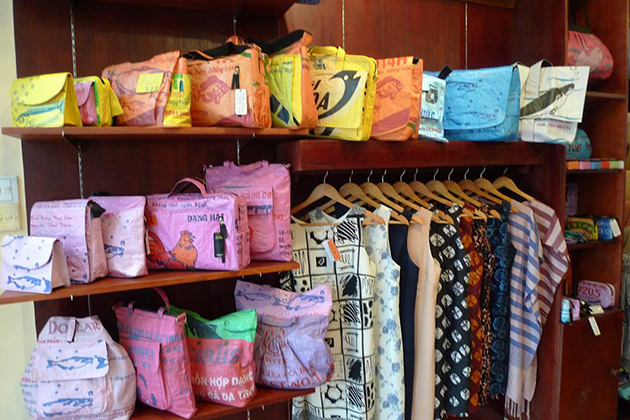 Location: No. 39C, Street 155, Sangkat Toul Tompong I, Khan Chamcarmon, Phnom Penh
Rehab Craft Cambodia
Rehab Craft Cambodia is an NGO operating to support disadvantaged people. They are the victims of natural disasters, wars or handicapped people. They produce a diversity of quality handmade crafts that are typical products of Laos like wooden sculptures, weavings, brocades… Today, their products are displayed in many local and international showrooms.
Location: No. 01A, Street 278, Sangkat Boeung Keng Kang I, Khan Chamkar Morn, Phnom Penh.
Tell: +855 68 366 366
Rajana Craft Shop
Rajana Craft Shop was officially run in 1995, importing goods from over 100 workshops in Cambodia that each its stuff reflecting a distinctive style. Products here are full of a wide variety of well priced handmade crafts such as accessories, pieces of jewelry, weavings, scarves, pottery… All of them are made by Cambodian artisans who receive a fair price for their products.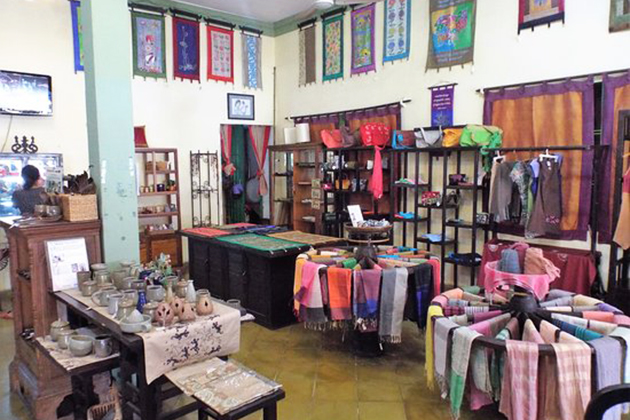 Location: 170 Street, 450 Tuol Tom Poung, Phnom Penh
Tell: +855 23 993 642
Villageworks – Phnom Penh Handicraft Shop
Villageworks is a handicraft enterprise, belongs to the World Fair Trade Organization (WFTO). The artisans here are mainly ingenious women who create incredible weavings, sewing, embroidery…All of the products here are made totally by hands and each of them has a unique fingerprint, so you cannot find out the same ones. Much more than a handicraft shop, it supplies jobs for local people. Products hide their passion, their family, their lives…and more.
Location: 113 St, Phnom Penh
Tell: +855 23 215 732
Watthan Artisans – Handicraft Shop in Phnom Penh
Watthan Artisans is an organization that was established to help Cambodian disabilities. They work on handicrafts and wood carvings, silk and cotton garments, jewelry, scarves…with a very high quality that is much better than at the markets. Also, you are given advice by the friendly salesperson before deciding whether to purchase as well as have a chance to visit the workshop, directly witness the staff making excellent handicrafts.
Location: 180 Norodom Blvd, inside Wat Than Pagoda, Sangkat Tonle Basac, Khan Chamkar Morn, Phnom Penh.
Tell: +855 23 216 321