No matter you are a tourist or a resident who want to go to Cambodia if you want to go to Cambodia surely that the information about Cambodia Visa is the need for you. So, to get more detail about how to get a Cambodia Visa, don't miss this essential Cambodia travel guides, Go Cambodia Tours will give you the detail information.
What Kind of Visa do You Need to Travel Cambodia?
Tourist Visa:
Suppose you want to dwell in Cambodia within 30 days, a tourist visa is applicable; it can be extended once. The cost for Tourist Visa is $30 if you get it directly at the airport. For anyone who wants to renew for an additional 30 days for a fee of $45.
If you are planning a stay in Cambodia, start with renewable ordinary visa instead. Within 4 hours, issued a new Cambodia Visa at the Siem Reap airport.
Cambodian Ordinary Visa (E class):
If you are considering staying in Cambodia for an extended period of time, you need to apply for a 30 days E class Visa (excluding online Visa) when you arrive. The cost of Cambodian Ordinary Visa is $35. The difference between the ordinary visa and the tourist visa is that the ordinary visa can be extended, then you can choose an EB, EG, or ES.
Business Visa:
If you have a plan working in Cambodia for more than 2 months with multiple entries with cost $155. The current Cambodia rules (in 2019) require an application to provide a stamped letter verifying their employment with a Cambodian company. Comparison with other countries, the Cambodia Visa extension can last longer.
For those who are self-employed a business, they can write a letter confirming their own employment.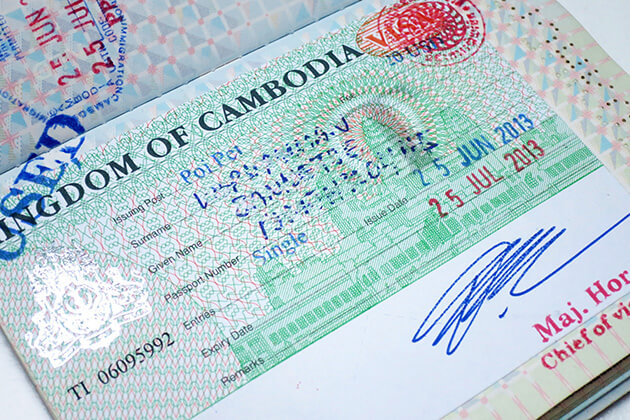 Cambodia Visa for Children:
In late 2016, all non – Cambodian children have been required to have an E-class visa to enter the Kingdom, And the price of the Children's Visa is the same as the adult. If the child who has at least one Cambodian parent, they can apply for a free K class visa. Then they can apply for an ES visa extension without evidence of being enrolled in school up to the age of 17.
Other Types of Cambodia Visa:
+ EG Visa Extension: for those searching for employment, which can last 1,2 or 6 months.
+ER Visa Extension: For those who of retirement age and they have to show documentation of retirement in their home country. Especially, they must have the funds to support themselves. The Visa Extension issued for 1, 3, 6 or even 12 months
Where You can Apply for a Cambodian Visa?
Cambodia Visa at Airports:
If you are in most countries, you can get visa on arrival at the international airports, Phnom Penh, Siem Reap, and Sihanoukville. With the paperwork on the plane, passport photos, cash (in US dollars) and passport. However, not all countries in the world can obtain a visa on arrival.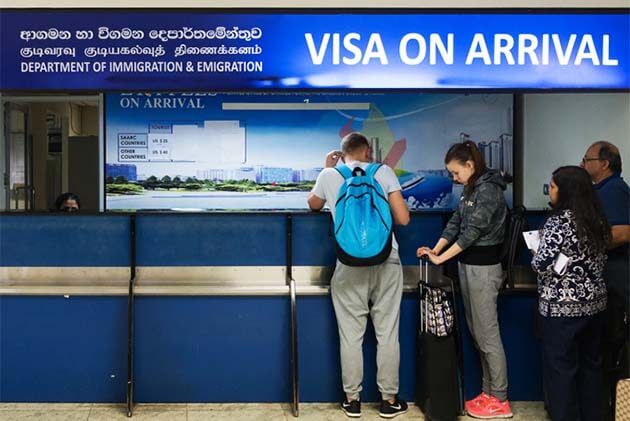 Cambodia Visa Online:
Cambodia Visa online is the most convenient way to get a Cambodia visa. However, it only applies for the Tourist Visa and is available to those entering Cambodia at the Siem Reap, Phnom Penh, and Sihanoukville airports and the Bavet, Poipet, Stung Treng, and Cham Yeam land border crossings. The easy way to apply for E Visa that you fill up the detail information where needed and submit your e via payment through safety payment term with the credit card. Then, print as soon as you receive e visa via email with your passport. The cost for the Cambodia visa online is $40 for a 30-day visa. And this E visa can be applied up to 25 languages in the world.
You can apply through the official Cambodia visa government site
Cambodia Visa at Embassy:
To make sure, and get more information about Cambodia as well as how to get a Cambodia visa, you can go to Cambodia Embassy in your country.
Cambodia Visa at Land Border Crossing:
You also can add Cambodia Visa nearly the Vietnam – Cambodia border, Thailand – Cambodia border, Laos – Cambodia border
What Materials Do You Need to Apply for a Cambodian Visa?
An application form, one or two passport-size photos, passport photocopies (used applying at some consulates/embassies), a valid passport for at least 6 months with at least one blank page