The south-western coastal region definitely highlights the Cambodia tour as the most beautiful places that tourists have visited in Southeast Asia. A night swim in the sea with bio-luminescent plankton and adventurous jungle treks to untouched beaches are making this region of Cambodia become a must-see destination in this kingdom.
The Mainland Coastal Region in Cambodia
Sihanoukville and Otres Beach
Although Sihanoukville was built up indiscriminately, it makes an excellent launch pad to the marvelous island which is located within an hour of the mainland. Serendipity and Ochheutal being the most attractive beaches.
Otres beach, just about 10-minute tuk-tuk ride away from the center, impressed by long stretches of golden sand and chilled out bohemian vibe. The accommodation here gives you a chance to live right on the beach with the relaxed atmosphere making it a hang-out haven for the backpacker types and the like.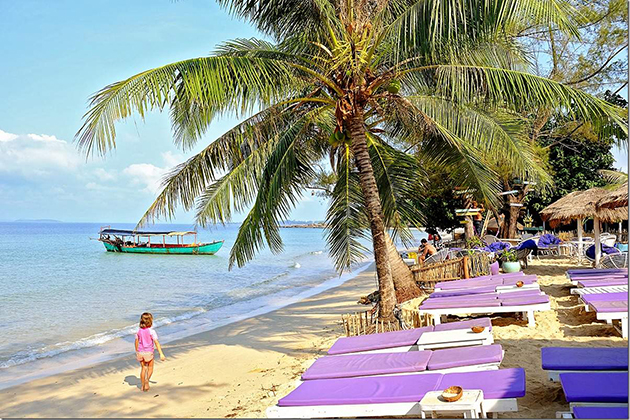 Kampot and Kep
The pretty towns of Kampot and Kep are a little further south around the coastline. Inland Kampot is the perfect place to explore the surrounding area. You can hire a motorbike or charter a tuk-tuk for the day, a guesthouse will be able to recommend a reliable service in order to discover Kampot yourself. Take a trip up Bokor Mountain is a fantastic experience, where offer incredible views right out to the coastline and surrounding islands. This mountain is also home to many abandoned French colonial buildings like a huge mansion, which is very fun to explore, despite its strange. Kampot pepper is one of the best peppers in the world. It has a great plantation that you may visit to find out more and try some samples.
Just about 30 minutes ride away, the small seaside fishing village of Kep offers tourists a nice stretch of beach to relax. In addition, the seafood market always has fresh products on sale. It also provides the SUP tours for the tourists, which is among the fastest growing water sports in the world. The best choice is a half day tour in which visitors may take a look at a local community and paddle to through the mangrove forests and the floating villages.
A Guide to Visit the Islands in Cambodia
Koh Rong
From Sihanoukville, take a boat to Koh Rong. Koh Rong is the bustling backpacker island where has a number of exciting activities you can do to discover this stunning island. You may see the glowing plankton. Koh Rong is well-known for bioluminescent plankton which lights up in the dark. Besides, Ziplining through the jungle in High Point Adventure Park is an adventure experience. In the late afternoon, you would expect to enjoy the view at the Skybar.
The accommodation options here are extremely various for all budgets and the gorgeous beaches make for lazy days after a night of partying.
Koh Rong Samloem
It is considered the sister of Koh Rong, is also just 45 minutes from Sihanoukville. Koh Rong Samloem is less developed than Koh Rong, and still quite unspoiled. There are 4 beaches can be found on Koh Rong Samloem; M'Pei Bay, Sunset Beach, Saracen Bay, and Lazy Beach. These beaches are soft as silk and white as snow. The eastern side of the island is the more charming side with more expensive accommodation options, while the western side provides more reasonable options. Outside of the small village on the island, there is no wifi and the electricity is limited. Famous for its splendid diving and snorkeling spots. The main attraction is the bio-luminescent plankton making a beautiful night.
Koh Ta Kiev
Accessed by a boat from Sihanoukville, this tiny island has a similar vibe and there are recently only a handful of hostels, each on separate sides of the island and connected only by trekking.
The beaches are completely pristine, untouched and while we were there in low season, we blissfully had miles of golden stretches of sand totally to ourselves. Tourist can choose the accommodation between hammock sleeping on the beach and private bamboo bungalows. However, the electricity on the island is very limited, hence, most of the resorts draw their power through solar panels or generators.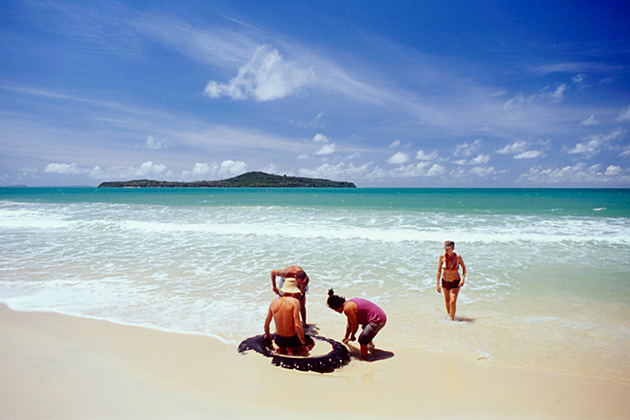 Koh Tonsay
The name Koh Tonsay come from the word "Rum Say" which means "Spread out". Koh Tonsay, or Rabbit Island, is just 25-minute boat ride from the port in Kep. If you are really into a good sunset, this is the paradise for you because they are enormous. Before, this island is a place that prisoners were sent for correcting and defending the island. Some tourist infrastructures st the island including the path of horse cart around the island, wooden motel and restaurant, clean-water system and other administrative buildings, were constructed during the Sang Kum Reas Ni Yum time. However, these infrastructures have almost been damaged because of war and nature hazard during more than 2 decades. Today, there are 7 families living on the island. They earn their living by small fishing and coconut plantation.
Koh Sdach
Accessed by road and then boat, more than 6-hour boat ride from Sihanoukville, Koh Sdach, the bean-shaped island, is the capital island of Koh Sdach archipelago (including Koh Sami, Koh Samot, Koh Chan & Koh Totang). It stretched from North to South on a length of around 2.8km, which is rather and generally forested. The natural jungle has been replaced by coconut trees for commercial purposes.
This island is well-known for its beautiful colored coral. Accommodation here varies vastly, some with a very basic guesthouse, and then an upmarket resort with landscaped gardens and private.
Some Notes Before You Visit Cambodia's Coastal Region
There are no ATM's on any islands, ensure that you bring enough cash because you cannot pay by card. At the same time, pharmacies or medical facilities don't exist on the islands except for a basic clinic on Koh Rong. Therefore, remember to take extra care to watch out for centipedes, snakes, and scorpions.
Food is various on these beaches and islands of Cambodia both in terms of Cambodia food and western food with many vegetarian options. However, don't leave any food in your backpacks in case of some unwanted holes in your bag because of the rat. Besides rat, sand-flies are a big pest on most the islands. Thus, take some high percentage deet with you and take care of yourself in the dusk.