If you have an amazing chance to visit Cambodia, there is a palace you cannot miss. Known as the pride of Cambodia, Angkor Wat is listed at one of the most Heritage Sites by UNESCO. Visiting Angkor temple, you will be surprised by the massive structure and architecture that have remained for centuries, a whole Khmer culture still seems to be intact. So, how to visit Angkor Wat in the right way upon you. But if you don't you may take a lot of time to visit the complex. So, If you consider how to visit Angkor Wat, Go Cambodia tours will give you the essential guide to visiting Angkor Wat. Now, check it out!
Don't Spend Much Time in a Site at Angkor Wat
I do not deny that Angkor Wat has a lot to experience, so do not stay in the mind of photographing many of Angkor's ancient ruins and reliefs, but you will have a much better experience if you Understand what you see.
You can hire a professional guide for $ 20 a day, they will provide you with great historical knowledge that you won't find much time. However, be careful with scammers
If you want to go alone, get one of the many detailed maps or booklets in each location in the small, cost-effective Angkor Wat temples. History and understanding will enhance your experience. You can buy the book at the airport or near the temple.0
Avoiding Scams at Angkor Wat
There is no strange to admit that Angkor Wat is the main place for the tourist when traveling to Cambodia. However, you should be careful with scams as well as be careful with anyone approaching you inside the temples.
· The police officers in uniform sometimes approach tourists at temples. They will give you the information about a particular temple. So, avoid interactions with them altogether.
· The official tuk-tuk and motorbike taxi drivers are required to wear colored vests.
· Don't need to pay any additional entrance costs when you buy an entrance pass. And don't believe anyone if they ask you for additional money at temple entrances
· Don't receive any incense stick, bracelet, or gift, then they will require for donation after the interaction.
· It's amazing when cycling around the Angkor Wat Complex. However, remember that lock your bike, thefts can be a problem. Unlike in Thailand, you have to drive on the right in Cambodia
· Purchasing books, postcards, and bracelets from the children is also a help, but it's illegal trading because the price can be up to 10 times the normal price.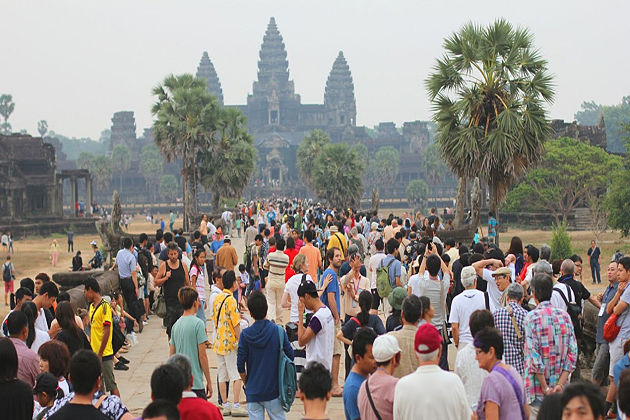 What to Wear While Visiting Angkor
Always keep in your mind that Angkor Wat Complex is the temple as well as the largest religious monument in the World. So, be respectful in the temples and dress modestly.
Usually, Cambodia adheres to a dress code of covering knees and shoulders while exploring Angkor Wat. Avoid wearing skimpy clothing or shirts featuring Hindu or Buddhist religious themes (Ganesh, Buddha, etc).
In Southeast Asia, flip flops are chosen by the footwear, many of the stairs to the top levels of temples are steep and dangerous. Sometimes, Trails can become slippery, so you need to bring good shoes if you do any scrambling.
What to See Angkor Wat Temples
Although there are a lot of temples in Angkor Wat, you will confuse where should you go first? So, we offer the most popular temples you can follow. First, let's go, Angkor Wat, the main site, which is regarded an ideal destination for watching the sunrise, listed at the top 20 best sites to enjoy the sunrise in the world, voted by CNN. Then, move to Angkor Thom, which was the last and most enduring capital city of the Khmer Empire. Next, visit Preah Khan and Banteay Srei, located at the northeast of Angkor Thom, which was the center of a substantial organization with almost 100,000 officials and servants. Bayon, Ta Prohm, Bakong will be the next destinations
The main Angkor Wat complex is usually a circus of activity, particularly during the busy season months between December and March, so it will have a little trouble when reaching. Because this is the best time to visit Angkor Wat, so there are a lot of visitors come here. So, you can go to small temples, which will give you better photo opportunities, and have fewer tourists and signs instructing tourist. It's necessary to bring a map or hire a good guide or driver to reach some of the secondary temples sites. Some small temples you can follow, which isn't less beautiful than the main site: Ta Keo, Neak Pean, Thommanon, Banteay Samre, East Mebon, Srah Srang.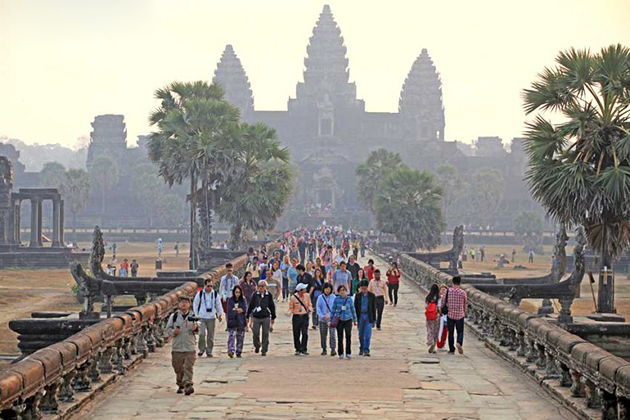 Getting to the Temples at Angkor Wat
Just only 20 minutes north of Siem Reap in Cambodia, there are many options for moving between Siem Reap and Angkor Wat. Dry Season between November and April here will be the best time to go to Angkor Wat. If you visit the temple in the monsoon months, be careful by the heavy rain, which makes scrambling around the ruins outside a soggy experience. So if you plan to visit Angkor Wat, you should go on December, January, and February, which are the busiest months at Angkor Wat.