Given the extent and breath of the Angkor ruins and their importance to the former Khmer Kingdom, Siem Reap has become a tourist wonderland. The city is packed with lots of day and night tours, hostels, and boutique hotels, and plenty of thumping beats from nighttime bars. But beyond those magnificent ruins, travelers often get in and out of Siem Reap without exploring a bit more of what small town has to offer. Below are our suggestions on 8 must-do experience in Siem Reap beyond Angkor Wat to fulfill your Cambodia vacation.
1. Visit Banteay Srei Temple
When compared with other Angkorian temples, this 10th-century Hindu temple looks tiny, yet its charm is unparalleled. Its exquisite sandstone carvings are among one of the finest in the world, thus it is known as the "jewel of Khmer art" and is extremely popular with tourists. Banteay Srei refers to "citadel of the women" or "citadel of beauty" which is said to be associated with the intricacy of the carving on the wall. Therefore, the temple is believed to have been built by women. The surrounding areas of the temple are also nice with many trees and water lilies, making it perfect to have a stroll beyond an Angkor Wat tour.
Location: Banteay Srei District, Siem Reap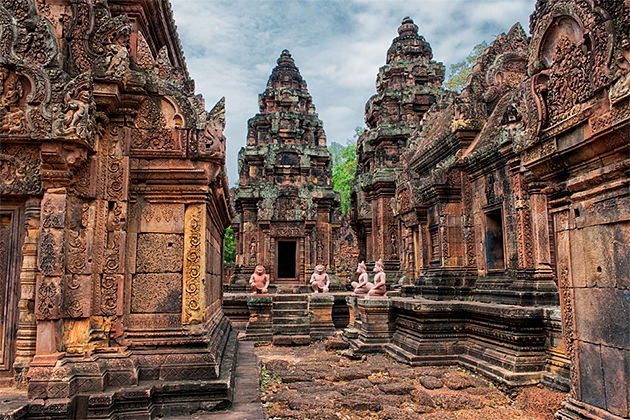 2. Visit the Cambodian Landmine Museum
Founded by the soldier Aki Ra who returned to the villages to defuse the landmines that he had planted, the Cambodian Landmine Museum aims to reach the tourists the importance of landmine clearance. Tourists will get a great sight into the use and impact of landmines on the Cambodian population. The proceeds are used to help clear landmines, build rural schools and improve the living conditions of the children in the Relief Centre. Don't forget to use the free audio guide which helps to explain the displays and the history of the landmine.
Opening hours: 7:30 – 5:30 PM
Location: Angkor National Park, 7km South of the Banteay Srey Temple, Siem Reap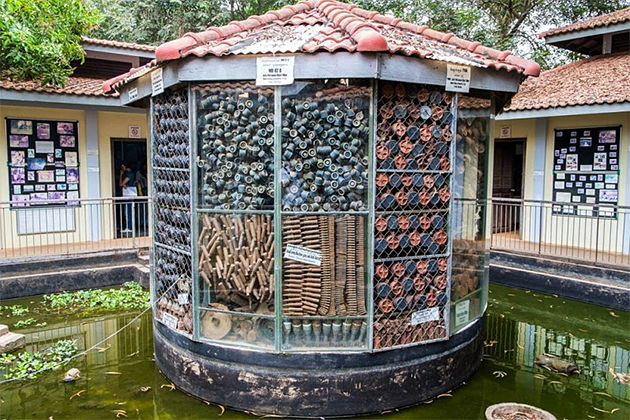 3. Enjoy the Phare Cambodian Circus
When comes into a must-do experience in Siem Reap beyond Angkor Wat, it is obviously the Phare Cambodian Circus show. Considered to be Cambodia's answer to Cirque du Soleil, it is more than a conventional circus. The performance is a perfect mix of theater, music, dance, and acrobatics, which tells the country's unique stories of the past and present. You will be surprised by the energy, enthusiasm, and talent of the young artists, many of whom came from impoverished backgrounds. Tickets of the show are used to support the Phare Ponleu Selpak, an NGO school from which the performers of this traditional art graduated. Especially, for those loving animals, they will be happy to see that no animals are involved in the show. Because of the high season (November to March), you should book tickets in advance.
Opening hours: 8.00 PM daily
Location: Ring Road, South of the intersection with Sok San Road, Siem Reap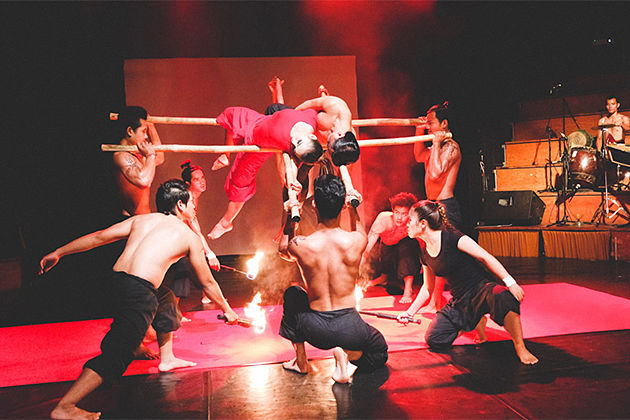 4. Wander the Old Market
Located in the center of Siem Reap, the Old Market is well-worth spending an hour or two. Whether you are hunting for your ideal souvenirs, looking to taste authentic local snacks, or simply wanting to see the bustling local life, it is the right place to go. You will find a wide range of cheap and cheerful Tshirts, shoes, silk scarves, handicrafts, and fresh produce from vegetables to seafood. Also, if you are a food junkie, hit the food section at the center of the market and sample some Cambodian noddles, baguettes, soups sausages or Bai Bach Chrouk (popular Cambodian breakfast served with pork slices, rice, and scrambled eggs). One tip for you is you should keep an eye on your values as the market can get crowded.
Opening hours: 7:00 AM – 8:00 PM
Location: Psar Chaa Road, Siem Reap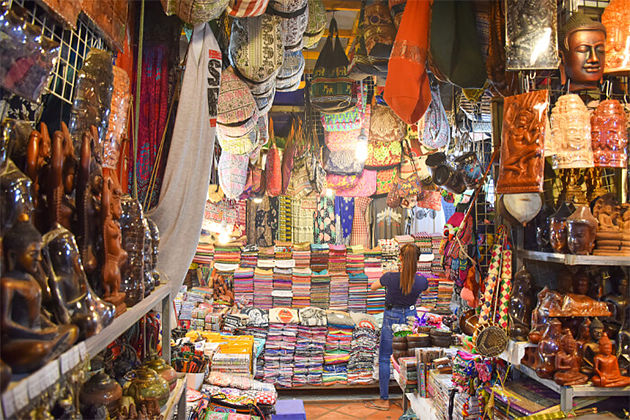 5. Take a Boat Ride on the Tonle Sap Lake
If you are tired of seeing the Angkor temples or simply want to try something new, why not head to the picturesque Tonle Sap Lake and explore the unique floating villages. Tonle Sap means great lake, and is the largest freshwater lake in Southeast Asia, connecting five provinces and millions of Cambodians living around it. Many fascinating activities on the waters are waiting for you to explore. You can hop on a boat and marvel at the bustling everyday life, watch boats zooming past, fishermen throwing out nets to catch fish, or just admire the lovely water hyacinths.
Location: Lower Mekong Basin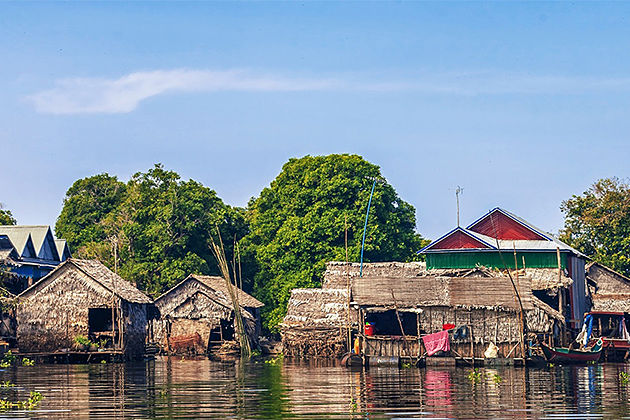 6. See Angkorian Artifacts at the Angkor National Museum
Angkor National Museum is a worthwhile stop before touring the Angkorian temples. The modern museum not only showcases the glories of the Khmer empire, but also offers tourists an excellent chance to learn about the Angkor's history, culture, region, and politics. It is air-conditioned, well laid-out, and easy to navigate through the various themed galleries. The museum house a fine collection of Buddha's statues relics, which helps explain the influence of Buddhism on the Cambodian people from ancient to modern Cambodia. Other galleries include Khmer Civilization, Religions and Beliefs, Great Khmer Kings, Angkor Wat, Angkor Thom, etc. Get an English audio guide at the entrance to make it easier to comprehend the displays and their history. There is also a café if you need refreshments, and a gift shop to take a look.
Opening hours: 8:30 AM – 6:00 PM (April – Sep) 8:30 AM – 6:30 PM (October – March)
Location: 968 Vithei Charles de Gaulle Blvd, Khrum 6, Siem Reap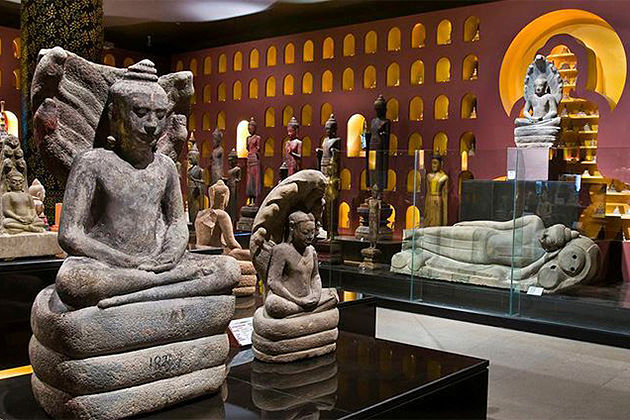 7. Spot wildlife at Angkor Centre for Conservation of Biodiversity
Located 12km north of Banteay Srey is the Angkor Centre for Conservation of Biodiversity, a wildlife reserve providing shelter from some 45 endangered species of over 550 animals rescued from illegal trade. It is a great chance to see pileated gibbon, silvered langur, Bengal loris, Asian palm civet, leopard cat, turtle, sarus crane, and storks. These threatened creatures are well cared for so that they will be released back to the Cambodian forests on the day.
Regular guided center tours are available at 9 AM and 1 PM from Monday to Saturday. You will spend a minimum donation of 3 USD for a tour of this center. Proceeds go to the feeding of the endangered animals and supporting the local communities.
Location: Kbal Spean, Phnom Kulen National Park, Siem Reap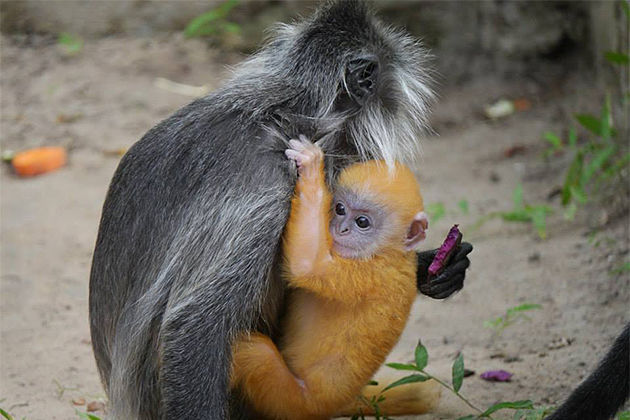 8. Unwind at the Pub Street
Famous for its vibrant nightlife, Pub Street neighboring the Night Market is a fantastic place to find a spot to relax for the evening after a long day of seeing the sites. The street is teeming with bars, restaurants, and shops, which is great to eat, drink or shop at a reasonable price. You will find a diverse range of dishes from Khmer to Italian, Mexican, Chinese, etc. In restaurants to suit every taste. Also, you can have incredibly cheap locally made beer in bars. Even if you don't feel like eating and drinking anything, it is still worth taking a leisurely walk or observing people doing.
Location: Street 08, Krong Siem Reap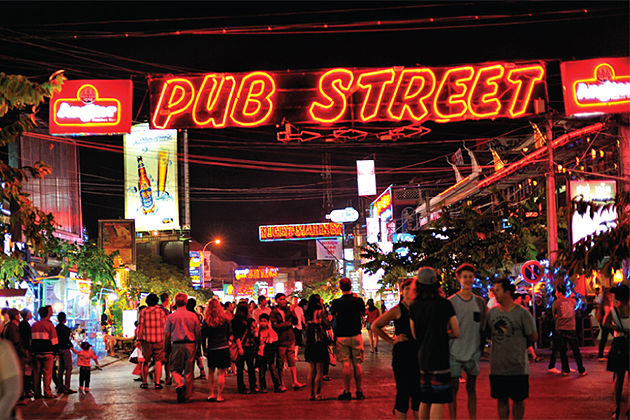 Go Cambodia tours hopes these recommendations helpful when you are planning your dream Cambodia tour in general, Siem Reap trip in particular. Feel free to let us know which of these experiences you would like to have or what other activities you want to add to your itinerary. For any inquiries regarding Cambodia travel, please contact us at [email protected]. We will help you to create a trip plan based on your requirements and interest.