Visitors coming to Cambodia tour packages need to prepare a one-month tourist visa which costs US$30. Then visitors will receive this on arrival at Phnom Penh and Siem Reap airport, and at land borders. The residents who come from countries like Afghanistan, Algeria, Bangladesh, Iran, Iraq, Nigeria, Pakistan, Saudia Arabia, Sri Lanka, and Sudan need to make advance arrangements. Your passport required a sized photo, you may be "fined" US$2 if you don't have one. It is very convenient to arrange a visa through Cambodian embassies overseas or online e-visa (US$30, plus a US$7 processing fee) through the Ministry of Foreign Affair. Noticeably, E-visa is only accepted at Phnom Penh and Siem Reap airports (not accepted in Sihanoukville), and at the two mainland borders: Bavet/ MocBai (Vietnam) and Poipet/ AranyaPrathet (Thailand).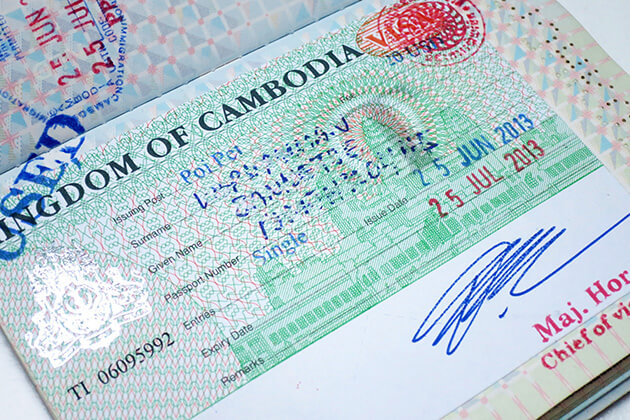 Visitors who come from ASEAN member countries do not require a visa to visit Cambodia
If you want to stay longer than visa permission, a visa often costs US$5 a day.
Visa Extension in Cambodia 
Visa extension is issued by the large immigration office opposite to Phnom Penh International Airport. Extensions are easy to arrange just a couple of days. It costs US$45 for one month (for both tourists and business visas), US$75 for three months, US$155 for six months and US$285 for one year.
 Cambodia Passport
Your passport is required to be valid for at least six months. You should also make sure that there is enough space left in the passport because a Cambodian visa alone needs one page.
You can also keep a photocopy of your passport photo page just in case you lose your passport, then this photocopy will be helpful for expedite new passport process.