Siem Reap might be most well-known for the temples of sprawling Angkor Wat, but the shining light of the Cambodian tourist industry is also increasingly earning itself a reputation as the home of numerous great cafés and coffee shops, which is chosen by tourist in the list of Siem Reap highlights. Whether you're looking for a pick-me-up caffeine fix, a soulful brew of afternoon tea, or something more substantial to eat, please checklist the top 10 best coffee in Siem Reap.
The 5 Best Siem Reap Coffee Shops
The Little Red Fox Espresso
This is a small, eco-friendly spot with a clear mission to serve great coffee; inside the ground-floor space, there's just one large communal table and a few stools at a bar, while pleasant, tropical-greenery-shaded outdoor seating on the front terrace looks onto the quiet street. They've recently also launched an extra in-between level up some stairs that are known as The Den.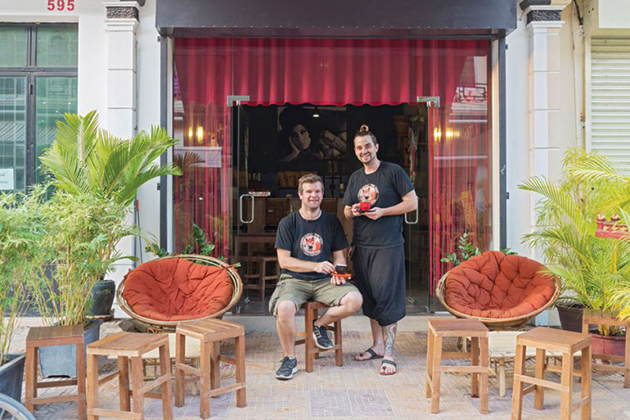 Address: Thursday-Tuesday, 7 am – 5 pm; Hup Guan Street (Kandal Village)
Call: 016-669-724
The Hive Coffee
Just around the corner, and also forming part of Kandal Village, The Hive is a duplex-setup coffee shop with a relatively unassuming frontage concealing its likewise excellent coffee. The brew at the Hive is some of the best we've tasted in Siem Reap, and the extensive food menu makes this a great spot whether for breakfast, brunch, or lunch.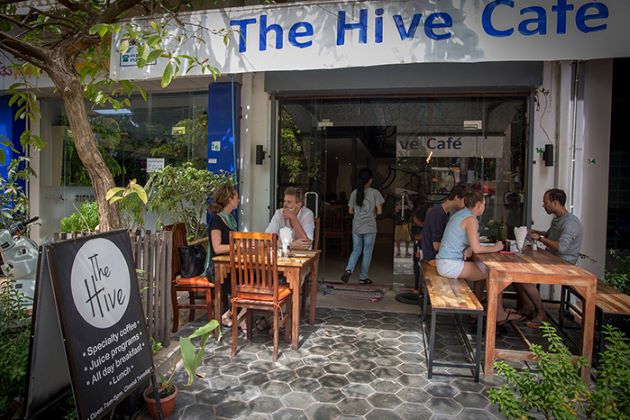 Meals run the gamut from unmistakably Australian-inspired brunch options like vegemite toast and smashed avocado and poached eggs on rye with gorgeous tomato chutney, to more international choices like Sri Lankan kottu roti.
Address: Wednesday-Monday, 7 am – 6 pm; Psar Kandal Street (Central Market Street)
Call: 097-763-3484
Sister Srey
Yet another of our favorite cafés in Siem Reap, and a regular haunt of ours, Sister Srey Cafe is a social enterprise that donates a portion of its profits to the Hearts to Hearts to Harmony Foundation, as well as running a number of other initiatives to help the café's staff and others in Cambodia to build a better life for themselves.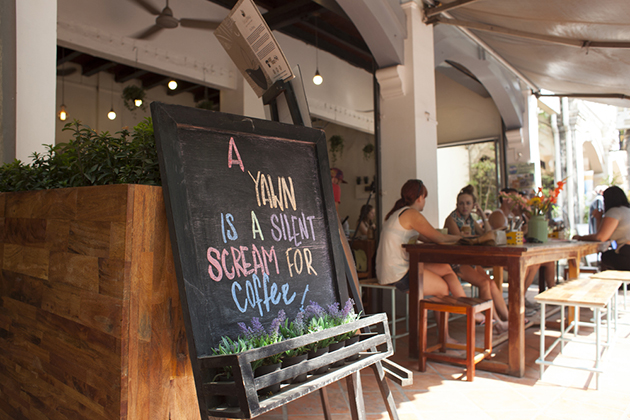 The riverside café, set up by two sisters ('srey' means 'sister' or 'woman' in Khmer), is popular for its strong coffee, good-value and health-conscious, predominantly western meals that include a range of raw food dishes, and above all else for the friendly services and positive vibes that the place has quickly become known for. Upstairs from the café, there's also a boutique and reading area, the perfect spot to settle in for a couple of hours on a rainy day, or simply for a break after exploring Angkor Wat.
Address: Tuesday-Sunday, 7 am – 6 pm; Pokambor Street
Call: 097-723-800
ARTillery Café – Siem Reap
ARTillery Cafe – Siem Reap cafés already have a loyal following in the Cambodian capital of Phnom Penh, and the Siem Reap branch is making similar waves. Artillery has a focus on environmentally-friendly practices and is also a healthy-minded café. That means you can expect a solid range of cold-pressed juices, and plenty of vegetarian, vegan, and raw dishes. Needless to say, there's great coffee on offer, plus ice cream – and they stock a range of health, beauty, and homewares products to take home, too.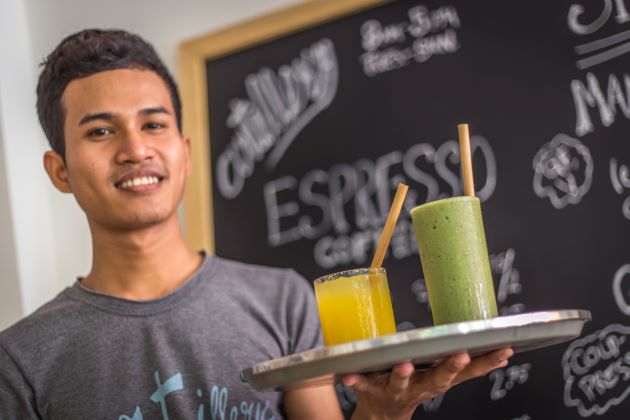 Address: Daily, 7.30 am – 9 pm; Wat Bo Road
Call: 085-856-511
Pages Coffee – Siem Reap
Pages-Siemreap is a stunningly retro, industrial-style refurbished complex that comprises everything from architects' offices to apartments and hair and beauty salon – plus, of course, a stunning multi-purpose café-bar-restaurant. Tucked away in a beautifully peaceful corner of the Wat Bo neighborhood, it's another of our favorite spots to hide away, whether alone with a quiet coffee or with friends for a few drinks, some tapas plates to share, and a good catch-up.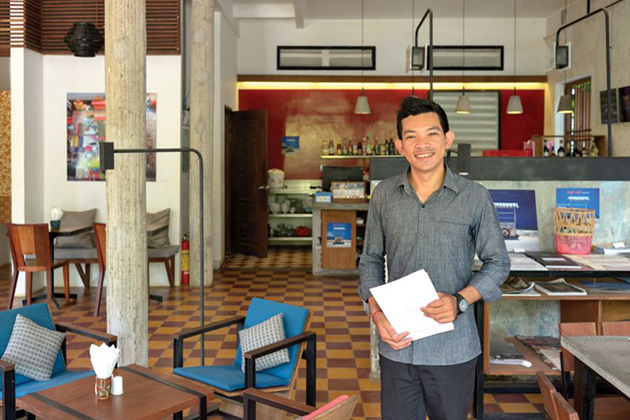 The menu includes local and international dishes for breakfast, lunch, and dinner – this is a spot that's open well into the evening – along with a good selection of wines and cocktails. The open doors and windows often catch a lovely breeze, and there's a gorgeous range of high-quality boutique souvenir items to peruse, too. If you like the unassumingly tranquil setting of Baby Elephant Boutique Hotel, Pages is another arty hideout you're sure to love.
Address: Daily, 7am-10pm; Street 24
Call: 063-966-812
5 Recommended Coffee Shops in Siem Reap
Fresh Fruit Factory
Address: #155 Taphul Road, Siem Reap
Call: +855 81 313 900
Gelato and Coffee Lab
Address: Alley West/Between Sivatha Rd and Street 11, Siem Reap 855
Call: +855 96 334 2632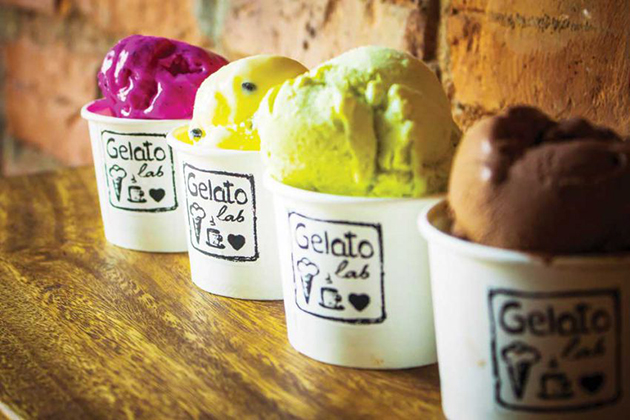 Footprint Cafes
Address: Street 26/50 Metres from the river, Siem Reap
Call: +855 92 800 308
Blooming Café and Training Centre
Address: 6 Mondul 1 Svay Dangkum/Central Market, Siem Reap
Call: +855 17 800 301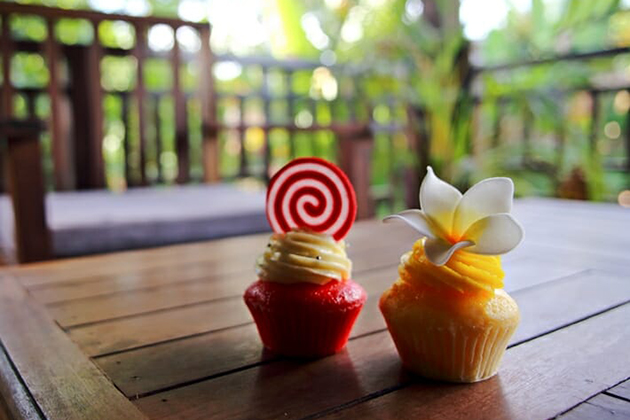 Vibe Café
Address: 715 Hup Guan Street/Kandal Village, Siem Reap
Call: +855 69 937 900
Here are the top 10 Coffee shop in Siem Reap. Choose one for yourself, relax, and enjoy a cup of coffee. Or you also can buy as gifts for your family, your friends during your Cambodia tour packages.