In Cambodia, February seems to be relatively quiet as there is only one celebration falling in this month. However, it is as important as any festival in other months throughout the year. It is called Meak Bochea Day which refers to Fourfold Assembly or Sangha Day.
Meak Bochea Day
Time: the full moon day of the third lunar month (usually falls in late February)
Duration: 1 day
Location: Buddhist temples throughout Laos
Meaning: Meak Bochea celebrates the gathering of more than 1,200 monks who pay homage to the Lord Buddha.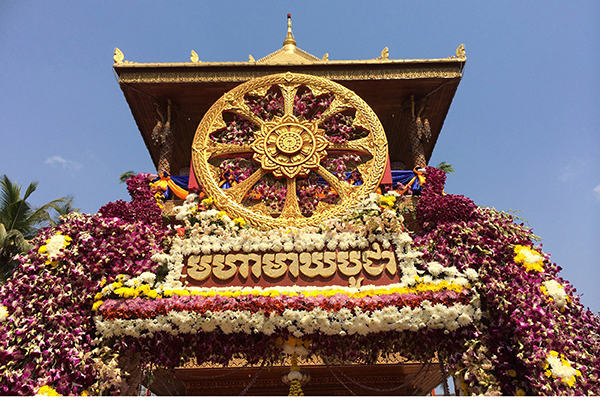 The celebration marks the four auspicious events, which happened nine months after the Enlightenment of the Lord Buddha at Veluvana Bamboo Grove. 2500 years ago, four occasions, which are believed to be miracles in Buddhist doctrine, occur. The first was the spontaneous encounter of 1,250 enlightened disciples. They had heard through the grapevine that Buddha lay down the Buddha's three key principles: do good, abstain from bad actions, and purify the mind. Second, Buddha had personally ordained each of these monks. Third, each monk turned up without a prior appointment or agreement. Finally, all these events happened on the day of the full moon during the third month of the lunar calendar. During the day, candlelit processions take place at temples where devout Buddhists circle the main temple building in a clockwise direction three times.