The ancient art of shadow puppetry, or sbaek in Khmer, has been performed in Cambodia for thousands of years. Here, we look at its history and where visitors can catch shows.
The Shadow Theater has appeared every year in the Khmer history. Although during the Khmer Rouge regime, the Shadow Theater was virtually eliminated, with one-third of the population died and the majority of the country's artists were targeted, the art form has undergone a resurgence in recent decades.
Today, there are two types of puppetry, sbek thom and sbek thoch. Both of these models use leather puppets to represent old stories on a white screen that is lit from behind by burning the coconut shell, creating shadows that the audience can see.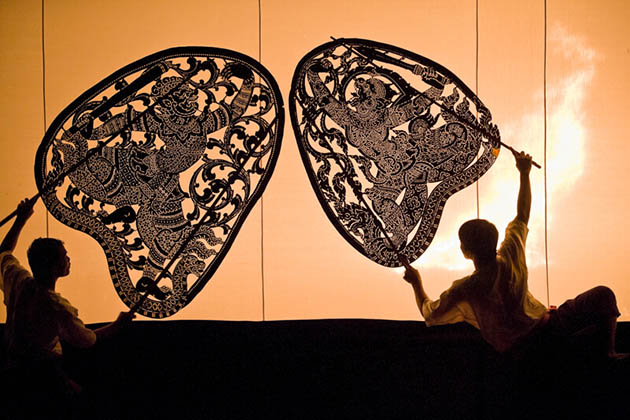 The History of Cambodia Shadow Puppetry
Puppetry is a kind of the sacred tradition from the time of Angkor. This is reflected in reliefs from the 7th century Sambor Prei Kuk temple in Kampong Thom, showing the image of the puppetry ceremony.
Puppet shows originated in Siem Reap, which took place in rice fields or temples. These performances are reserved for the deities and can only be performed on special occasions (3 or 4 times a year) such as the Khmer New Year celebration, the king's birthday or the reverence of the gods, monks and other important members of the community.
However, after the Khmer Empire collapsed in the early 15th century, the theatrical form was allowed to continue to perform throughout the country for entertainment and was considered an official art form.
In 2018, UNESCO recognized Sbekom as an intangible cultural heritage, the most popular form of shadow puppetry, featuring two-meter tall puppets made from large pieces of cowhide to retell parts of the epic Reamker — the Khmer version of the Ramayana, an ancient Indian epic poem.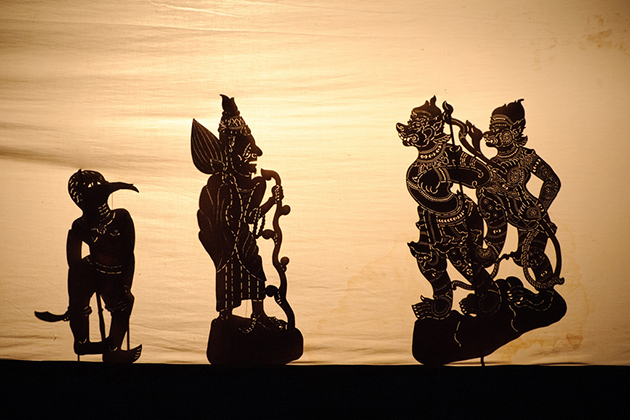 The Shadow Puppets
Today, rituals in every puppet show must be meticulously crafted using hand-carved puppets for use in performances. This engraving process can take up to 20 days.
In the process of creating characters for use in the show, artists must wear white, abstain from alcohol and live a sinless life. The skin used must also come from a cow that died from a natural cause rather than being slaughtered.
Skin types are dyed from Kandaol bark, with artists painting each image on the tan before cutting them and painting them. Two long bamboo poles are then attached to the performers can handle them.
The Performances of Cambodia Shadow Puppetry
The show usually takes place in the evening in an outdoor setting to ensure the dark is the best.
People used a bamboo pole to build a large white cloth, using a flame to illuminate the fabric to help the shadow puppets appear on screen during the show. There are a traditional Cambodian orchestra and two storytellers.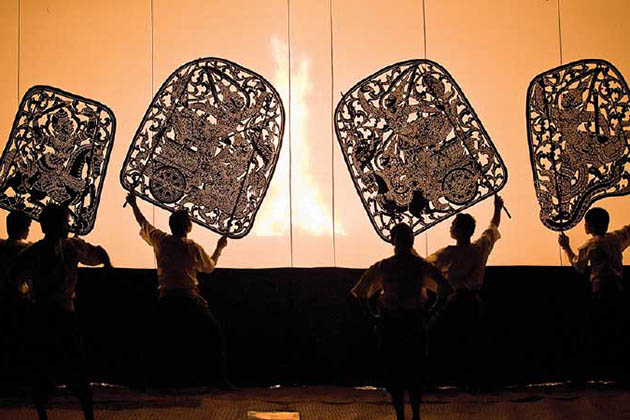 Where to Watch the Cambodia Shadow Puppetry Performances
If you want to enjoy the Cambodian puppet show, Sovannaphum Theater in Phnom Penh is the ideal choice. The theater also organizes workshops introducing and displaying puppetry, giving travelers the opportunity to see how puppets are made.
Bambu Stage in Siem Reap hosts its Bambu Puppet show every Monday, Wednesday, Thursday, and Saturday.
Cambodian Living Arts also hold several shows throughout the year, put on by Wat Bo Shadow Puppet Troupe. You can see their variety of shows by visiting their website.
Sovannaphum Theatre, No. 166, St. 99, corner of St. 484, 12307 Phnom Penh, St 99, Phnom Penh, Cambodia, +855 10 337 552
Bambu Stage, Krong Siem Reap, Cambodia, +855 97 726 1110
Cambodian Living Arts, Blvd Samdach, Phnom Penh, Cambodia, +855 23 986 032