General Information
Duration: 2 Days/ 1 Night
Start/End: Mondulkiri
Tour Route: Mondulkiri
Tour Type: Natural and Landscape, Adventure and Experience
Tour Categories: Cambodia cycling & adventure tours
Tour Customizable: Definitely! (Let us know all your specific requirements in the inquiry form)
Guides: Local Tour Guide (English or Other Languages upon your Request)
Transportation: Private first-class vehicles with air-condition
Accommodation: Upon your request
Brief Itinerary
Day 01: Bounong Community Elephant Trekking & Bathing
Day 02: Mondulkiri Landscape – Bou Sre Waterfall
Day 01: Bounong Community Elephant Trekking & Bathing (L)
When you arrive at Mondulkiri Airport in the morning, your friendly local guide will pick up you and take you to the hotel for check-in. The local guide may provide an exciting elephant experience in Mondulkiri.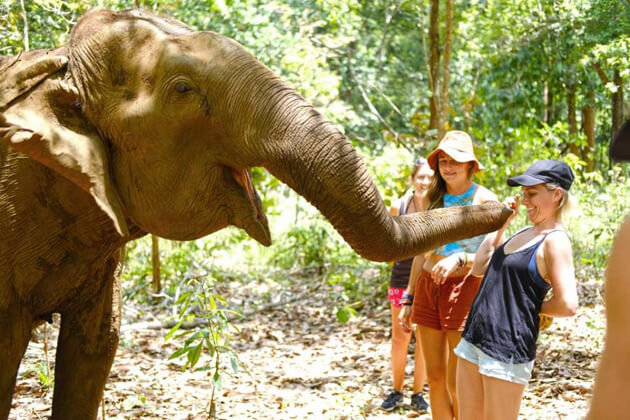 We may have 25 minutes drive to the valley before continuing walk down the valley through the forest towards the hut in the jungle of the project where the guide explains about the Bunong Elephant Project including the herd of elephants and learn more about their history, character, behavior, body language and relationship with mahout family. Before walking alongside the elephants, you can feed them buckets of bananas. Follow and observe the elephants when they walk through the jungle eating bamboo or grass.
In order to ensure that the elephants get enough food for all day, at noon, they must be taken to pastures for at least one hour and a half. They eat up to 100 kg of vegetation per day to sustain themselves. When they are grazing, you may have a picnic lunch by the river. The hut gives you the best views of the jungle valley and many species of birds.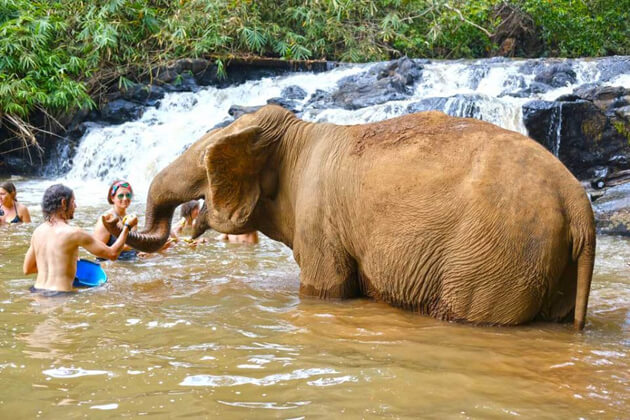 In the afternoon, the mahout will take the elephants to the river for a wash, and you are welcomed to give them a hand in the water. This will be absolutely a memorable experience during your adventure trip when you go swim with and wash the elephants. Before walking back out of the jungle, say goodbye to the elephants. Then challenge yourself with a steep hill to the starting point drive back to Sen Monorom and go up the hill of Sen Monorom for a fantastic panoramic view of the Sea Forests.
Day 02: Mondulkiri Landscape & Bou Sra Waterfall (B, L)
Leave Sen Monorom and towards the east to the double drop waterfall of Bou Sra, one of the most famous attractions in Cambodia. Along the way, you should stop at a Pnong minority village to get to know about their lifestyle. After finish, a visit to Bou Sra Waterfall where you can drop or swim, don't forget to come to a local coffee grower.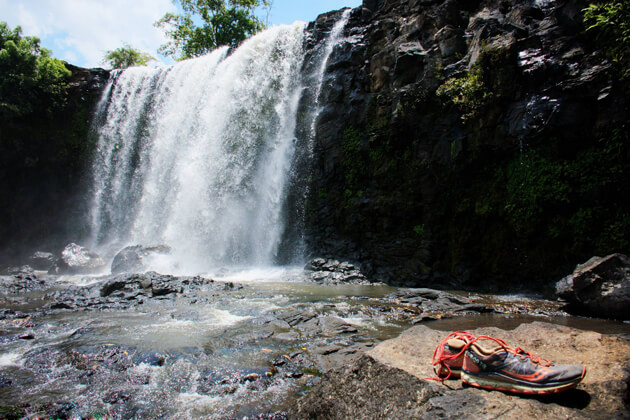 After that, spend your lunch break at the beautiful resort O'ramis and visit a mini-museum having the collection of the indigenous products such as gemstone and the traditional hunting weapon. In the late afternoon, just drive around Sen Monorom to see the landscape and the Sea Forests, or climb up the hill to visit the pagoda and enjoy the bird's eye view. And this is the perfect time for some photos.