Don't let the COVID 19 pandemic stop your love and your passion for traveling. While staying at home, you can still discover beautiful countries on a virtual tour. And maybe take a trip for real once we overcome this challenging time. Go Cambodia Tours is happy to deliver you this special promotion as the most sincere welcome to visit the land of million elephants. Book early and save up money for all Cambodia tours.
Early Bird Promotion for Cambodia Tours 2020- 2021
We would like to give you as well as future clients a promotion as a small gift to express our gratefulness.
| | |
| --- | --- |
| Total Value Booking | Cash Back |
| From US$ 500 | US$ 30 |
| From US$ 1000 | US$ 50 |
| From US$ 2000 | US$ 100 |
| From US$ 4000 | US$ 200 |
Notes:
APPLIED for ALL bookings run from 1 Nov, 2020 until 30 Nov, 2021 and paid from NOW on until 31 Oct, 2020

CASHBACK will be handed on arrival

FREE amendment (if any) 1 month prior to commencing date

FULL refund if COVID epidemic is not improved at your planned travel date

Not combined with other existing promotions
5 Best Places to Visit in Cambodia 
1. Sihanoukville – Paradise Coastal City
The city is on the rise, so it retains its original, pure beauty with stretching beaches, beautiful offshore islands, the biodiversity of Ream National Park, and Angkor – the national beer of Cambodia. In particular, Serendipity Beach and Ochheuteal Beach are the two busiest beaches in Sihanoukville with long white sandy coastline for tourists to wander and participate in many activities on the sea such as surfing, scuba diving, kayaking, and so on. In addition, this place also converges a lot of restaurants and bars operating around the clock to attract tourists. Find yourself a rattan chair and drop yourself to watch the sea, enjoy traditional Cambodian dishes to European dishes, Angkorian beer and even tropical cool glasses here to make the best experience.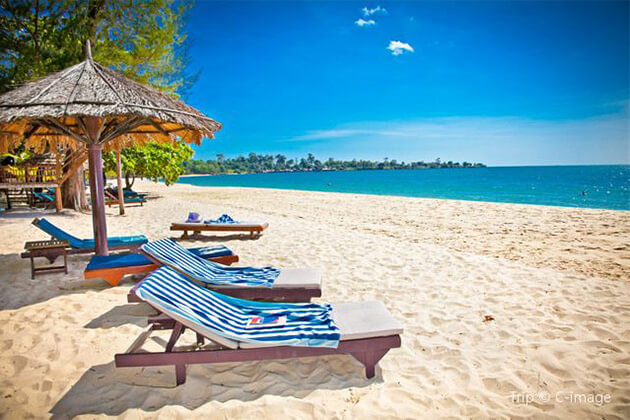 2. Koh Rong Samloem – Heaven On Earth
No need to spend a large amount of money to immerse yourself in the clear blue water of the Maldives or Hawaii, enjoy a summer of paradise, amidst the cool blue water, creamy-colored sandy beaches and the sunshine on the Koh Rong Samloem island. The beautiful Koh Rong Samloem Island which is known as a forgotten paradise is the perfect choice for visitors when planning to go to the "deserted sea" in the summer. Do not forget to prepare a good camera to save the beautiful frames here!
If you love the pristine and fresh place in the blue sea, yellow sand, perhaps, there is nothing more exciting than to temporarily put aside the chaotic life and enjoy the wonderful moments at the paradise island. Additionally, many outdoor activities are waiting for travelers to participate such as to enjoy the outdoor buffet filled with music and joy, go to Koh Tas island with a snorkel to see the colorful coral reefs; explore the rainforest or organize an outdoor party in the evening.
3. Angkor Wat, Siem Reap – The City of Ancient Ruins!
Angkor Wat is one of the most popular summer destinations in Cambodia for both Cambodian people and international tourists in the world. Especially, during holidays, this place attracts thousands of tourists to visit. Angkor temple complex includes over 1,000 temples and sanctuaries with ancient and magical architecture. Besides, visitors should walk around Angkor Thom – the last capital of the Khmer Empire. There, they admire wooden structures and temples inside the city walls including Bayon, Phimeanakas, Baphuon, Terrace of the Elephants, Terrace of the Leper King, and so on. And don't miss the most popular attraction, Bayon Temple shining with over 200 massive stone faces carved into temple gates and towers. Though the dry season (from December to May) in Cambodia is quite hot, visitors can still make a memorable trip with precious experience.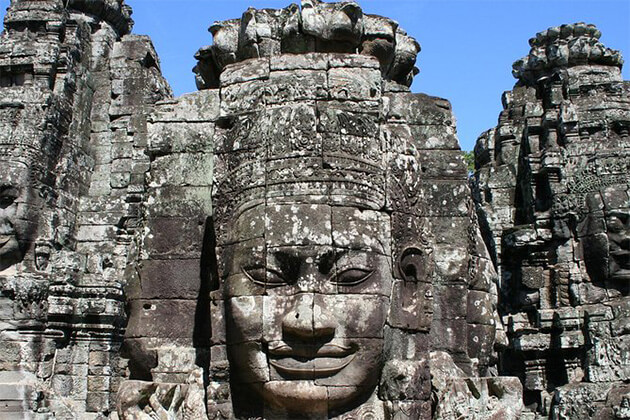 4. Phnom Penh – Classic And Modern Mixture
The capital of Cambodia, Phnom Penh, must be the most husting and bustling city around the country. With skyscrapers rising more and more, they offer a great chance for people to overview the whole country from above, especially in the evening when the city is twinkling and the temperature is not very high. Panoramic and breathtaking views could make visitors feel overwhelmed in the splendid beauty of Phnom Penh. Located in a prime location, this city certainly houses a wide range of hotspots like cafes, bars, and restaurants serving stunning dishes.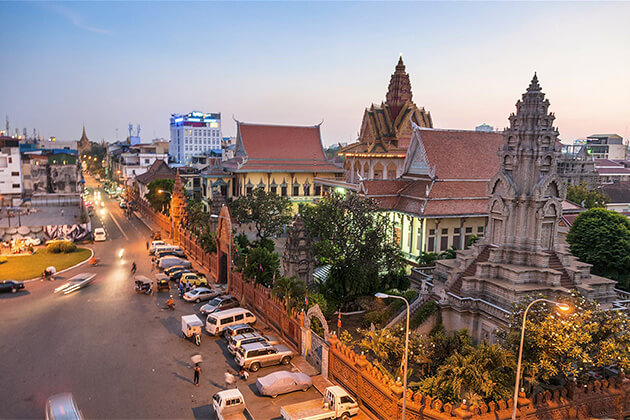 In addition to this superb appearance, the capital still retains its ancient charms with its palaces and wats. Travelers can go sightseeing to admire special spiritual architectures from the past. Besides, tourists can visit featured French colonial houses and unique Khmer artifacts or buy some handcrafted souvenirs there. National Museum and the Phsar Reatrey are the two most ideal places for exploring ancient values. Furthermore, Phnom Penh is celebrated for Royal Palace with its golden spires together with Wat Phnom with a legendary story, which are the top tourist places in Cambodia.
5. Reah Vihear Temples
The Preah Vihear province gains the reputation for its lush tropical jungles, but on top of that is the Reah Vihear temples with its dramatic location in the border of two nations. Get off the beaten track, visitors will witness an impressive monumental temple complex on the edge of the Cambodian-Thai border. The series of structures possess marvelous carved stone ornamentation and air cases, pavements and sanctuaries as well. Previously, the temples saw ferocious fighting between Cambodian and Thai people to dispute the territory. In 2008, the World Heritage Committee recognized the Preah Vihear temple as a World Heritage Site. This is the third world heritage of Cambodia, two previously recognized heritage sites are Angkor Wat Temple (1992) and Royal Dance (2003).
The Sincere Thank from Our Founders
"It is our great honor to become your loyalty and diligent companion of your journeys to Cambodia. We know you have a lot of choices for your trip operator but choosing Go Cambodia Tours will be definitely your right decision. It is not simply proven by words. It is done by the wonderful travel for you to enjoy and unforgettable memories for you to bring home. From the bottom of our hearts, thank you very much!" – Mr. Henry Le