Kampot is a quiet province near the south coast of Cambodia. This is one of the favorite destinations of many travelers on their Cambodia tours. Here are the guidelines of the top 10 best things to do and see as well as the travel guide in Kampot town.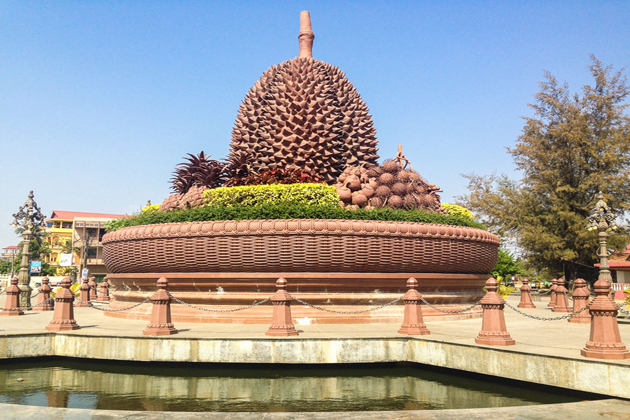 Kampot Map
Kampot is the capital of Kampot province located in southern Cambodia. It is a peaceful riverside town just a few kilometers from the Gulf of Thailand. The town has a famous pepper specialty, which is widely consumed throughout Cambodia as well as in the world. Favorable climate, fertile soil, and long-standing experiences of pepper growers have created a unique pepper variety and are a well-known commodity for gourmets around the world.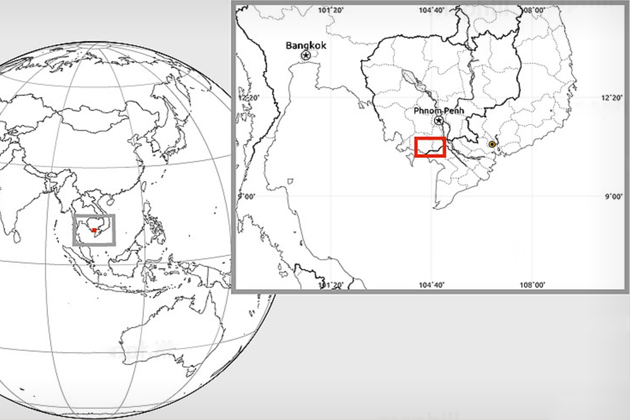 What to Do in Kampot Province
Cycle around Kampot City Center
At first glance, Kampot is a charming, peaceful town, and it just becomes more enchanting when you know it. We recommend exploring the city center by bike or by motorbike to feel the area.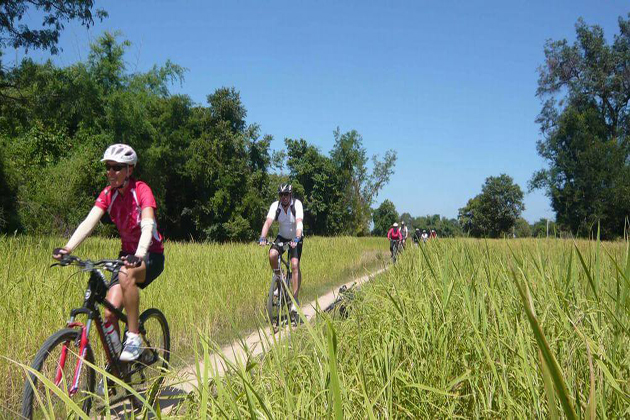 You can rent a bike from the guest house or along the river for $ 1 or $ 2 per hour or a motorbike for $ 5 a day. Kampot city center is small and quite easy to navigate. Cambodian people are very friendly, and if you feel lost at any time, ask someone to point you to the river. It's interesting to go around exploring without a specific roadmap, but we've included some of the stops below that you might want to see:
• Fish Market on the Waterfront (Built in the 1930s, restored in 2016)
• Old market
• Rotary Durian
• Old Royal Cinema
• The Salt Miners Cycle
• Lotus pond
• National Bank of Cambodia (French colonial period)
Conquer Bokor Mountain
The best way to reach Bokor Mountain is to rent a motorbike and drive up there. You can rent one for about $ 5/day. Bokor National Park is one of Kampot's most popular tourist sites. Explore the old romantic casinos – a legacy from the Cambodian colonial period as well as impressive waterfalls (during the rainy season), plus a beautiful, winding itinerary that takes you more than a kilometer above sea level. This will be an exciting day for your Bokor exploration!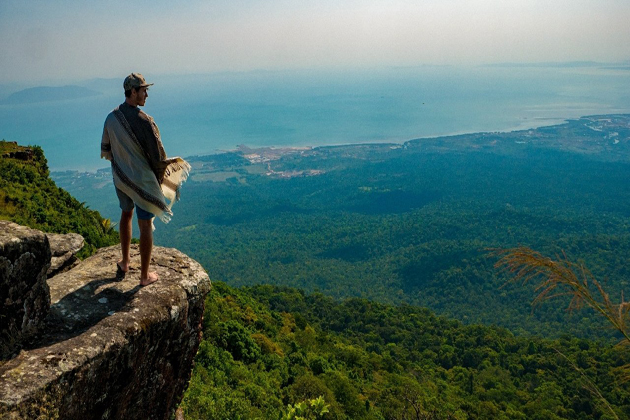 Other interesting spots to check out on the Bokor mountain are:
• The Lok Yeay Mao Statue
• The King Norodom Sihanouk's Black Palace
• Tansur Bokor Highland Resort and Casino
• Wat Sampov Pram temple
• Natural waterfalls
Firefly Cruise on the River
Perhaps the most common thing to do in Kampot is a river cruise – watch the sunset behind Bokor Mountain when you are upstream, then look for trees full of glowing bugs when you return in the shadows. Fireflies are not guaranteed but they are fantastic if you are lucky enough to see them. Farther north, the landscape is becoming more and more rural, we recommend spending about 2 hours on this short Kampot tour.
Explore Caves near Kampot
If you have your own motorbike and would like to explore some of the caves, you will be happy to know that a range of caves is within an easy driving distance from Kampot. The closest at Kbal Romeas hid the Khmer, Cham, and Chinese communities during the Khmer Rouge and had a collection of stalactites and stalagmites.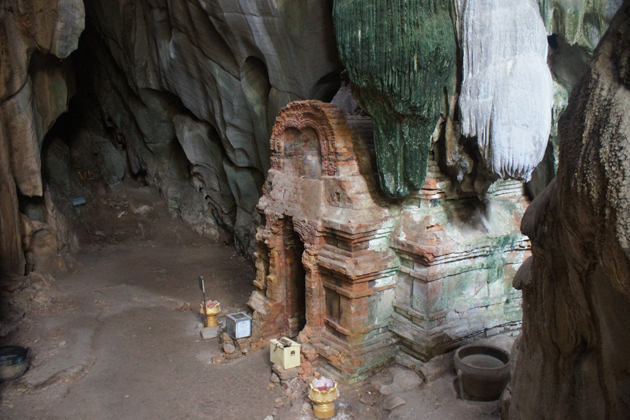 A little further along Phnom Chhnok, a short walk along the Kep road through the beautiful countryside, you will find a ruined seventh-century temple in remarkable condition. Phnom Sorsia is known for two things – a large shape that vaguely resembles an elephant and some of the great scenery of the surrounding fields. These locations can easily be visited on the way to Kep or in conjunction with a visit to the caves in Kompong Trach. When exploring Phnom Chhnok and Sorsia, we recommend wearing good shoes because the road seems a bit difficult.
Enjoy Massage & Yoga
It is hard to imagine more relaxation in Kampot, but the riverside town is not affected when it comes to massage and yoga. There are dazzling massage parlors scattered throughout the town and there is nothing to distinguish them. One hour massage is only $ 4. For a more relaxing experience, head to Banteay Srey Spa. This is a beautiful wooden house, you will find massage and relaxation services with an aromatherapy massage for one hour for $ 12, facial massage for $ 5, or 30 minutes foot massage for $ 5. Banteay Srey Spa also offers yoga classes from Monday to Saturday at 09:30 and 17:00. The morning class is a strong start of the day and is open to men and women, while evening classes are more relaxed. A session is $ 5 for the drop-ins.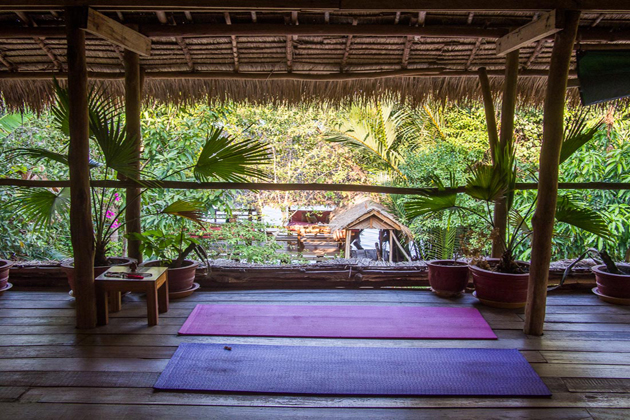 Jolie Jolie is the longest-running beauty salon in town and offers nail care, pedicure, facials, scrubs, waxing, and soothing massages in a quiet, comfortable setting. The massage starts at $ 10 for 45 minutes, while the pedicure is just $ 6. A face will put you back only $ 15. All products are 100% natural.
Go Cambodia Tours know you are excited to experience the exciting activities of your Kampot trip, relaxation at the massage and yoga spas will help you regain your travel sense and good health to continue your Cambodia excursion.
Shop in Kampot
Although it is not a shopping paradise, it does not mean that you need to leave souvenirs for your Cambodia trip. Choose some new or locally-made dresses that make some jewelry or take some crafts to help those in need. The Old Market was built a few years ago, and some local and foreign businesses have moved in.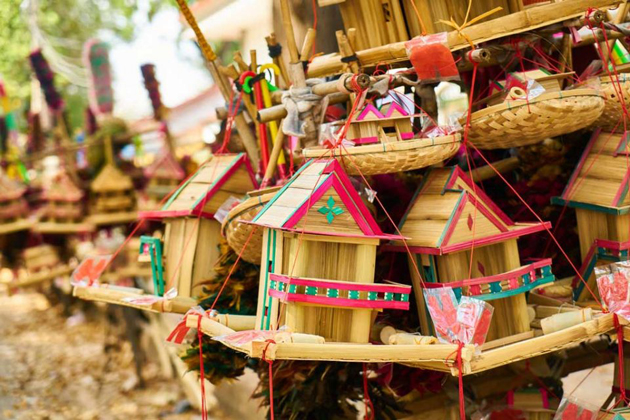 If you are looking for a thread, Dorsu – almost the opposite of Kepler's – offers a simple range of clothes made by people you can connect and who are paid accordingly. Continuing on Route 724, Epic Arts Shop has selected from various designers across Cambodia's jewelry, clothing, and other accessories.
The Open Space is located south of the Old Market on 733 Street and offers a small selection of classic and trendy handcrafted and feminine clothing.
For a little fun and interaction, go to Nyssai Bar on 730 Street, right near the river. Here, the founder of Liliperle has set up a booth with many colored glass beads from around the world, you can mix and match your heart's content to create a variety of jewelry.
Visit the Pepper Farms
You cannot go to Kampot without visiting the pepper plantations! The green hills of the province and near the sea create an ideal environment for pepper growing. Historically, pepper from Kampot was world-famous, until the Khmer Rouge took power in Cambodia in the 1970s and reduced the growth of the crop. The revival of the pepper industry today is helping to restore the region, and pepper is gaining its reputation in the food world.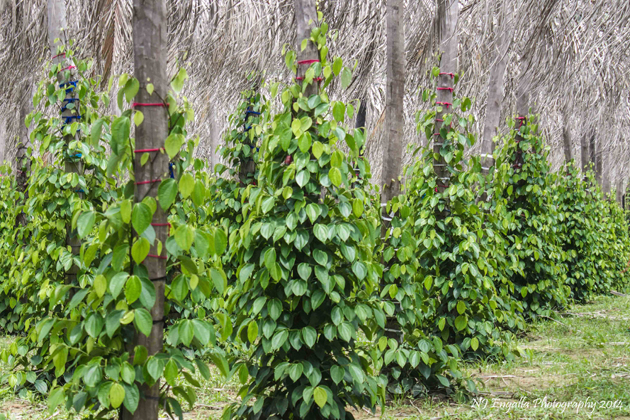 You can visit the pepper farm like La Plantation by motorbike or by tuk-tuk. The roads are dusty and bumpy, taking you through rice fields, local villages, and Kampot's Secret lake. The journey to the pepper farm is an experience in itself, giving you a glimpse of rural Cambodia life. La Plantation produces many kinds of pepper such as red, white, black, and green pepper. They serve lunch on the spot, of course by using their pepper, and you can buy fresh pepper from the source to take home. Because Kampot is famous for pepper, visiting the pepper plantations is a must thing to do in the Kampot tour as well as Cambodia vacation.
Kayak through the Green Cathedral
Kayaking to Green Cathedral is one of the activities in Kampot but not many people know. The Green Cathedral is named for the green canopy that surrounds you as you paddle through the narrow, tranquil canals around a small island on the river.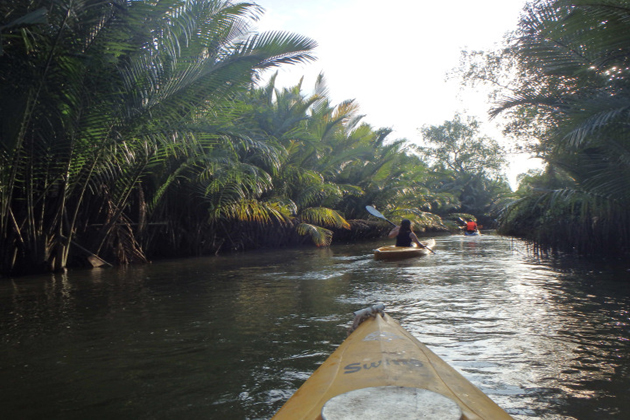 To get started, go to Champa Lodge, about 20 minutes from the city center, by motorbike or tuk-tuk. Upon arrival, you can rent a kayak and life jacket. The route takes one to two hours, depending on your speed. Staff at Champa Lodge will be happy to explain the instructions to you. On the way, you can go round the narrow canals protruding from the main road, and this is where you will really be surrounded by green palms! Get out and swim at any time. Water is calm and kayaking is not so hard, even for beginners. When you return to Champa Lodge, you can sit on the deck overlooking the river and enjoy a drink as you watch the turquoise fishing boats leave the fishing village for the night.
Ride The Crab Shuttle
A great way to admire the picturesque setting of Cambodia's pristine coastline is to take a regular Crab shuttle between Kampot and Kep. After taking a boat early in the morning, travelers can soak in the sun and enjoy the gentle breeze of the Gulf of Thailand. A variety of authentic Cambodian lunch options are available to satisfy the taste buds of the cuisine. Meanwhile, a stint on a local beach is a good way to end the Kampot journey.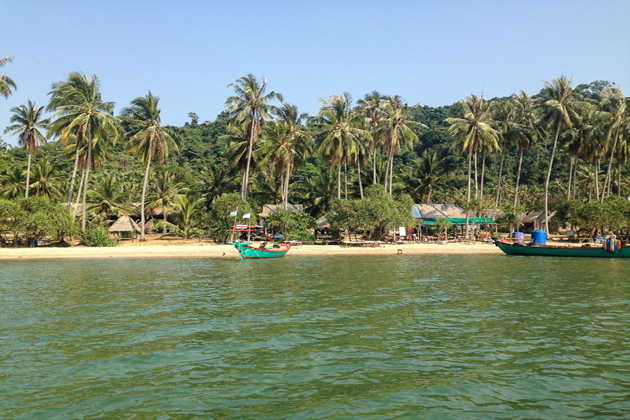 Stand-Up Paddle Boarding
This energetic water sport originates in Hawaii but quickly crosses the waterways around Kampot, where it is now a popular pastime. Professional and reliable guides give visitors an introduction to the sport. It is arguably one of the best ways to explore Cambodia's countryside excursion and floating villages around the town.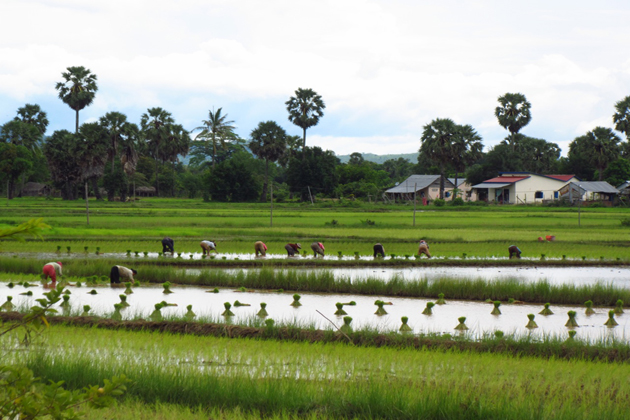 What to Eat in Kampot
Epic Arts Café
Epic Arts is a restaurant, shop, and social enterprise providing employment opportunities for people with disabilities in Kampot. They serve some of the best breakfasts and bakery items in town! They also spread their message that people can watch over high-quality music parodies, many of them already broadcast! Epic Arts are the place for events and performances throughout the year. You can also buy handcrafted items in their store.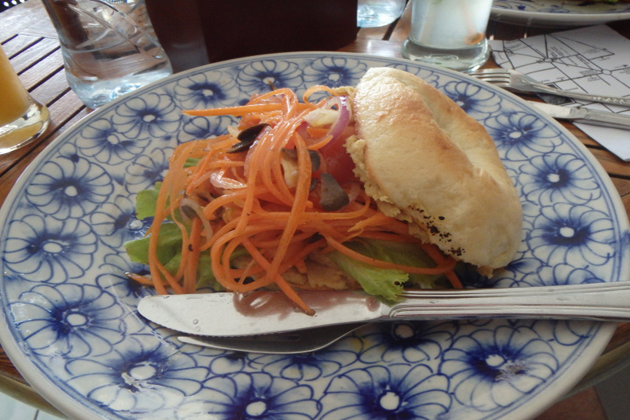 The Khmer Root Café
The best Khmer dish in Kampot is hidden in the shabby hut of the Khmer Root Café. Surrounded by pristine Kampot countryside, this family-run restaurant offers traditional cuisine and flavors. In the meantime, regular cooking classes are probably a better introduction to the techniques of the kitchen area.
Where to Stay in Kampot
Many hotels in Kampot are just a few kilometers outside the city, with great views of the river, but it's a bit of a walk when it comes to eating and drinking.
Five.S Hotel
If you are wondering where to stay in Kampot for a perfect Cambodia holiday, this modern hotel is right in the heart of the city. You will be within short walking distance of the best cafes, bars, and local restaurants, or simply take a stroll along the river. Five.S is a modern and clean resort with a pool, located just off the Durian Roundabout ring road and Kampot night market.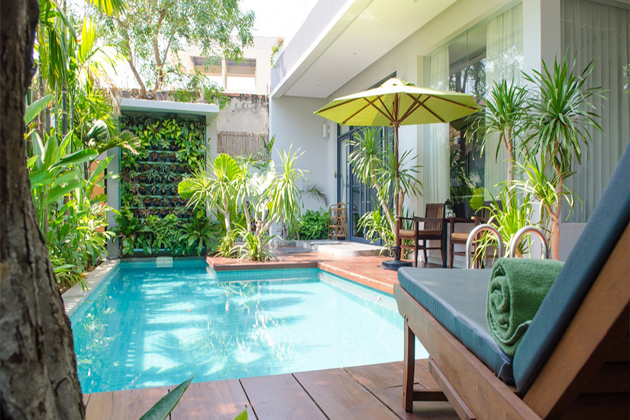 Sabay Beach Resort
For a sweet riverside Kampot resort, our choice is Sabay Beach Resort, a great place to get away from a few days of peace (and great cocktails). This rustic resort in Kampot, Cambodia is a perfect place to relax by the Kampot River and experience the Cambodian countryside. For explorers looking for a quiet retreat, this jungle is an ideal place.
How to Get from Phnom Penh to Kampot
There are many ways to go from Phnom Penh to Kampot. Not too long ago, traveling from Phnom Penh to Kampot by bus was a complete headache. The bus runs around to stop at Kep on the way to Kampot, making the trip last up to five hours. Now, though, there are small buses running straight from Phnom Penh to Kampot to make the trip in about three hours, and the taxi is even faster.
Bus from Phnom Penh to Kampot
Go Cambodia Tours recommends a choice of buses for this Kampot journey of 2.5 – 3 hours is Giant Ibis. They are the latest companies and base their journey around safer than just racing at ridiculous speeds to get from Phnom Penh to Kampot.
Giant Ibis runs two scheduled buses from Phnom Penh to Kampot each day, however, they do not go from Phnom Penh to Kep at all. This bus company offers comfortable reclining seats with seat belts and power sockets to keep your electronic equipment charged. They advertise their WiFi services extensively, however, we have seen too many complaints about WiFi not available for requests that are reliable.
Cost: US $ 9 (Ticket) + US $ 1 (Transaction fee if purchased online)
Buses to Kampot: 8 am or 2:45 pm
Where to buy tickets: You can buy tickets easily from any travel company around the city, your hotel can also help you with organizing tickets.
To get to Kep from Kampot Bus Station: If you want to go further to Kep, you will need to catch a taxi (about US $ 20) or tuk-tuk (12-15 US dollars).
Train from Phnom Penh to Kampot
Cambodia has restored some of its old train lines, and can now travel by train from Phnom Penh to Kampot on weekends. The trip takes four to five hours and costs $ 6.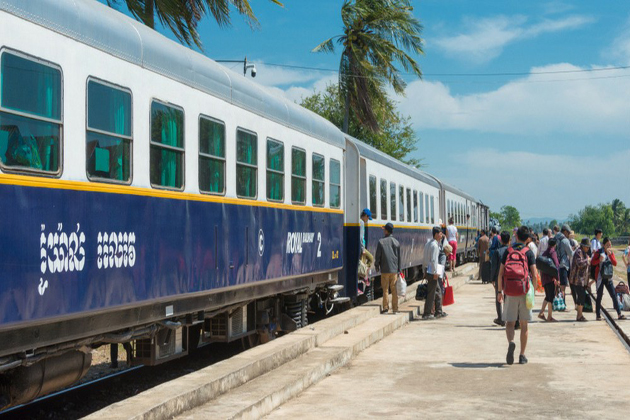 Taxi from Phnom Penh to Kampot
You can get a taxi from Phnom Penh to Kampot for $ 35 to $ 50, although prices may increase during the holidays. Taxis are generally very clean Toyota Camry can seat four passengers. However, most have very little space for luggage, so if you have more luggage, you may want to find a truck. Taxi drivers want to confirm their existence by driving as fast as possible and you will be able to make the trip in less than three hours. You can book your taxi online or at any travel agent or guesthouse in Phnom Penh or Kampot, although they will charge a surcharge. The larger CRV taxi or SUV costs about $ 60. They sit four passengers more comfortable than regular taxis.
Kampot is not just a quiet riverside town near the south coast of Cambodia – and it is also one of the world's favorite tourist destinations. We hope our guide will help you find out what to do and see in Kampot to have a marvelous Cambodia tour.