Let's discover top travel destinations, tourist spots, attractions for your Myanmar vacation. This country is one of the most mysterious nations in Southeast Asia due to its cultural and geographical diversity has retained much of its historical and unique character. Explore the great impressiveness in Myanmar and the country's delightful charm.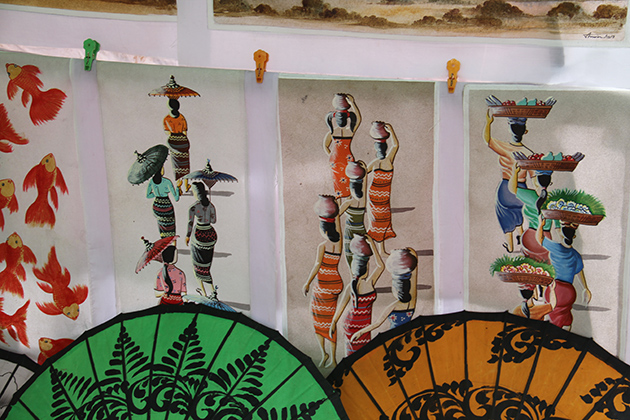 Yangon tours
Yangon is a big but not a modernized city of Myanmar yet. The city is still with Victorian buildings, tree-lined avenues, lakes and parks and a bustling city center of friendly and lovely vendors, colorful stalls and locals going around in their traditional dress – Longyi and flip-flap sandals. Bogyoke Aung San market (also called Scott's Market) is a must for your excursion to Yangon. Also, Shwedagon Pagoda – the mysterious landmark of Myanmar is highly recommended for every traveler when in this mythical country. The list fundament of the Shwedagon is considered to have been built over 2000 years ago, and the pagoda is revered by both Buddhist and Non-Buddhist alike. People often say that Yangon is a big gateway to Myanmar as it has direct air connection with other cities in the region such as Bangkok, Singapore, Kuala Lumpur, Tokyo, Hanoi, Ho Chi Minh City, Chiang Mai, Hongkong…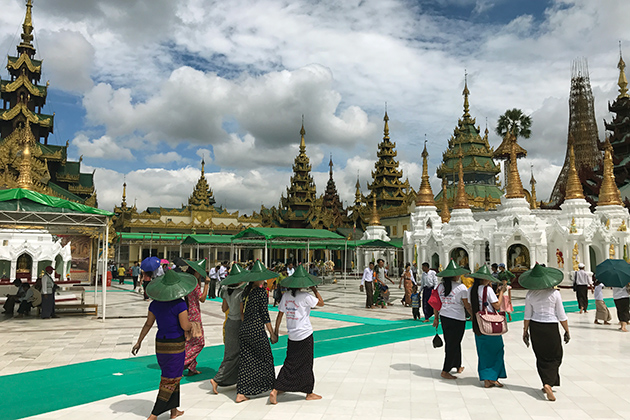 Bagan tours
Constructed by King Anawrahta since 1044, Bagan is known as the capital of the country from the first dynasty. It is located about over 190 km to the south of Mandalay. There are approximately 2000 temples and stupas spreading in 42 square km of the desert, which makes the city become a "temple town". One thing to keep in mind, particularly for travelers exploring the region, is that Bagan is not like its neighbor city such as Siem Reap or even Luang Prabang, it is an overgrown village and lacks anything resembling a night scene. Although Bagan does have basic tourist amenities, you should plan your partying somewhere else.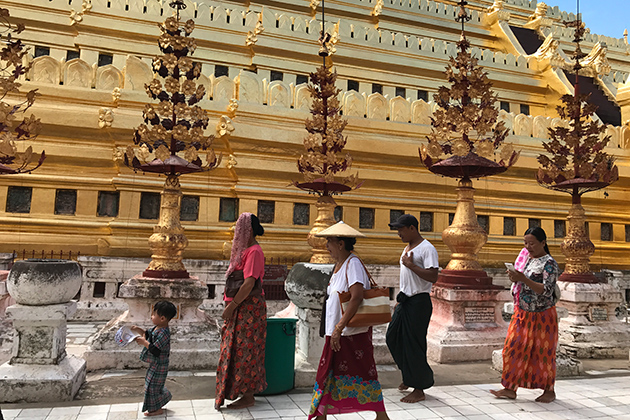 Mandalay tours
Mandalay is Myanmar's second largest city and nowadays remains something of a royal center of the country. The original Mandalay was destroyed during WWII, today it is home to the rebuilt Mandalay Palace which is heavy on the concrete and urban spreading. Unlike Yangon, the city looks nothing like it did before when was then the Burma's last monarchy. Mandalay is laid out on a network, and from 35th Street north to the citadel walls can by effortlessly access by on foot or bicycle. Mandalay offers an interesting taken from both a historical and an urban – planning point of view. The big bustling city is far juxtaposition nearby hill station Pyin U Lwin, where Upper Myanmar's strongest colonial legacy lies with horse-drawn carriages and homes straight out of the English countryside. All those make Mandalay a must – visit on your top list of traveling to Burma.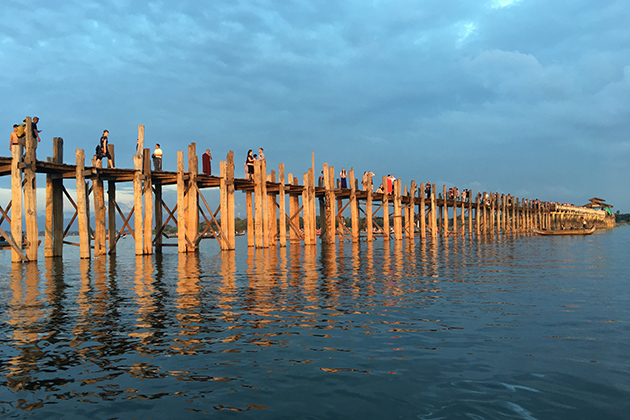 Inle Lake tours
Being one of the most visited regions in the country, Inle Lake is still easy to find places where you will feel that you are the only foreign for miles. The desirable destination – Inle Lake is the main travel center when coming to Nyaungshwe Township and considered to be the best for basing yourself. A classic tour will take in Inthein, where the jungle has grown over ornately carved crumbling stupas. Also, there are myriads of floating gardens, monasteries, markets and, of course, the iconic Inle Lake fishermen who row with only one leg. If any visitors tired of sitting on a boat, he can hire a bicycle in town and check out some of the sites around the lake. Nyanungshwe Township offers gorgeous beds of bright pink lotus flowers and a hilltop monastery or even bathe on in the local hot springs. From this, a boatman will help you take yourself and your bike across the lake and back to downtown. A stop for Red Mountain Estate is a must when visiting Inle Lake, it is a pleasant revelation to explore stunning landscapes as well as excellent food and pretty good wine.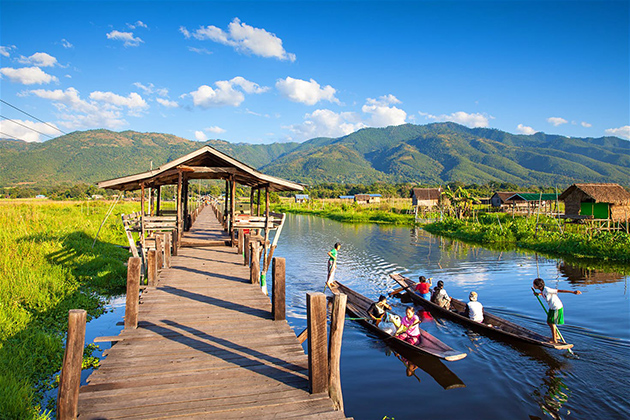 Naypyidaw tours
Naypyidaw has been Burma's official capital since 2005. The name of the city stands for "Royal city of the Sun", which promises it to be a charming and inspiring destination that is worth your travel to Myanmar. Uppatasanti Pagoda is the unique and admirable highlight of Naypyidaw that almost every tour package to this beautiful capital city consists of in the itinerary. The pagoda is outstanding with the treasured Buddhism relics for the pilgrim coming to cherish. Being holy, peaceful and significant, Uppasanti has been celebrating the national religious event such as conferring a title on the elite monks. At a very first sight, many visitors are impressed by the baroque and awe-inspiring look of this religious venue. Also, this religious site is brightly shining at night. Besides, Myoma is the most notable market in Naypyidaw that you should not always miss. The market includes more than 250 shops and 400 greengroceries behind the commercial sectors, it provides the competent shopping experiences with variations of Burma items. It thus makes Myoma the best place to buy souvenirs in Myanmar especially Naypyidaw. And if you are fond of seeing how the Burmese people live, keep and practice their traditions and customs, the dynamic market is a right place to discover.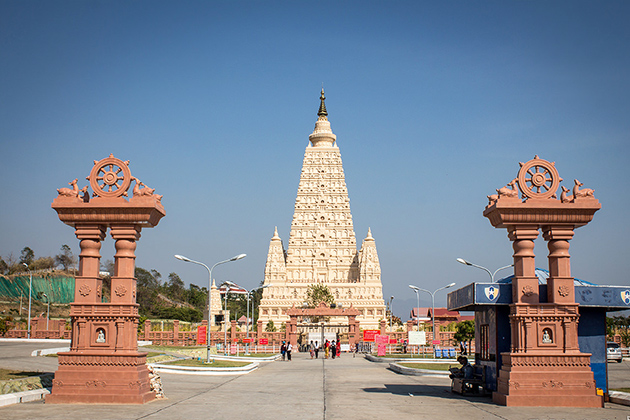 Ngapali Beach
Said to be one of the best beaches in Myanmar, Ngapali is located in Rakhine State and stretches along the Bay of Bengal. Through the time and effects of developing, Ngapali still remains character of most natural untouched where visitors are able to enjoy the true of nature of the beach itself. Ngapali is famous for its instinctive and unspotted beauty up to this day. The beach sprawls about 3 kilometers with soft white sand fringed by coconut palms. It is the most wonderful seascape for those who lead a modern life in urban areas and is looking for a place to relax and enjoy the true nature charm of the beach. After resting on the beach under the clear blue skies, tourists who expect for some more activities have the option of exploring the range of hills lying behind the Stand Beach. Once you are on the small hills you will find a splendid peaceful lake, which is actually a reservoir with blue water which allows visitors to fish but not to swim. That's why Ngapali is the precious gift from mother earth brings to Myanmar.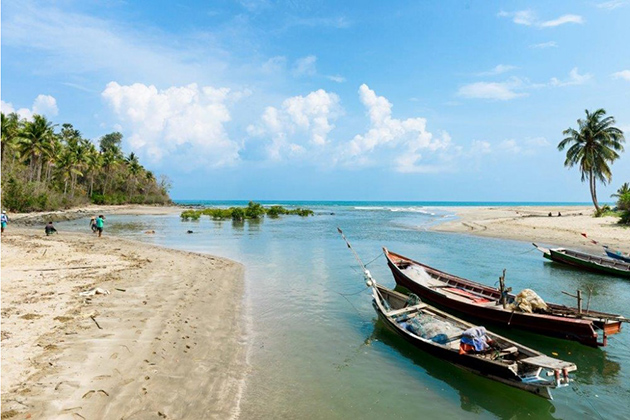 The Irrawaddy (Ayeyarwady)
Irrawaddy River flows 2000 kilometers beginning and ending within the country, appreciate Myanmar daily life, witnessing Myanmar's history and gathering the people of the far north and those living in southern delta lands. In these times of globalization, one thing is unchanged about this mighty river: the lives of the river people and those of villagers on the river's bank. Life on Irrawaddy remains the same as it was centuries ago with fishing and feeding up to the flow of the river. A cruising ship from beginning to the end of the river will show the tourists that gradually the life on the river becomes busier and more bustling as boats big and small carry goods, travelers, and rafts of teak logs and bamboo flow with the current. The most suitable time for a cruise excursion with the Irrawaddy is in high water season (August – November) from Bhamo to Bagan, which is the most attractive period of time that the river gets.
As is the case in so many locations in the world, Western influence is taking its toll. Currently, you will still see the locals of Myanmar practicing their customs and traditions. However, this will begin fading out, so it's better to go for Burma sooner rather than later whilst it still keeps all the most natural characters.