General Information
Duration: 8 days / 7 nights
Start/ End: Siem Reap / Sihanoukville
Tour Route: Siem Reap Arrival – Angkor Complex – Kompong Phluk – Sihanoukville – Phnom Penh Departure
Tour Type: Explore & Relax
Tour Categories: Cambodia Tours
Tour Customizable: Definitely!
Guide: Local Experienced Engish Speaking Guide
Transportation: Private transportation by air-conditioned car
Brief Itinerary
Day 1: Siem Reap Arrival
Day 2: Siem Reap – Helicopter flight – Angkor Complex
Day 3: Siem Reap – Kompong Phluk
Day 4: Siem Reap – Community Tour
Day 5: Seam Reap – Monk Blessing – Sihanoukville
Day 6: Sihanoukville – Free Day
Day 7: Sihanoukville – Free Day
Day 8: Transfer to Phnom Penh Airport
Day 1: Siem Reap Arrival (L or D)
welcome to the beautiful land, Cambodia. As soon as you come to Siem Reap, our local guide and driver will be waiting for you. Give you a warm hug, then we move to your hotel.
Meal upon your arrival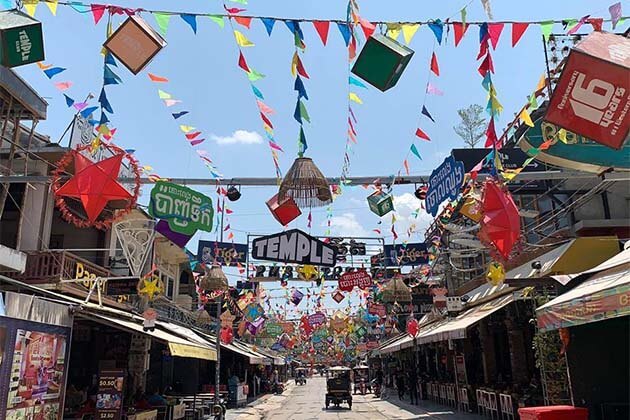 Day 2: Siem Reap – Helicopter Flight – Angkor Complex (B)
Good morning Siem Reap, after having the breakfast, board a helicopter and take to the shies about Angkor Wat in this memorable tour. From the air, see the magnificent 12th-century monument and witness how vast it really is before touching down an exploring the sights close up on foot.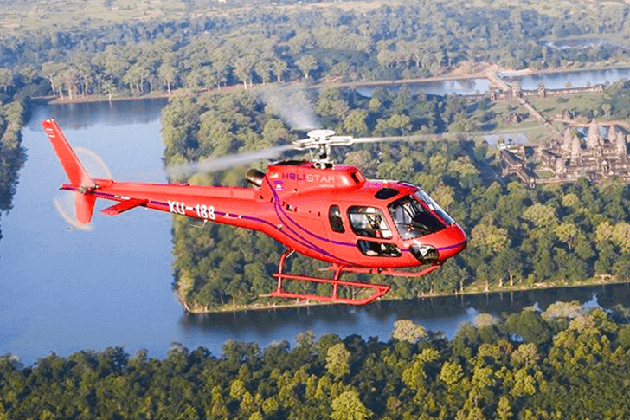 Start walking tour by visiting the South Gate of Angkor Thom where you can see rows of statues- thought to represent good and evil – line the walkway. Next, let's go to Bayon to view the magnificent towers adorned with serene smiling faces carved into the rock face. You also can see the bas reliefs that depict battles fought between the Khmers and the ancient Thai. Continue to your trip to Angkor Complex, we move to Phimeankas, a stunning ancient temple once used for religious rituals but nowadays, this place has become a good place for the local children to play. Spend a little time to climb to the top of the temple to the spectacular panoramas of the complex.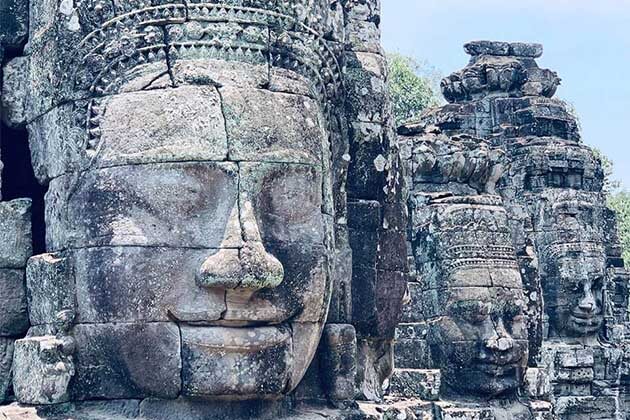 In the afternoon, it's time for exploring the world-famous Angkor Wat, a massive three-tiered pyramid crowned with five lotus flowers the jewel in the national crown.
Before back to your hotel, let's give yourself to watch the sunset over the jungle from atop this spectacular monument.
Overnight in Siem Reap.
Day 3: Siem Reap – Kompong Phluk (B)
Today, let's take a tuk-tuk and a long tail boat ride to the beautiful and isolated community of Kompong Phluk. This fascinatingly rural place is accessed by boat through forests of mangrove trees overflowing with life. While visiting the village, you will hear the stories from villagers about their life in this stilted community and witness the age-old processes of fishing and farming.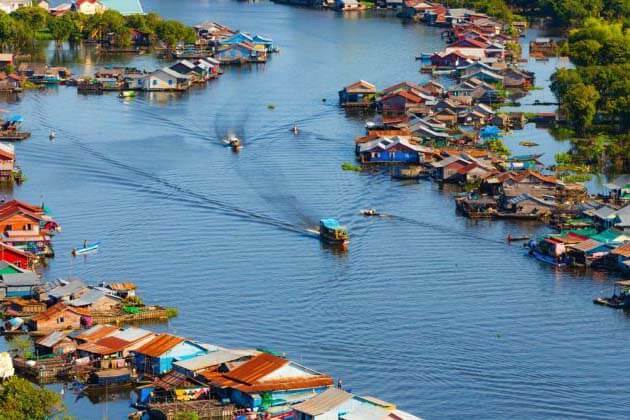 Back to your hotel as soon as visiting the village to fresh up. Enjoy a signature couple's massage at renowned Siem Reaps spa. Emerge pampered and relaxed ready for an intimate dinner for two
Overnight in Siem Reap
Day 4: Siem Reap – Community Tour (B)
Start today by taking part in the traditional practices of rural Khmer farmers. Travel to a local village and speak directly to the villagers about what their daily lives entail before trying these age-old practices for yourself. All proceeds from today's trip will go towards the local community endeavors to improve life in the village.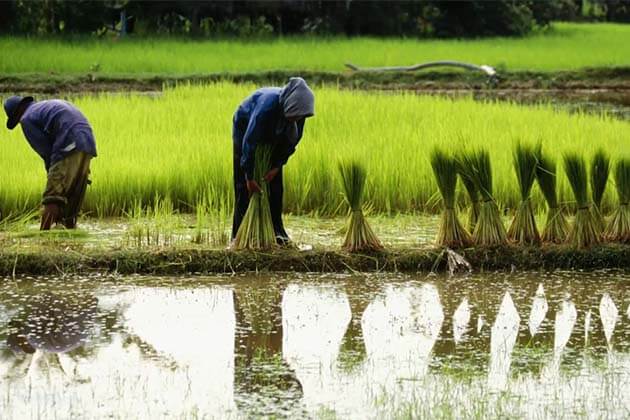 Then, take a walk through forestland, help to prepare a traditional meal and try fishing, farming or animal husbandry.
On a day tour, both of you will have a chance to become a couple living in the farm, which is the daily of the couples living in the rural area of Cambodia as well as in Southeast Asia. After a filled day, let's enjoy dinner and relaxation back at the hotel.
Overnight in Siem Reap.
Day 5: Seam Reap – Monk Blessing – Sihanoukville (B)
Wake up early in the morning, and go to the downtown to join a monk's blessing at one of Siem Reap's best – known pagodas. This is the perfect way to take in the rich, religious heritage of Cambodia. The ceremony including prayers, flowers, offerings and the gift of a symbolic red thread which is meant to bring good luck and prosperity.
After the ritual, board a flight to the glorious beachside town of Sihanoukville for a few days of utter bliss.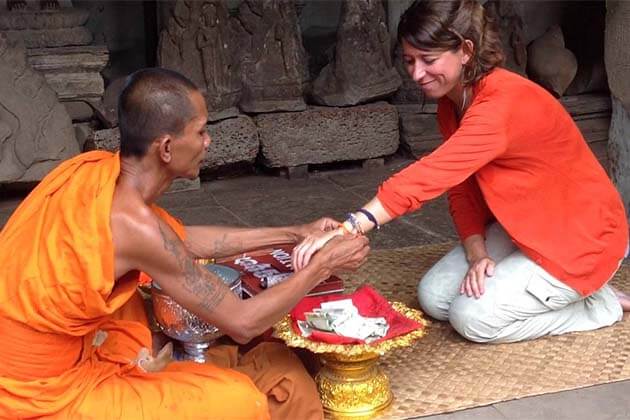 Overnight in Siem Reap.
Day 6: Sihanoukville – Free Day (B)
On the 6th day, when you are used to traveling in Cambodia, today is free for you to explore Cambodia in your own way. In the beautiful beach Sihanoukville, enjoy your time together, lie under the sun on the white sand after swimming and drink the cold coconuts, listen to lapping waves. Wow, it seems the paradise. After that, you can snorkel or take a boat trip to one of the small nearby islands for a secluded picnic. Use all the day in Sihanoukville to explore this beautiful beach.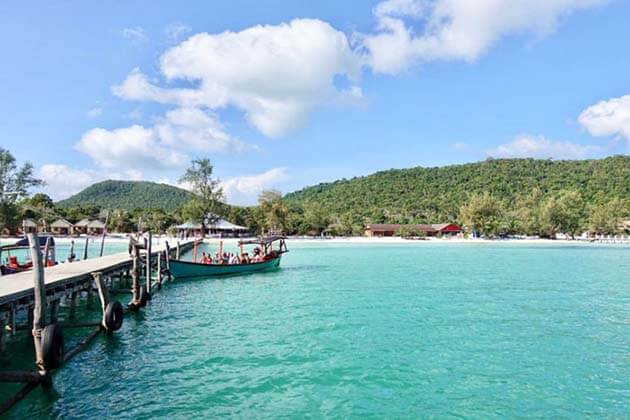 Overnight in Sihanoukville
Day 7: Sihanoukville – Free Day (B)
Today, continuing to a free day, go swimming and take part in the activities in Sihanoukville.
Overnight in Sihanoukville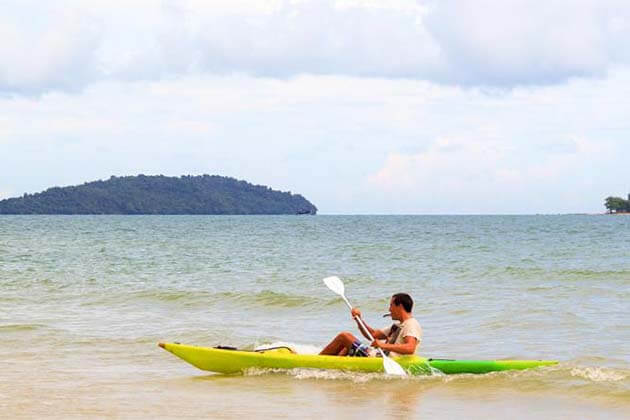 Day 8: Transfer to Phnom Penh Airport
it's time to say goodbye to the beach, these days is enough for both of you have a romantic day together, done anything together. The driver will pick you up to Phnom Penh, and board your onward flight. End of our services, back to home, feel free to tell us about your trip to Cambodia.
"Free inquiry if you interest this tour or create your own trip with our travel expert!"