Situated on the top of the hill, about 22 kilometers to the south of Battambang, Phnom Banan (or Wat Banan) is an Angkor-era mountaintop temple overlooking the countryside and rural villages. The ruin of Phnom Banan, which was originally built in the 11th century, is the best-preserved of the Khmer temples around Battambang. If you set your foot in Battambang during your Cambodia Tour, don't forget to visit the temple.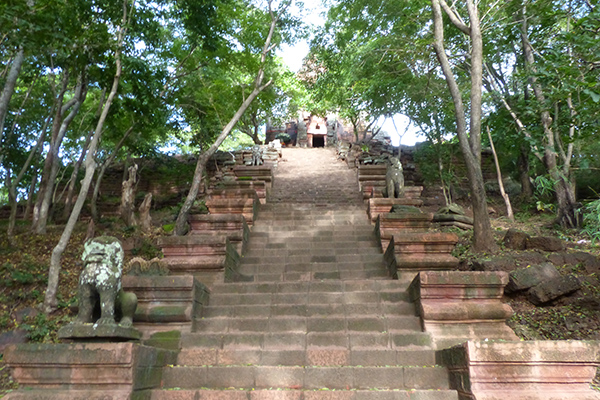 Phnom Banan Structure & Architecture
The temple consists of five towers arranged the five-pointed form reminiscent of Angkor Wat with the middle being the largest. To reach these towers and enjoy the magnificent panoramic view, you have to climb up 358 steep steps but it is definitely worth a look. At the top are stunning scenery of Sanger River amid sugar palm trees and the breathtaking view of the surrounding countryside, with small villages dotting the endless rice paddies. To the south, you will admire a mountain range that features a crocodile shaped mountain, and to the northwest Phnom Sampeau. In spite of some looting, the temple still comes in a considerably better state of repair. Several delightfully carved lintels remain above some of the towers doorways, others are now displayed in the Battambang Museum.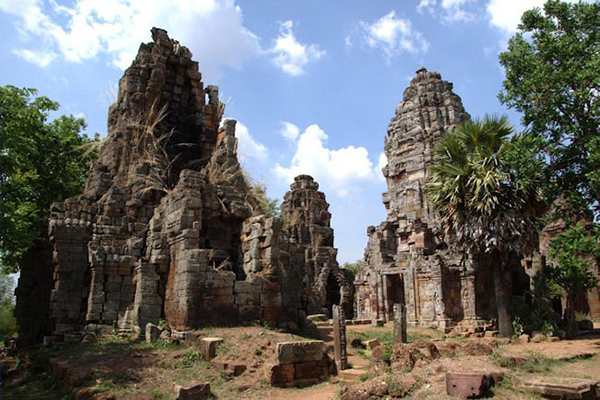 The Charming of Phnom Banan – Wat Banan
The temple itself is beautiful looking both from the top and the bottom. Towards the base of the hill sit several local foods and drink stalls making it an ideal destination to relax a bit after the climb. Beneath the hill is some limestone caves. A cave called L'Ang But Meas is quite a scramble down the mountainside to reach it but worth it. Here you will have an opportunity to watch a large stalactite hanging from the ceiling with sacred sparkling water dripped from it into a bowl below. Legend has it that drinking this water creates knowledge of the past, present, and future. When strolling around the base of the mountain back to the car park passes through a peaceful stretch of countryside, you can listen to the birds, skirt a small pond, and traverse an ancient traditional pagoda. These are well worth discovering, though remember that the cave entrance is almost at the base of the hill. It is highly recommended that you are finished with the ruins before you intend to go down.
[vrview img="https://www.gocambodia.tours/wp-content/uploads/2017/02/360-Cambodia.jpg" width="800″ height="400″ ]