Cambodia Itinerary 2 Weeks | Cambodia Tours & Travel in 14 Days
A trip to Cambodia in 2 weeks is enough for travelers to explore the highlight destinations. 2-week itineraries in Cambodia below will surely suggest visitors the best things to do and see in this beautiful country – a hidden gem of Southeast Asia. Within a 14 day itinerary, tourists have a chance to take a look at the diverse history, the quaint temples, various cuisines, pristine beaches, and islands, to friendly people and lively nightlife.
Cambodia Itineraries 2 Weeks
A half of a month for visiting the famous tourist spots in Cambodia local tour is very comfortable to enjoy. You will not only relax when visiting the famous scenic spots but also learn more about the culture and people of Cambodia. You will visit ancient temples to pristine beaches. The trip will take you from surprise to surprise by the variety of places you visit.
---
Top Cambodia Tour Itineraries 2 Weeks:
Things to Do and See in Cambodia within 2 Weeks
Start Your 2-week Cambodia Vacation - Siem Reap
When you arrive in Siem Reap, your two-week itinerary officially begins. It will be an exciting moment as you set your foot on Siem Reap. Relax at your hotel to get ready for an interesting nightlife.
Siem Reap Nightlife
Siem Reap nightlife refers to lively bars, cocktail lounges, vibrant nightclubs and night markets. Pub Street in downtown Siem Reap, a popular place for backpackers, with a night out of bar-hopping offering unique cocktails, and beers cost only $1 (or less) in happy hour. The best night markets in Siem Reap are concentrated within the downtown area, delivering a variety of fair trade handicrafts and fresh products at reasonable prices. Besides looking to experience the town's unique culture and history, the outdoor shopping venues often host live music performances and interesting workshops that attract all-age visitors. However, remember to bargain before buying the items, because most of the products are priced remarkably higher for tourists. Some recommended night markets: Angkor Night Market, Old Market, Made in Cambodia Market, Noon Night Market, and Angkor Handicraft Association. Don't stay out too late because you have a date with Angkor Wat at the dawn.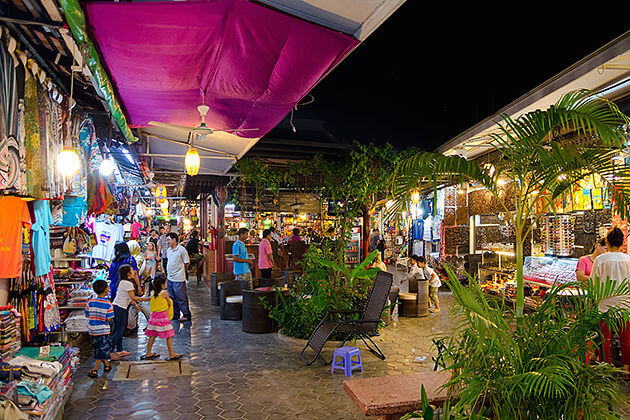 Angkor Wat
The night sky lifted, walk up the mud path bordered by jungle, the only light is from the moon, visitors will feel as if they are catching the picture of Angkor Wat popping up. It was five in the morning when only several people walking around, the sun slowly rises. The reflection of the temple into the water is a stunning moment. Most the tourists view it from the west entrance, with light rising behind the whole building. East entrance is also recommended, to see the break of a day within the ancient structure. For the dusk, the best view is from Terrace of Srah Srang, with the sun over the forest. Remember to wear clothes that cover your shoulders and knees before entering any pagoda or temple, like a way to respect the culture. After enjoying the dawn view, carefully treading the steps to the first level, take a look at the bas-relief using the light of the torch. An array of figures and a king atop an elephant were illuminated. Inside the temple, there are thousands of beautiful inscriptions in ancient Khmer and Sanskrit. The plentiful carvings of Apsaras, a supernatural goddess in Buddhist and Hindu mythology, were impressed precisely, just below the toes on the tiny dancing legs.
Angkor Thom
Tuk-tuk – a cheap and popular means in Cambodia – can be suggested for your trip. Start at the South Gate, along with the old wall towards the West Gate, and end by visiting the Corner Temple in the middle of the road. If you would like to explore the daily life of the locals, visit the village outside the city walls near the West Gate. After coming back from the village, trekking inside the ancient city and visit Bayon Temple – the heart of Angkor Thom – involves in stone faces, with its unique name "Bayon's Smile". You should spend 1 hour to explore all in the Bayon Temple because of narrow corridors, steep flights of stairs and towers. Head to the north to join the crowd towards Preal Khan Temple. And Ta Keo Temple will end your hiking, which is known as "lost to the rainforest temple".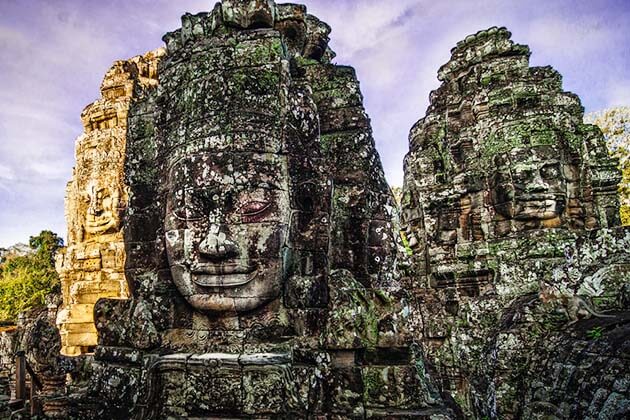 Banteay Srei Temple, Tonle Sap Lake
Go down to the floating villages of Tonle Sap Lake and visit the Angkor temple of Banteay Srei on a full-day trip from Siem Reap. Get to know about the agricultural and fishing life on the lake, and admire the sculptures of one of Angkor's most beautiful temples. The journey passes interesting city highlight and rice paddies overlooking Phnom Krom before arriving at the boat pier. Banteay Srei Temple is considered to be a jewel of Khmer art that features elaborate decorations and its finest details. These factors make the temple increasingly popular for visitors. On the way back, travelers have a short visit to the palm sugar village and some local handicraft souvenirs.
Second Destination in Your Itinerary - Battambang
Travel to Battambang
There are 3 reliable means you can consider to travel from Siem Reap to Battambang. With a bus, it costs only about $5, which can be as much as 100% mark up at some local travel agents and guesthouses, especially on the Siem Reap side. Thus, you should go directly to the bus company ticket office to buy in order to save a couple of bucks. It takes between three and three-and-a-half hours. For a higher budget, you can choose a boat, which leaves at 7 a.m each day in either direction, at tickets cost between $20 and $22 per person and $180 for the entire boat for private trips. Private taxis cost around $40 to $50 from Siem Reap to Battambang or vice-versa. The trip usually takes two or two-and-a-half hours.
Killing Caves
The cave is located halfway up a mountain, which attracts tourists with beautiful wats, statues and lookout points over the village below. Thousands of bats can be seen at dusk, macaque monkeys roam the mountainside. The Killing cave is among these caves. The descent into the cave is quite spectacular, the rock is covered in the green vegetation and low hanging vines. The large cave inside, and a giant golden Buddha in the center of the room. At the bottom of the stairway sits a chicken-wire cage full of bones. The crimes committed in this beautiful place suddenly become very present. On the right is a memorial to human remains, wrapped in a glass box.
Phare Ponleu Selpak Circus
Phare Ponleu Selpak Circus is not only the unique attraction in Battambang but also the world-famous circus of the multicultural center for Cambodian children. The show is held two to four-night per week, depending on the season and starts at 7 p.m. Phare, as it's known to locals, does a lot of things, is not just a circus. It also trains musicians, visual artists, and performers. Tourists can encounter many artists around the town. Visitors are welcomed to take a guided tour of the Phare complex during the day and watch circus, dance, music, drawing and graphic arts classes. Tickets are available a the door from 6 p.m, or at many retailers around the town.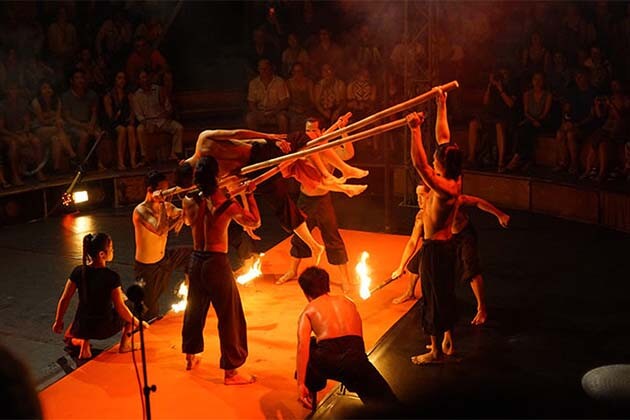 Sihanoukville – Continues to Highlight Your Trip
There are 4 ways to get to Sihanoukville from Battambang: bus, train, car or plane.
Sihanoukville's Beaches and Island
Sihanoukville is the paradise of beaches and islands – the Maldives of Cambodia. A thousand beaches attract tourists by its white powdery sand, fantastic views of the Gulf of Thailand and a pleasant atmosphere. There are a number of stunning landscapes to explore including Otres, Ochheuteal, and Serendipity. Have a mid-afternoon cocktail in a certain bar on the beach will be your unforgettable experience. You should spend 2 days in your
2-week Cambodia itinerary
on these beaches to enjoy and relax.
Kampot – the next Spots in Your Itinerary
You can get to Kampot by bus, train, and plane.
SUP (Standup Paddleboarding) Tour on the River
Kampot has it all for a stand-up paddleboard adventure. Join a tour on a river, on the sea, visit islands, explore mangroves, lakes, floating villages, or birdwatching in the deltas. This tour lets you discover Cambodia on the water by SUP. Daily tours start at 8.30 a.m, 2.30 p.m and 3.30 p.m, which take in the riverbank sights of the local area.
The Salt Fields and Pepper Farms
Kampot is also famous for salt and pepper, therefore, Salt Fields and Kampot pepper farms cannot be ignored. The Salt Fields are just outside the town where you can enjoy the sunrise. Besides, you can join a free pepper tour to get the best views of a large number of pepper plantations which produce some of the best pepper in the world. Before travel to Phnom Penh, tourists should spend a short time to relax in the riverside resort
Phnom Penh – Must-see Landscape in Cambodia Tour
Bus, train, taxi, car or plane are possible to take you from Kampot to Phnom Penh.
Phnom Penh City Tour
Popular route: Choeung Ek (Killing Field) – Tuol Tom Poung Market (Russian Market) – Tuol Sleng Genocide Museum – National Museum – Royal Palace – Wat Phnom – Independent Monument.
Phnom Penh Food Tour
Phnom Penh Food Tour enables visitors to enjoy Khmer cuisine in the city's busy markets, street-food stands, and hole-in-the-wall eateries. Your guide will offer insider insights into Cambodian lifestyle and food Culture informed by a love of Khmer cuisine. Street food in Cambodia will be introduced in the food tour with some of the tastiest food in town. In the morning, you can see another side of the Cambodian capital by sitting down with local people for a bowl of breakfast noodles and sample street vendors savory morning snacks. For the evening food tours, the guides will take you to street stands, a night-time food market, and several favorite mom-and-pop restaurants around the city. Sample barbecue, curried fish, and other delicious Cambodian dishes with a tasty beer will be great combination.
Phnom Penh Attractions
Royal Palace is one of the most splendid architectural achievements in Phnom Penh. It attracts thousands of visitors with fabulous buildings which serves as the royal residence of the kings of Cambodia Take a look to the north of the Royal Palace, it is the National Museum, for those who are really into history. National Museum is one of the largest art collection in the world including sculptural, ceramics, bronzes and ethnographic objects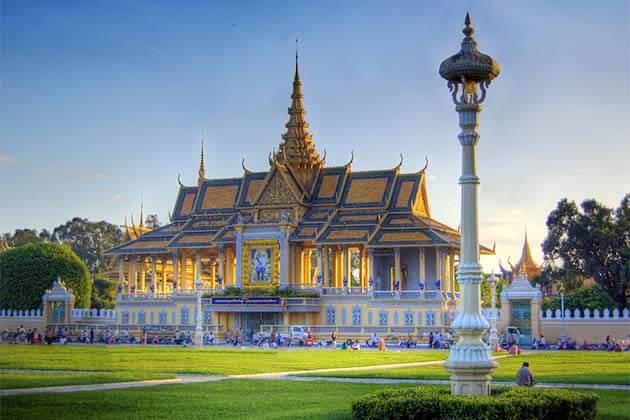 The Cambodian Killing Fields, a number of sites where a million people were killed and buried under the Khmer Rouge regime. This was transformed into a memorial site and tourist attraction in a bid to educate Cambodian about what happened. To get Choeung Ek, tourists should take a tuk-tuk taking around 40 minutes from the center of Phnom Penh.
Mondulkiri – the last Destination to Motivate You to Comeback Cambodia
Mondulkiri is one of the major parts of 
Cambodia tours
. For those who love nature, freedom like wild, rustic, Mondulkiri is a must-visit landscape. Walk up very early in the morning, in the endless grassy hillside with a cup of coffee to wait for the dawn on the downhill, will be fantastic. Spend a day in this remote province, you will get close to the wildlife in Mondulkiri. This is also an ideal place to end your trip that stimulates tourists to come back to Cambodia.
Recommended Itineraries for 2 Weeks in Cambodia
Day 1: Siem Reap arrival – Siem Reap nightlife Day 2: Siem Reap – Explore Angkor Wat Day 3: Siem Reap – Explore Angkor Thom Day 4: Siem Reap – Banteay Srei Temple, Tonle Sap Lake – Traveling to Battambang Day 5: Battambang – Killing Caves Day 6: Battambang – Phare Ponleu Selpak Circus – travel to Sihanoukville Day 7: Sihanoukville – Beaches and Islands Day 8: Sihanoukville – Relax – travel to Kampot Day 9: Kampot – SUP (Stand up Paddleboarding) tour on the river Day 10: Kampot – free pepper tour – relax in a riverside resort – Travel to Phnom Penh Day 11: Phnom Penh city tour Day 12: Explore Phnom Penh Day 13: Phnom Penh food tour – travel to Mondulkiri Day 14: Mondulkiri – end trips.