Battambang is not the most visited tourist destination in Cambodia tours because it does not have beautiful beaches, nor is it a capital city, and especially has no majestic Angkor temples, but they are still attractive because of their very own beauty, which is full of interesting, harmonious and lively elements from the French architecture and everyday life of locals. Browse our list of 7 reasons why you should visit Battambang during your Cambodia itinerary.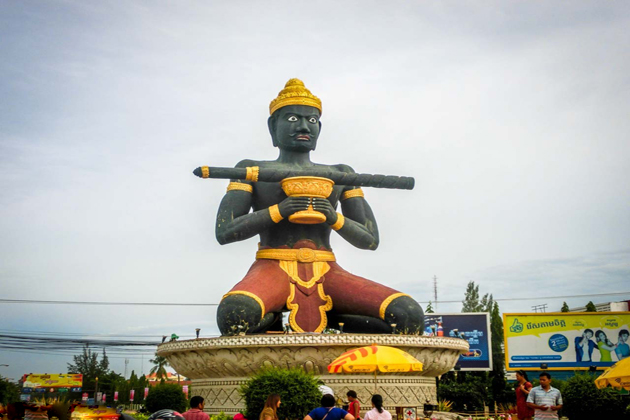 History of Battambang Province
No other Cambodia city has any more obvious French influence than Battambang. The old colonial buildings along the banks of the river were the former residence of the governor of France. Visitors will see impressive architecture and nostalgic history. Situated right in the heart of the city is the bustling Psar Nat market, where local daily activities take place. Most hotels and motels are located very near the market, just a few steps away. If you are visiting Battambang for the first time during your Cambodia trip, the simplest way to explore the city is to take a stroll around the city center. Along the roads in Battambang, there are exhibits of statues of kings, generals, celebrities in history, or legendary gods.
Best Things to Do & See in Battambang Province
Have Meals at Great Restaurants
Battambang is the land of wonderful natural food in Cambodia. Strolling around the streets of Battambang, local restaurants and quiet cafes, or restaurants can be easily found serving both Cambodian and Western cuisine.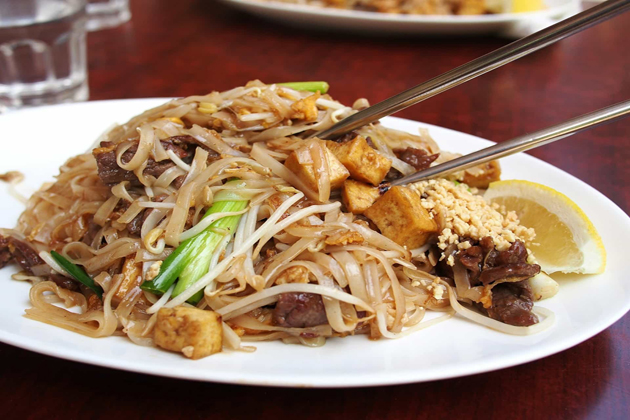 If you are a fan of classic French cuisine, as well as creative dishes combining Cambodian and French cuisine, the Pomme d'Amor or Lotus restaurant is a must for you. Besides, the Jaan Bai restaurant is a mix of Cambodian, Thai and Vietnamese cuisine, as well as a hint of an interesting dinner.
Cycle around Battambang City
The surrounding countryside in Battambang is an ideal place for pedalers to experience. The bumpy roads will lead you to the rustic villages and sacred temples. Sometimes, during that trip, you will go through muddy roads, just enough for a car to cross, or between the bulls, but beyond all that, the beauty of the green rice field will make you do not want to leave.
Experience Kayaking
Kayaking to explore the floating village is one of the experiences that are definitely worth a try in Cambodia local tours. The Green Orange Kayaks NGO teaches English free of charge to locals offering kayak tours for tourists.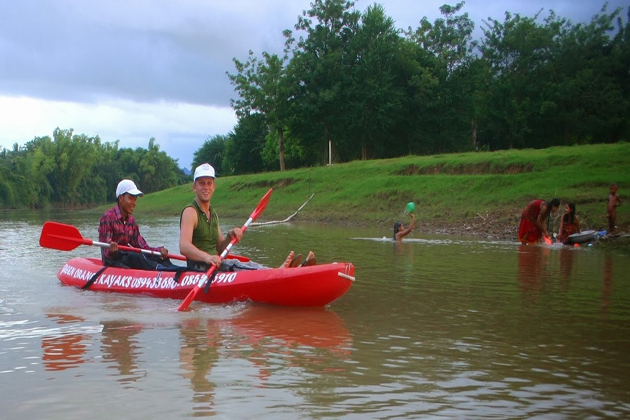 When you hire a kayak, you will start your journey from Ksach Poy village, a small village off Battambang along the Stung Sangke River and back to the city. When kayaking, visitors will feel the fresh air, row the paddle on the blue water, and see natural scenery on both sides of the river.
Attend Cooking Classes of Local Dishes
If you love Cambodian food then you can take a cooking class right in Battambang. Smokin 'Pot, the first Cambodian cooking place for Cambodian foreigners since 14 years ago, has been growing now and loved by many visitors. The class usually lasts for 3 hours, starting at the grocery store for food and ending with the visitors' product, a unique and delicious lunch table.
Conquer the Hilltop of Sampeau
Sampeau hilltop is a destination for historic travelers. On your Sampeau Hill itinerary, you will visit the Killing Cave, which was once used by the Khmer Rouge as a container of bodies of more than ten thousand innocent war victims.
At the top of Sampeau Hill is the site of a quiet temple, where the bones of war victims are housed in glass cages. The itinerary to the hilltop of Sampeau will be a trip back to the past to understand and feel the loss of the Cambodian people.
Enjoy Stylish & Cheap Hotels
Battambang is a Cambodia tourist destination that possesses a lot of stylish hotels, with a very reasonable price. Another interesting place to visit is the Bambu Hotel. Located in the center of Battambang, the Bambu Hotel is a rich mix of Khmer and French style.
Rooms at Bambu have private balconies overlooking the pool, with tiled flooring and impressive wooden furnishings. Each room has interesting travel notes as useful guides for travelers to explore the city. Besides, Battambang also has many dormitory-style guesthouses, which are well suited for budget travelers. With the above 7 reasons to visit Battambang, Go Cambodia Tours expects you to travel to Battambang on the nearest day and fully enjoy your Cambodia local tour package.
Travel by Unique Means of Transport
Battambang is famous for its unique transport, called Norris, which foreigners call Bamboo Train. It is the main transportation in Battambang due to its cheapness and convenience. Taking Bamboo Train is an experience you should not miss on your Cambodia tour.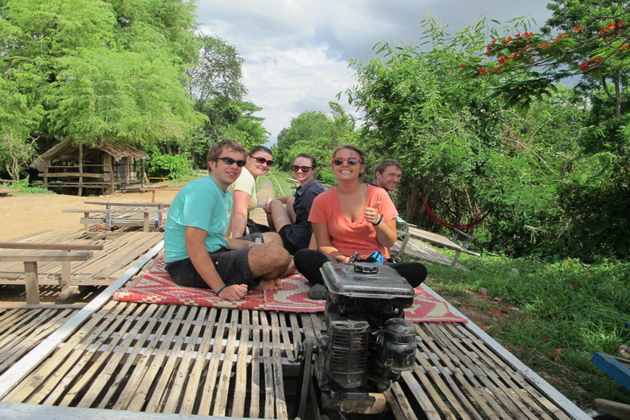 With about $ 8/ trip, visitors can pick up the train anywhere. Bamboo trains for tourists in Cambodia are prepared more spacious than the trains for local visitors. Bamboo trains are rolling on the same track, so the two trains are easy to touch, and the lighter ones carry themselves out of the tracks until the others pass and continue back.
Transportation in Battambang Province
There is no public bus station in Battambang, only private companies scattered along the NH5. Tourists may be submerged in the invitation to ride. However, you should choose a private car or taxi located in the northwest of the city. Small airports in Battambang have been closed for a long time. Alternatively, visitors can also take a Battambang tour from Siem Reap or Phnom Penh by bus. Traveling from Siem Reap takes about 5 USD and 2 hours. Traveling from Phnom Penh takes about 4-6 hours and costs $ 5-8.
Especially, if you have free time, you can take a trip to Battambang from Siem Reap by boat. It will be an enjoyable Cambodia travel experience that visitors will never forget. Strolling along the calm waters, watching the scenic surroundings, and watching the local life in the riverside villages will give you moments of peace and quiet.