Today, Cambodia is a country not only peaceful and hospitable but also retains the style of French colonial heritage. Along with the indigenous culture, Cambodia has grown and regained its pride as "The Jewel of Asia."
Golfing at the top of the golf course combined with exploring ancient Khmer visuals and cultural attractions is a perfect Cambodia tour, which is a little perspective of sport and culture.
The golf course in Cambodia is a natural environment for tourists, especially business people to relax, exercise, exchange work, tighten relations with partners and is the place to open up new investment opportunities.
In Cambodia, the largest number of golf courses are in the capital Phnom Penh and the tourist city Siem Reap – which owns the ancient temple complex of Angkor.
Golf in Phnom Penh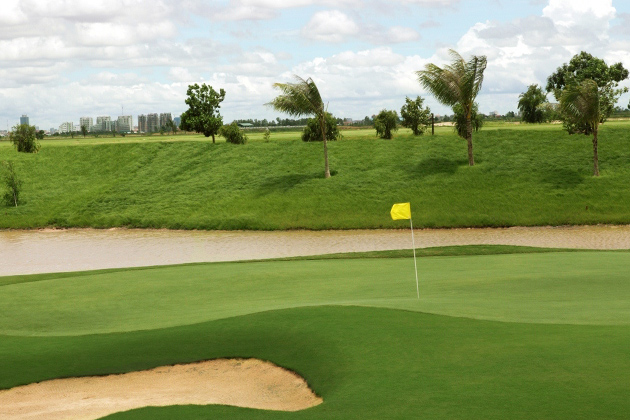 Cambodia Golf & Country Club
This is Cambodia's first golf course which was built in 1996, about 35km west of Phnom Penh. It is located in Kompong Speu province and still remains the top choice for golfers. Cambodian Golf & Country Club is designed by Japanese and Taiwanese designers, with palm trees, fruit trees, native trees, flowers, and stones. The big and distant hills give us a relaxing golfing day in Phnom Penh. The yard has 18 holes, par 72 and a total of 7,077 yards.
Cambodia Golf & Country Club has a clubhouse with French style. Restaurants and other sports areas such as swimming and tennis have a great quality. All of you will have a nice golfing day here.
Garden City Golf Club
A 30-minute drive from the Cambodian capital, Garden City Golf Club is designed by the architect – Major General Weerayudth Phetbuasak. It opened in April 2013 with 18 holes up to 7361 yards. Currently, this golf course is considered as one of the best golf courses in Phnom Penh, with members and daily visitors mainly Korean and Chinese. Playgrounds are also rated at an average of $ 125 for a round of 18 holes including caddy fee, green fee, and buggy, more specifically, the price of the golf course is not different between the day of the week and weekend.
The golf course uses Seashore Paspalum grass and management activities are advised by IMG. The overall design goal is to create a golf course that is not only challenging for the professional golfer, but also for modest golfers. Modern Golf Garden City Golf Club has a spacious locker, a restaurant, and a basic proshop. The golf practice field is also part of the overall Garden City expansion plan along with the hotel gym, spa, and swimming pool. Golf experience with the Khmer culture and facilities at Garden City is a great experience.
Royal Campuchia Phnom Penh Golf Club
Being an international standard golf course with 18 holes with each hole has a unique character, this golf course is relatively flat, however, it still gives the golfer the challenge with sand traps and water, including a large lake near the third hole. The four tee boxes allow the golfer to have a variety of gaps to play and to suit every level of golfers. The Green area here is characterized by waves that make golfers cannot ignore in the shimmied balls.
Vattanac Golf Resort
With its prime location and design, the development of the Vattanac Golf Resort is expected to bring about a significant change in golf standards as well as a landmark attraction in Cambodia.
The Vattanac Golf Resort is a Faldo luxury resort with two 18-hole tracks just outside Phnom Penh. It includes residential villas, resort hotels, retail centers, international schools and a number of sports and recreational facilities.
It has a contemporary style with settlements located above and around the water. Buildings, with full access to the water, are grouped together to create pedestrianized yards and river walks. The Vattanac golf is designed to the highest standards with both professional and amateur holes, golf courses that meet the requirements of international competitions and high-level events.
Golf in Siem Reap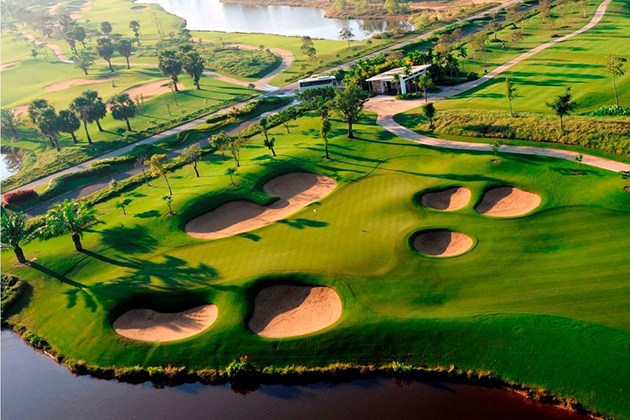 Siem Reap Booyoung Country Club
This golf course is designed with a fair fairway and with 5 tees. Paspalum grass is used on both fairways and greens, giving the golf course a very dark blue color and the yard is always guaranteed to be ideal for year-round play. The turning point, meandering as well as the beautiful bunker always makes the golf course a special layout and brings the feeling of fun for players. The clubhouse emerges as the largest building among the surrounding rice fields.
Angkor Golf Resort
Designed by Nick Faldo – golfers famous six times won the professional league. This system includes 18 holes spread over 7209 yards. In addition to the 300-yard training ground, there is a putting and chipping area for every level, which is an ideal space for golfer ready to enter 72 pairs. Angkor Golf Resort is managed by IMG Group – one of the world's largest conglomerates, so all services are geared towards professionalism and class.
This golf course requires golfers to think and strategize on all holes to get good scores. For example, sand pits and water traps are placed quite complex and can fool golfers into every shot, but golfers can easily see from the tee if they look closely. The green has many subtle curves and they always encourage golfers to have different approaches. Different tees allow all golfers to choose the appropriate golf length for their match.