Located at the edge of the Tonle Sap closest to Siem Reap, Chong Khneas, which is a kind of port and long canal, is hidden by the hill of Phnom Krom to the north and lined with scrubby green-brown banks to the west.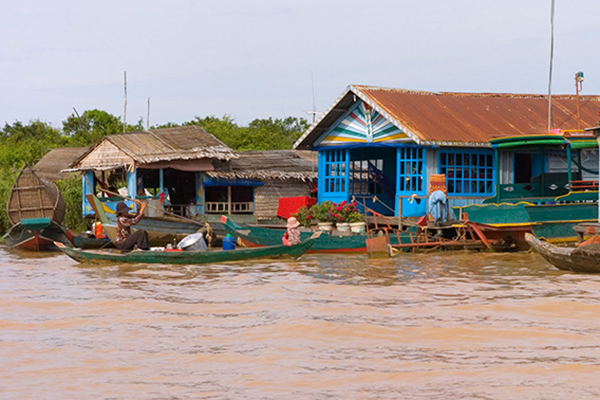 Although Chong Khneas is not as picturesque and untamed as other floating villages, there are dozens of rows of tourist boats docked closely together every day. The boat trip is usually divided into two stops: one at a touristy floating fish and bird exhibition with a souvenir and snack shop, and the other at the very highly recommended Gecko Environment Centre, which brings displays and information showing the ecology and biodiversity of the lake region. The boats are long and narrow and don't have keels – the lake and canal levels drop very low during the hot season before the Mekong River, swollen with rain and melting waters from the Himalayas, forces the Tonle Sap River to reverse its flow in October, flooding the dried out plains surrounding the Great Lake.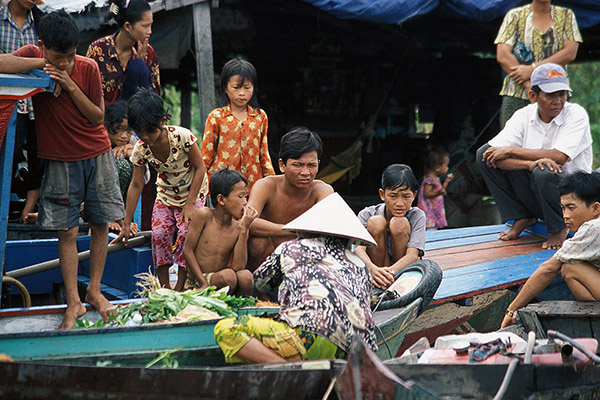 Especially, along the top of the east bank, the aquatic life of local families in wooden lean-tos and shacks may be revealed in case of suitable time in accordance with the favorable level of the lake. This water-related life is not a cultural tradition that people cherish and wish to preserve. When the villagers were consulted about their living conditions, they said that they would prefer to live on the land and have access to clean water and sanitation. What's more, their children will have a chance to go to proper school instead of the poorly maintained floating school.