Cambodia traffic is very "chaotic". Do not be surprised to see people sitting on the roof of the car because in the opinion of indigenous people, sitting on the roof will be safe and less expensive. Truckloads of goods are as high as the mountains, it seems they are stuffed until they can not be loaded anymore. About the obeying of the traffic law, the law regulates that motorbike driving only needs the person who sits in front of the vehicle wears a helmet, and the passengers who are behind the wheel do not need to wear a helmet. However, many cases do not wear helmets. Traffic lights in Cambodia are very few, so let obey the traffic police's direction. So, if you travel to Cambodia, be careful if you join in the traffic.
Overview of Cambodia Traffic
Driving License
Most Cambodian drivers have never been to a driving school or hold a driving license. As long as they own a vehicle and can use a steering wheel and accelerator then they feel ready to drive. Having vision problems or other disabilities is not a problem for drivers in this country. Nor is age a problem, you will often see people under the age of 18 years old driving.
The Traffic Lights
To be honest, most Cambodian people see traffic lights as a decoration that makes the road look prettier. Many people do not respect the lights and will ride straight through. If the traffic police catch them, they would be fined a minimum of 5,000 Riels ($1.25) for a mistake, of course, the police would not give you the ticket fine for this price. Foreigners would be charged more depending on what the traffic policeman wants to charge. If you are a journalist or a big man working for the government then the police may be more lenient.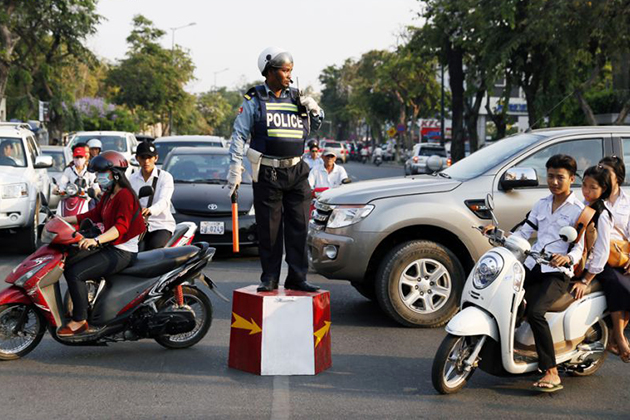 The Wearing Helmet
Cambodians only wear helmets when they are afraid they will be fined by the traffic police. In the dark and at night when there are no traffic police, they will not wear helmets anymore. In general, people here only wear helmets because they are afraid of the traffic police, not because they care about individual safety.
Cambodians Drive on Both Sides of the Roads
While neighboring countries like Thailand drive on the left side and Vietnam drive on the right side, in Cambodia, people choose which direction they will use depending on how fast it will let them reach their destination. When driving in Cambodia, you must constantly anticipate that someone will be going the wrong way down a street and coming towards you beeping their horns telling you to let them through, as though you are the ones doing something wrong.
The Popular Means of Transportation in Cambodia
Tuk-tuk
The most popular vehicle in this country is the tuk-tuk – a tricycle with a cabin. In the world, tuk-tuk has many different names such as Bajaj, tricycle, mini taxi, lap. In Cambodia, tuk-tuk usually only attach a cabin to the rear of the car with a detachable hood, the cabin has vivid color, a front bench seat, and a rear bench seat. Thanks to this maneuver, tuk-tuk is the most popular urban transport and is available in most provinces to meet the growing demand of tourists in Cambodia, instead of taxis.
In the capital Phnom Penh, you will lose about 1-2 USD for a short tour and also only about 10-15 USD if you want to go around the city all day. In particular, although tuk-tuk prices here have been listed according to experienced people, you should still ask the price before hiring.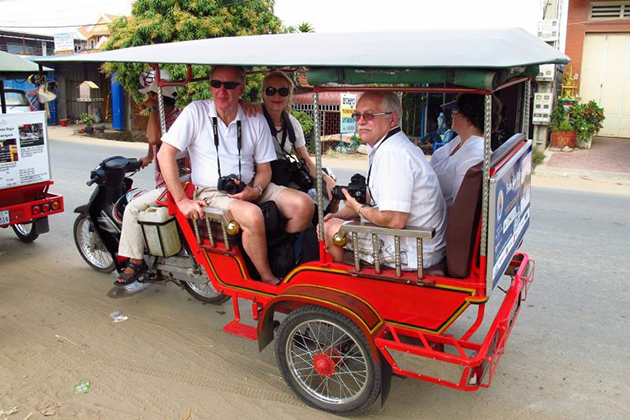 To Siem Reap – the city of Angkor, you will be surrounded by more powerful tuk-tuk teams than any other Cambodian city. They are always ready to take you on a walk at any time. Tuk-tuk drivers who wish to enter Angkor must register with the area manager and be sent uniforms before entering the temple. Of course, in order to have that registration number and uniform, you must pay an annual fee to the management.
Motorbike
In Phnom Penh, you can find countless antique motorcycles flooded in the street, most motorcyclists do not wear helmets when traveling. To get into the corner of the city in the shortest time, you can rent a motor up for $ 1,500 – 4,000 Riel per tour, or $ 6-8 per day. If you are in the city, you can rent a motorbike and drive yourself for $ 5-9. However, to avoid sudden occurrences, only drive if you have experience.
Bus
This is the most convenient transportation for tourists traveling to Phnom Penh. There are most bus routes from town to city. Some buses also have toilets and air conditioner. Some of the most popular bus companies in Cambodia are Phnom Penh Sorya transportation, Capital Open Tours, and Giant Ibis.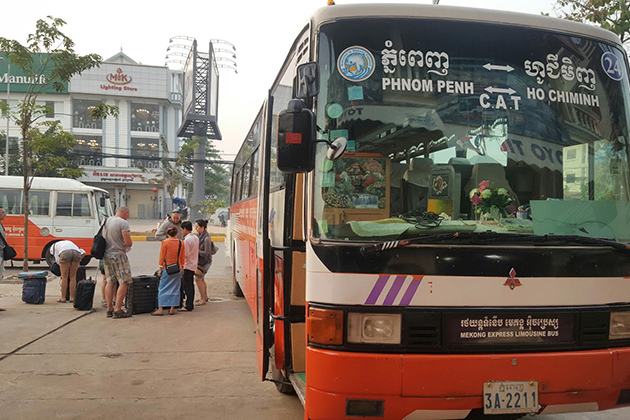 Some Tips for Dealing with Bad Cambodia Traffic
In Cambodia, you can park anywhere, if you rent a motorbike for transportation, do not worry about parking.
Most tuk-tuk drivers can speak English and are ready to give you some information about the temples. Many of them can speak Vietnamese very well. So do not worry too much about communicating with indigenous people here.
Traffic in Cambodia is very chaotic so be very careful when taking traffic here. Especially if you have an important appointment, go earlier than planned because the traffic here will cause you to be late. There are many bus routes from the provinces to the cities so you can choose the bus if you need to move out of the city limits.
You should not drive in Cambodia at night, especially on roads outside the city due to poor road maintenance. In the rainy season, the quality of roads in both cities and rural areas has deteriorated significantly. Make sure you are experienced enough to drive at such times.