If you have the opportunity to set foot on paradise Koh Rong island during your Cambodia tour, in addition to immersed in clear blue water and engage in recreational activities on the sea, you can discover culinary Koh Rong – where dishes are made from fresh seafood caught by the local fishermen. Surely that will be your memorable experience when traveling to one of the most beautiful islands of Cambodia.
Top 9 Amazing Foods in 
Koh Rong Island
The eye-catching blend of colors and flavors causes the visitor to love this dish. Red curry made from beef, chicken, or fish, processed with eggplant, green beans, potatoes, fresh coconut milk, citronella, and peppers, creating a rich flavor. This is not to be missed when coming to Koh Rong, especially when traveling to Cambodia.
Cambodia Kdam Chaa – Fried Crab
Kdam Chaa is a delicacy of the coastal town in Cambodia. Lively crabs are caught and handled immediately to keep their freshness. The crab is prepared with Kampot – one of the most famous spices in the world and some garlic flavors. Although Kampot pepper is sold on the international market, only in Cambodia, you will be able to taste the unripe green pepper with a special taste. The dark red color of the crab with large and fragrant sharks will attract you from the first time you taste this food.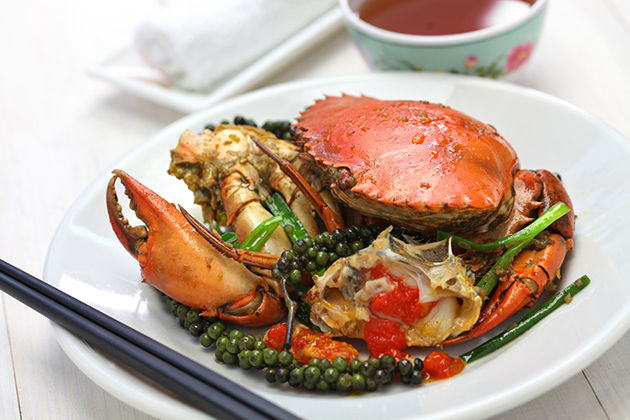 Cambodia Stir-Fried Beef
It sounds "scary" but you will find a lot of food prepared with insects on the menu here. Stir-fried beef with basil and other spices such as ginger, citronella, garlic, and shallots. The unique sour taste is derived from the ants and is absorbed into the beef, creating a rich flavor. This Cambodian food is served with rice.
Cambodia Ang Dtray – Meuk (Grilled squid)
It is easy to see the seafood stalls along the beach on Koh Rong Island. Grilled squid in which the squid is marinated with lemon or fish sauce, served with special Cambodian sauce made from garlic, fresh peppers, fish sauce, lemon, and sugar. It's a great experience when enjoying the sea breeze while eating the hot grilled squid.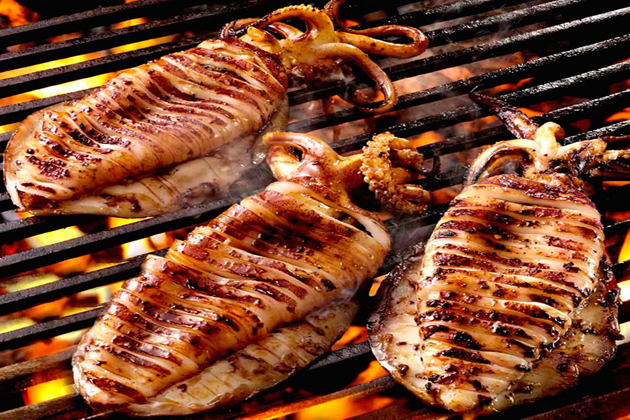 Cambodia Fried Fish
Fish is crispy, especially the rich dipping sauce is made from coconut curry, yellow kroeung, and chili. Fried fish is often eaten with rice, accompanied by vegetables such as cauliflower and cabbage. This is easy to eat for tourists on Cambodia trips.
Cambodia Fish Amok
It would be a pity if you did not try the famous amok fish on Koh Rong Island – one of the dishes that contribute to the impression of Cambodian cuisine. Amok fish is full of Cambodian flavor when it is made from snakehead or catfish with jellyfish, coconut milk, prohok sauce, wrapped neatly in green banana leaves, some more leaf slok Ngor.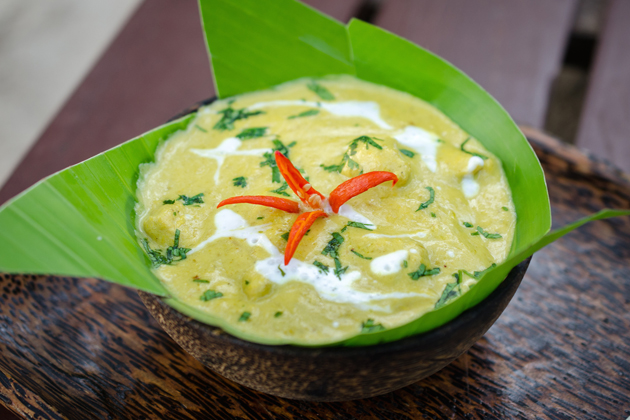 Cambodia Bai Sach Chrouk
This dish is very popular on Koh Rong Island, the bai sach chrouk is a white rice dish with thinly sliced pork, pork is marinated in coconut milk or garlic and grilled to create an attractive aroma. Chicken bowls, fresh cucumbers, and red ginger pickled ginger to increase the intensity of the dish. When touring Koh Rong, you will meet this dish on every corner in the early morning.
Lap Khmer
The Khmer salad is delicious and extremely unique. Beef is sliced thin, marinated with lemon juice, mixed with lemongrass, dried onions, garlic, fish sauce, and aromatic herbs. This is a very popular dish in the local Koh Rong as well as Cambodia restaurants.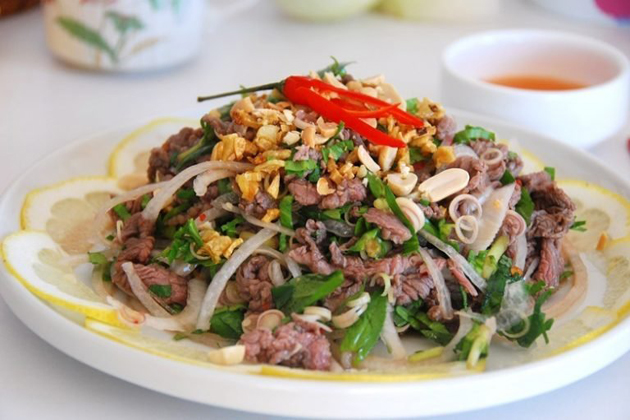 Cambodia Cha Houy Teuk (Jelly Dessert)
This is a delicious dessert. Cha Houy Teuk is a mixture of sticky rice made from glutinous rice, taro, red bean, pumpkin, jackfruit, and all kinds of colored jelly, eaten with coconut milk and ice will make your body very refreshing.
Top 10 Best Restaurants in Koh Rong Island
The Moon Restaurant
With excellent views overlooking the sea and cozy romance inside the restaurant, The Moon serves a variety of southeast Asian cuisines such as Cambodian, Thai dishes. Each dish is decorated with eye-catching. At night, a lot of tourists come here as they sip food while listening to the waves.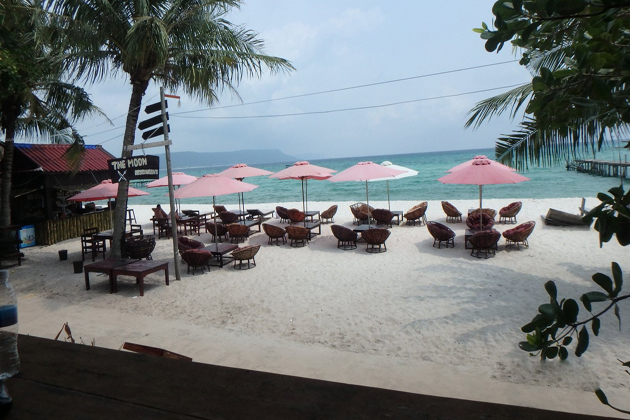 Types of food: Cambodian, Asian, and Thai seafood
Address: Sok San beach, Koh Rong, Cambodia
Falafel Sok San Restaurant
The cleanliness of the restaurant, the enthusiastic staff is the plus point for Falafel Sok San, the restaurant specializing in unique, fresh Western dishes, and being always careful in processing has left a deep impression on the tourists of Cambodia tourism package.
Types of food: international cuisine, Mediterranean style
Address: Falafel Sok San, Sok San Village, 18000 Koh Rong, Cambodia
Eat Pray Love Restaurant
Italian-style Mediterranean, this restaurant is very popular with Western visitors by familiar cuisine and taste close to Europe. Every dish is delicately processed by the Italian chef, here you definitely have to try the unique pizza and also the most popular dish here.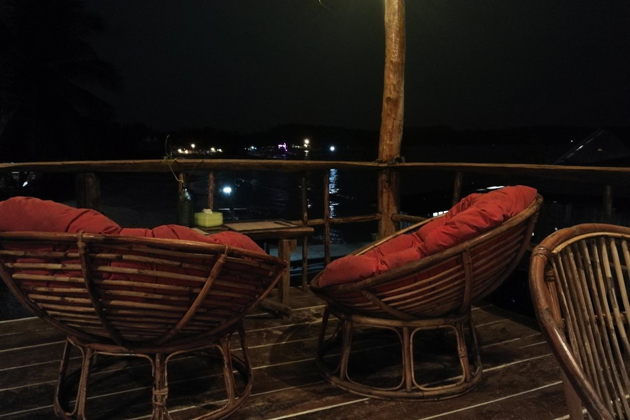 Types of food: Italian and European dishes,…
Address: Sok San village main pier | Long Beach, Koh Rong, Cambodia
SiGi's Thai Food
If you want to taste Thai food, you must visit SiGi's Thai Food. Although the interior of the restaurant is old and not attractive, the taste of the dish cannot be mixed. In particular, you will have the opportunity to witness the cooking performances of Mr.SiGi.
Types of food: Thai and Asian foods
Address: Koh Rong, Cambodia
Da Matti? Restaurant
No need to go to Italy to enjoy the cuisine of this country, Da Matti? The restaurant always keeps the delicate and fresh taste in each dish such as pizza, pasta, antipasto …, it will be greater if you sip a glass of wine and hear the waves clapping. This is also the ideal place to take pictures for your Koh Rong trip.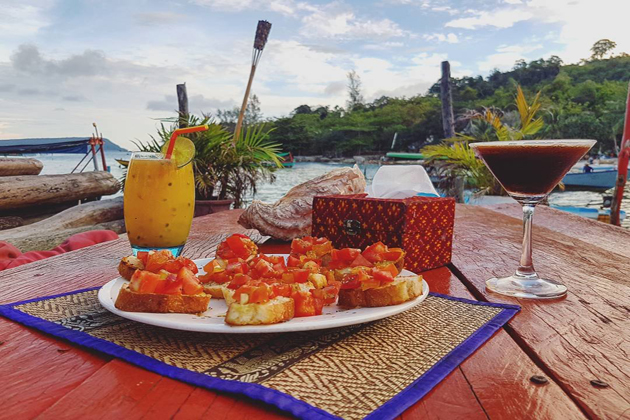 Types of food: Italian foods, Mediterranean
Address: Ko Tui Community Pier | Koh Tui Village, Koh Rong, Cambodia
Smile Resort
The romantic BBQ dinner in the evening, the gentle melodious space suitable for those who want to enjoy the cozy and romantic dinner.
Types of food: BBQ, seafood
Address: Phum Koh Touch, Koh Rong, Cambodia
Coco's Rooftop Bar & Restaurant
The restaurant specializes in Asian and Mediterranean cuisine, various breakfast options, fresh seafood bbq, Italian baked pizza. In addition to the extensive cuisine, Coco Bar offers a variety of tropical cocktails and imported beverages. Not only do you enjoy live music and DJ performances, but you can also take part in unique games.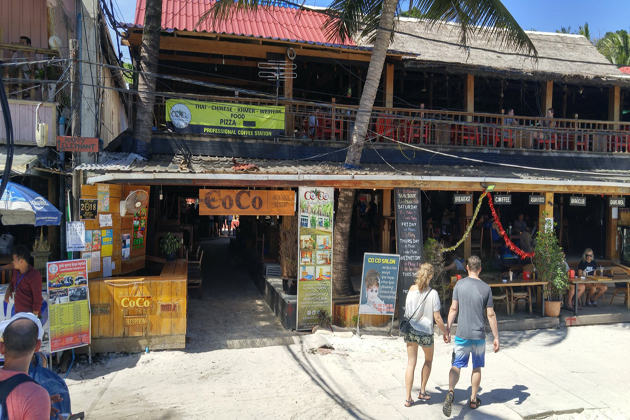 Types of food: European and Asian dishes
Address: Koh Rong Island Beach | CoCo Bungalow Resort, Koh Rong, Cambodia
Ponleu Pich Restaurant
This is a super-tasty and super-cheap BBQ bar, not only delicious food, fresh seafood but also the biggest frappe on Koh Rong island. Here, for only $ 5 you can get a set of BBQ seafood with fresh items such as squid, grilled ribs, shrimp, fish served with vegetables, potatoes, bread.
Types of food: BBQ, seafood
Address: Koh Rong Island, Koh Toch Beach, Cambodia
Kim Song Restaurant
Superb restaurant with Cambodian style, Kim Song restaurant will bring you the right Cambodian cuisine, the restaurant also serves a variety of vegetarian dishes.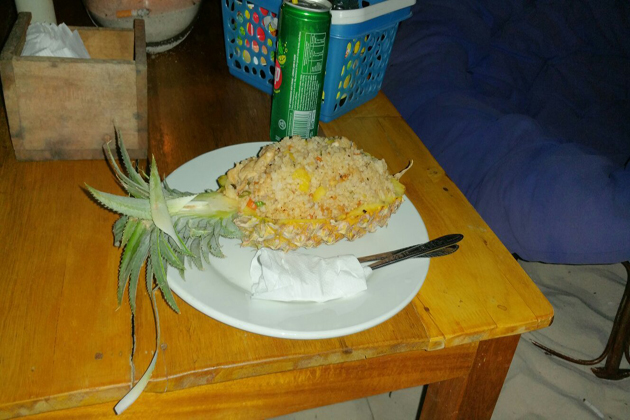 Types of food: Cambodian foods
Address: Sok San beach, Koh Rong, Cambodia
Bamboo Restaurant
The best seller in this restaurant is the pizza, voted by many tourists as the best pizza restaurant in Koh Rong. The pizza here is tastefully kept intact, service attentive, dedicated. You can try many delicious Asian dishes and unique drinks.
Types of food: Asian foods, pizza
Address: Koh Rong Main Street close to Pier, Koh Rong, Cambodia