Cambodia Itinerary 3 Weeks | Cambodia Tours & Travel in 21 Days
Cambodia, a magical homeland, is definitely on your bucket list that you cannot just travel once. 3 weeks is the most perfect time to explore this stunning kingdom for the best tour with unforgettable memories. The following are the ideal itineraries that enable tourists to get the greatest experiences in 21 days itinerary in Cambodia. Take a Cambodia Tour Package and see the real life of the locals.
Cambodia Itineraries 3 Weeks
Make most of your Cambodia tour by spending nearly 3 weeks adventuring all amazing destinations in the Khmer Kingdom. From the gorgeous capital on upon a time to historical relics filled by legends and fairy tales, from pristine nature to dreaming beaches with endless sand and the incredible undersea world. 20 days can bring you a ton of impression beyond your imaginations.
---
Things to Do & See in Cambodia within 3 Weeks
Phnom Penh – Start Your Amazing Cambodia 3 Weeks Itinerary
Phnom Penh Arrival
After your arrival at the airport, you can take a taxi or a tuk-tuk to get your hotel. It normally costs $12 for a taxi and for $6 for a tuk-tuk. During your trip, we recommend catching a tuk-tuk as your main vehicle. I am sure that you will be jet-lagged on the first day, therefore, you should spend a day to relax or just walking around your hotel and try some local Cambodian food.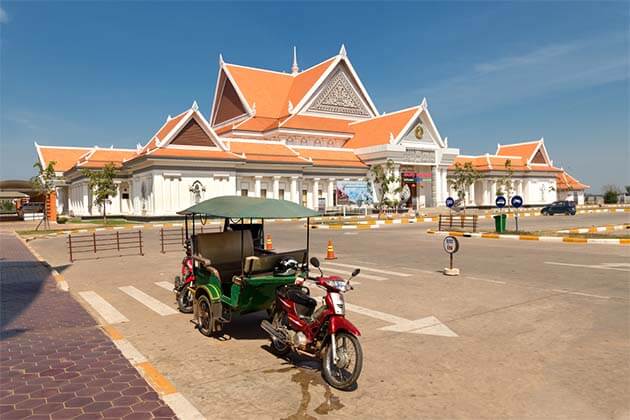 Royal Palace & National Museum
Both these spots are typical tourist attractions. You should spend a half-day to explore them, the best time is in the morning. The Royal Palace opens from 8 a.m to 11 a.m, 2 p.m to 5 p.m, which costs $10 USD for the entrance fee. This is a place that serves as the Royal residence of the king of Cambodia and was built over a century ago. To the north of the Royal Palace, the National Museum is an ideal historical spot for those who are really into history. National Museum shows a large art collection including sculptural, ceramics, bronzes and ethnographic objects. The entrance fee is $5, and an audio tour fee is $5.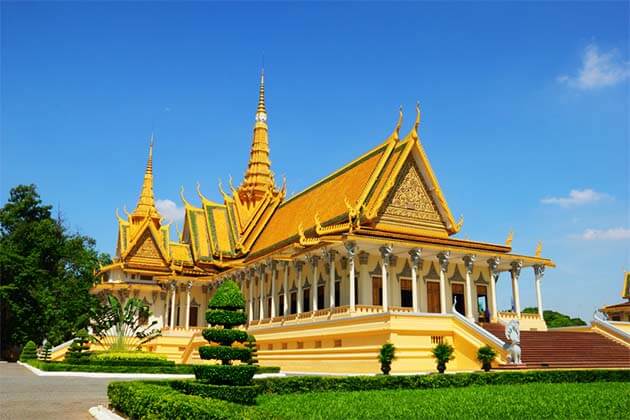 Shopping in Phnom Penh
In the afternoon, it is the best time to explore Phnom Penh shopping in the streets. The Russian Market and the Central Market are popular attractions for shopping. The Russian Market offers some authentic goods for knock-off prices. However, don't forget to bargain when you buy something. In the Central Market, the building is quite spectacular, but the prices here are more expensive than in the Russian Market. If you are not interested in shopping, catch a ferry to Silk Island instead, you can visit a local silk factory and see how they produce goods.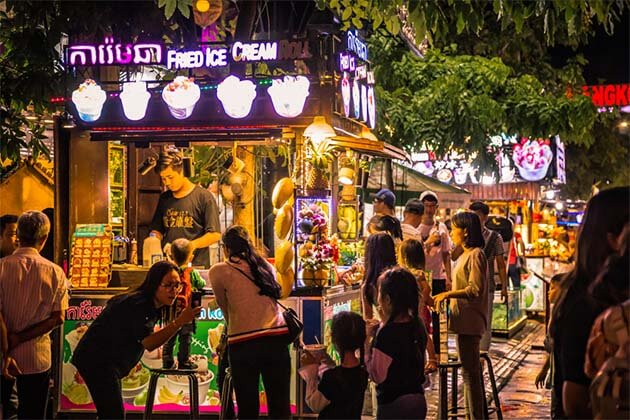 Killing Fields & S21 Prison
On the next day, tourists can visit the
Killing Fields
by a tuk-tuk with $15 to $20. There were a million people were killed under the Khmer Rouge regime. More than 9,000 bodies were discovered here in mass graves in the Killing Fields. In the
Tuol Sleng Genocide Museum
or S21 prison, over 12,000 people held and tortured here during the 4 years of the Pol Pot regime. Audio tours are available at each location.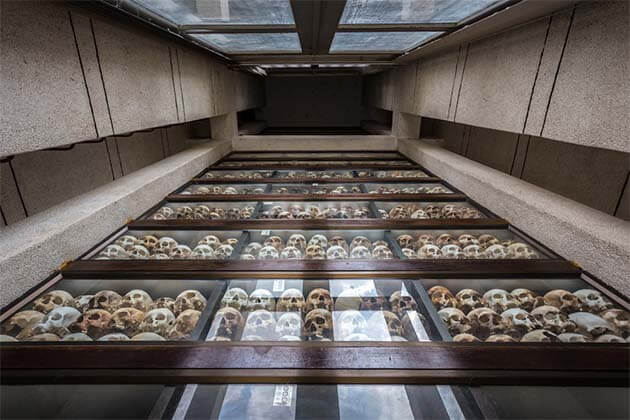 Siem Reap – the Second Destination in Your 3-week Itinerary in Cambodia
Travel from Phnom Penh to Siem Reap
It is common to catch a night bus for a long distance like that in Cambodia. Night bus not only means that it is a bus that drives at night, but it also means that it offers a bed, blanket, and pillow in a cubby for you to sleep while traveling. The tickets are $15 each, but you should know that this includes 2 tickets sharing the spot similar to a single bed. If you are a couple, it will be fine, but if you travel alone, it will be an inconvenience.
Siem Reap – Angkor Complex
Definitely! Siem Reap - Angkor Wat is a destination that cannot miss during your
Cambodia Trips
. You will probably spend about 2-3 days touring this massive ancient city. Don't skip the spectacular scenery of the sunrise and the sunset when the reflection of the temples into the water is really impressive. Take a look at the bas-relief under the light of the torch which makes an array of figures and a king atop an elephant were illuminated. Siem Reap is extremely famous for
Angkor Wat
and
Angkor Thom
, which will account for 2 days in your itinerary. These are the biggest attraction for Siem Reap and what many visit Cambodia just to see. You will find cities throughout the rest of your time in Cambodia when you spend time here.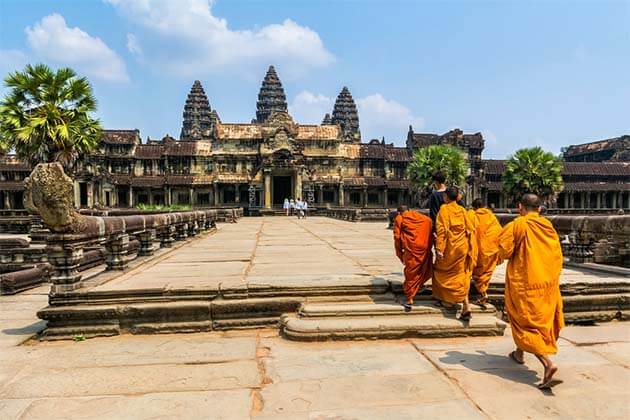 Angkor Wat is not only a single temple but also an ancient civilization that was built over 162 hectares. Angkor Wat is one of these things that blew our expectations, which will be a unique experience to visit a city so old and exceptional. The ticket price is from $37 for the day pass. Angkor Thom will be the most enjoyable with a tuk-tuk – a popular means in Cambodia. Tourists should start at the
South Gate
, towards the
West Gate
and visit the village outside the city walls near the West Gate, where you can explore the daily life of the local people. After that, you may come back to visit the
Bayon Temple
with smiling stone faces.
Phnom Kulen, Beng Mealea in Siem Reap
Phnom Kulen is a sacred place which attracts tourists, including foreign tourists, visit on the weekend and national holidays.
The Kulen National Park
contains many sites of both natural and historical interest. A magnificent waterfall outstands from the forest terrain and draws countless local visitors. A short walk from the waterfall is
Wat Preah Ang Thom
, the largest Buddha statues in the country.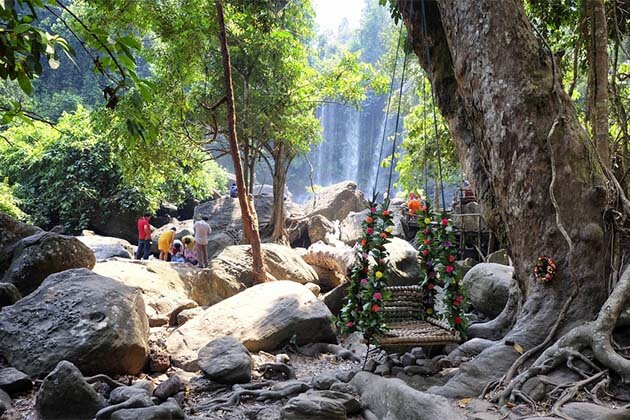 Beng Mealea
is located about 80km from Siem Reap and its ruins and underground passageways provide visitors with an authentic Indiana Jones experience. There are wooden walkways in more dangerous areas but not to detract from the ambiance of Beng Mealea. Vines cover walls and carved lintels lying buried under thick moss and jungle growth. There are some great examples of Apsara carvings on the rest of the temple, but the real charm of Beng Mealea is the meaning of ruined grandeur.
Tonle Sap Lake, Kompong Phluk Village
In the morning of the seventh day in your itinerary, spend half of day to explore the largest freshwater lake in Southeast Asia –
Tonle Sap Lake
. This tour enables visitors to see how families go about their daily lives and adapt to living by Tonle Sap Lake throughout the seasons. Moreover, a local professional guide will show you out to the nearby floating villages located on the lake. This is extremely suitable for those who are short on time but still expect to experience the beautiful flooded forest, Kompong Phluk and village life on the lake.
Kompong Phluk
is home to approximately 3000 predominately Khmer fishing people.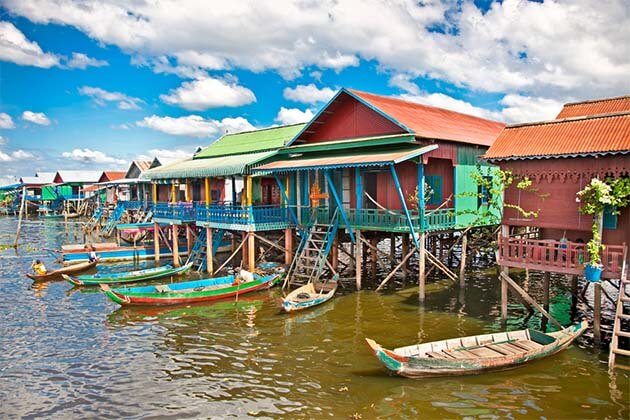 Battambang – Continue to Highlight Your Itinerary
From Siem Reap to Battambang
Travelers can take a 3 hours bus ride or an 8 hours riverboat ride. But the second one is highly recommended. If you are an adventure type traveler approaching situations with little expectations, you will be very delighted. Travel 70km by boat, past all the floating village, rural farmland, with local kids smiling and waving their hand throughout at you passing by.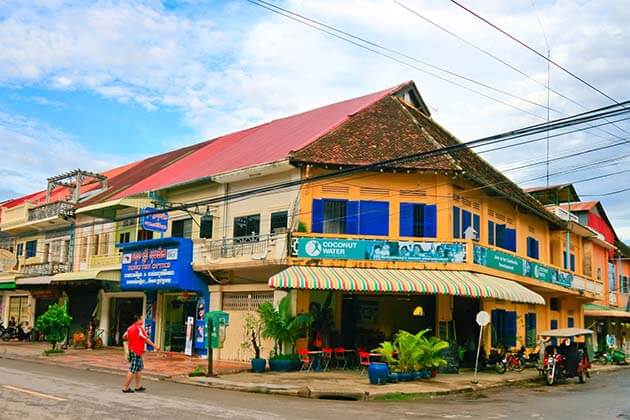 The Bamboo Train
Besides
Killing Caves
or
Phare Ponleu Selpak Circus
, Battambang is also well-known for one of the most novel attractions – the
Bamboo Train
. It is such a unique experience you cannot miss out on. The trip takes around 20 minutes each way (7km) as you travel along the train track on a small wooden bamboo frame. The frame is located on 2 different metal barbells wheels rolling along the track. Powering this is a small 6hp engine that enables you to go with good speed. Since this is a single track, what do you think you do when someone is going in the opposite direction? Actually, it is very simple, one person gets off, lifts the frame and wheels up, and takes off the track. After that, they are easy to assemble and keep ongoing.
Relax after comeback from the Bamboo Train, because you have to get ready for a long ride to the next destination – Sihanoukville.
The next Stop in 21-day Cambodia Itinerary - Sihanoukville
Travel to Sihanoukville by Bus
It will be a long journey. Take a night sleeper bus to get Phnom Penh at around 6:30 a.m, then you transfer to a minibus to Sihanoukville. You will arrive in Sihanoukville around noon with the total price is $18. You will be probably tired after a long trip, thus, it would be better to take a rest at your hotel before joining the nightlife in Sihanoukville.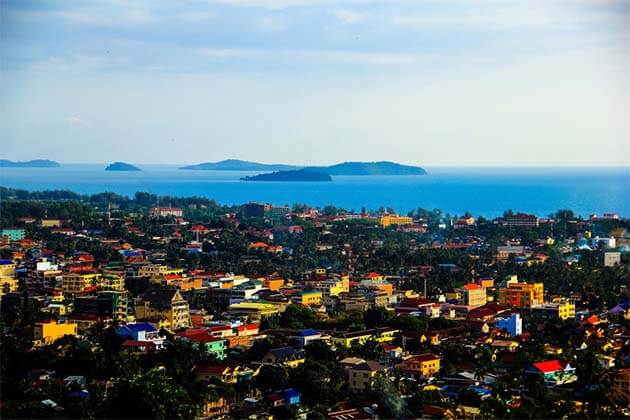 Sihanoukville Nightlife
Sihanoukville has loads of the hidden beach bars which are perfect for backpackers looking to casually let your hair down and unwind with a refreshing cocktail.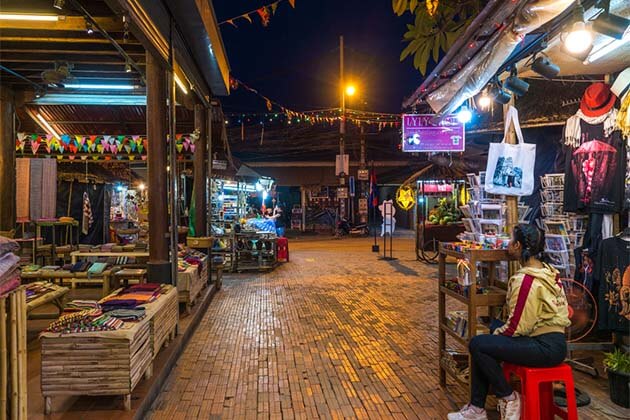 Not only the bars or clubs, but the night markets are also various which contribute to making the nightlife in Sihanoukville become increasingly interesting. The
Old Night Market
is situated on one of the seven corners of the Golden Lions Circle, which opens in the afternoon and evening, and contains small street restaurants serving Khmer as well as Western food that is very cheap but delicious. Because of taking part in the nightlife, you may wake up late the next morning.
Visit Ream National Park in Sihanoukville
On the next day, in the afternoon, go to visit the
Ream National Park
is great. It takes around a 45 minutes drive from Sihanoukville and you will drive along some deserted red gravel roads. It may take you a small park fee to get in, but you can easily find your own deserted beach. Remember to bring your lunch and enjoy an interesting afternoon.
The Fitness Retreat in Sihanoukville
If you are looking for some places where you can work off some of those beers you had on the beach, the Fitness Retreat is the ideal place to do it. With numerous classes every morning, group weightlifting sessions in the afternoon, Aerobic or Martial Arts in the evening. This will leave you stunning experience.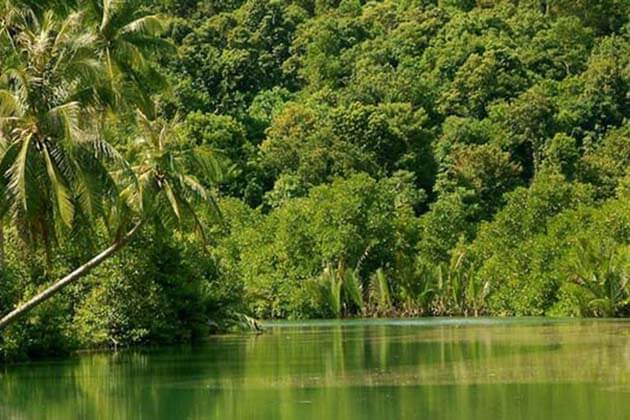 Sihanoukville & Beaches
Sihanoukville, a paradise for those who fall in love with pristine beaches and graceful islands. Its tropical islands, palm-fringed sands and the late-night atmosphere that makes the Sihanoukville beaches has its own charm and offerings.
Otres Beach
,
Ocheteaul Beach
,
Serendipity Beach
are the most attractive beaches in this wonderful province.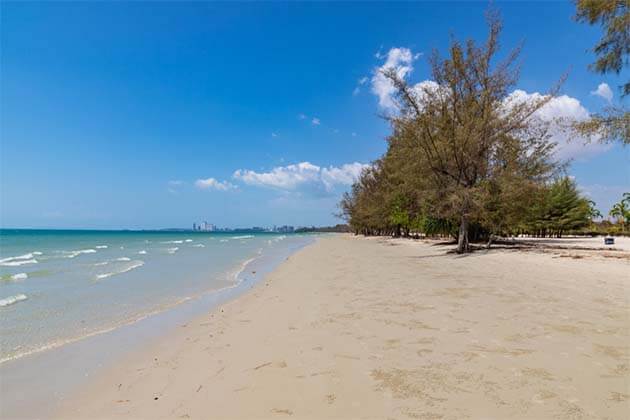 Koh Rong Samloem Island
Just boat ride away from Sihanoukville, Koh Rong Saloem is one of the must-see remote islands. Before booking your tickets to Koh Rong Samloem, it is important for you to know your destination prior to booking. The only accessible way is by taxi boat. The maximum price is $20 and takes around 1 hour each direction. To explore this nicest beaches, within 3 weeks itinerary, I suggest that we should spend 5 days in such a stunning island. The followings are some recommended destinations in
Koh Rong Samloem Island
. Saracen Bay Beach, your first spot you should check-in when you are in Koh Rong Samloem. It is a nice beach that stretches 3km in length, lined with various beach resorts. Sacaren is also the most expensive place we stayed at in Cambodia. There is a list of things to do in Saracen. Scuba diving is very popular with 9 dive sites. Taking part in an afternoon fishing tour and enjoy the sunset on the opposite side of the Island at the same time.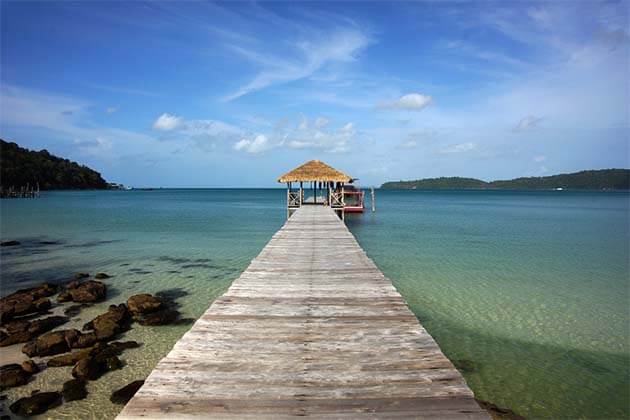 Join up with a guided Jungle Trek to find something new. Because Koh Rong Samloem is an untouched island and still undeveloped, there are lots of places for trekking. If not, you can take a nice walk to
Lazy Beach
in about 25 minutes with most of the way is sandy. Remember to bring a flashlight in case of going back after sunset.
M'Pay Bay
, the little village beach town, absolutely give you special memory and one of your highlights of Cambodia. The food here is also various from for the vegetarian to a seafood buffet, which has a good cause and extremely tasty. The "Happy Desert" is also popular for hippies, just around $2, you can get weed-infused brownies or dessert. After the sunset, as night fell, the sky is completely dark, and the lights from the local business are turned off, it's time to put your bathing suit back on and go for a swim with the bio-luminescent Plankton. Initially, the waters will look dark and like nothing exciting, but when you get in there and start moving around, activating the bio-luminescent Plankton, it likes magic.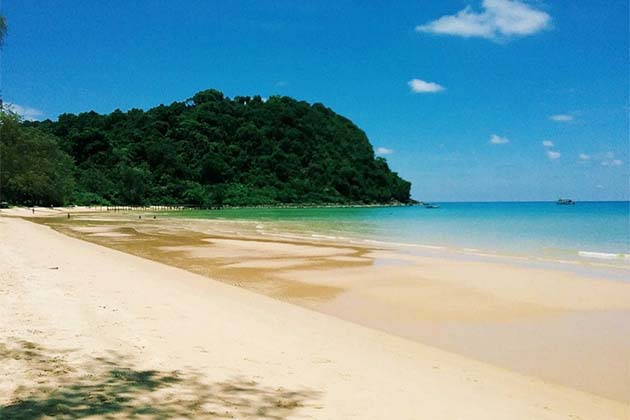 Clear Water Bay involves in Driftwood Beach and it is not a popular beach. Tourists will be surprised by hiding tide after they reached the beach the tide was waist-deep. If you trek from M'Pay bay to
Clear Water Bay
, this is the first big set of rocks in the water. Then on the land, you can see a small sign for the walk to Driftwood. This is a gem of a beach is completely the most spectacular you have ever seen in all your travels. It has only 1 small rustic hostel we can find the real backpackers paradise. It would be great to wake up early in the morning, at 6 a.m, to do some yoga and watch the sunrise. Relax in the afternoon before comeback to Sihanoukville and travel to Kampot.
Plan Itinerary for Kampot as the next Destination in Your Cambodia Trip
Travel from Sihanoukville to Kampot
The recommended means here is the bus. The bus ticket costs $5 and starts at 7:30 a.m or 11:30 a.m from Sihanoukville. This trip may take around 2 hours and free pickup. In addition, you can also travel by private or shared taxi.
Things to Do and See in Kampot
Get away from the beach town, welcome to the river town. Start by a stand-up paddleboard adventure (SUP) that let you explore Cambodia on the water, mangroves, lakes, floating villages or birdwatching in the deltas, even the pagodas. The most popular option is the half-day tour on the river and access to super SUP locations in and around Kampot. There are also some lessons in which visitors will visit a local fishing community and paddle to the sea to get to know about a mangrove conservation project. On this tour, destinations depend on the group demographics and size, the weather, the tide. Apart from that, kayaking and swimming off are also the favorite outdoor activities. It even offers a trip on a wooden longtail boat down the river.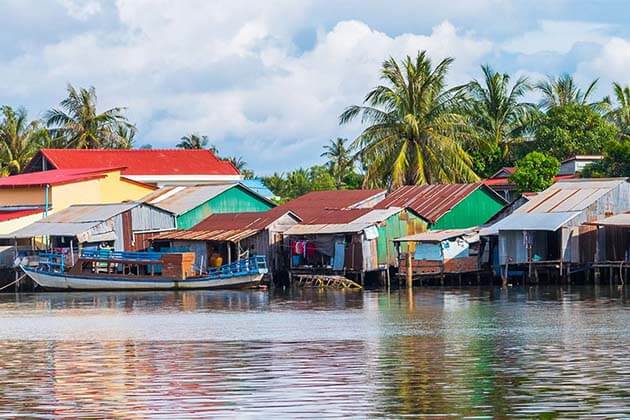 Salt Fields
and
Kampot Pepper
farms cannot be ignored in your 2 days in Kampot. Enjoy the sunrise in just outside of the town, the Salt Fields. You also have a chance to see the locals who are completely covered in order to protect the skin from the strong sun, working on the fields. However, the salt production relies on the weather conditions, thus, the best time to visit is during the dry season, which is from November to May. Besides, Kampot pepper gains its reputation as the world's best in several decades. Join a free pepper tour to get the best views of pepper plantations. After this tour, spend a short time to rest in the riverside resort before come back to Phnom Penh.
Comeback to Phnom Penh and Finish Your Itinerary
On two last days in Cambodia, you should plan to stay in Phnom Penh before you leave in case something comes up. You can use these days to enjoy some other attractions that you did not see last time like enjoy a happy hour special at the Frangipani Royal Hotel. A gorgeous pool and the sunset surely make you pleasant and comfortable after a long journey. If there's time, you should try a food tour or take part in a cooking class in Phnom Penh. The Food Tour with a guide enables visitors to enjoy Khmer cuisine in different ways including in busy markets, street-food stands, and hole-in-the-wall eateries. From breakfasts in the morning, lunches, dinners and even at night are available.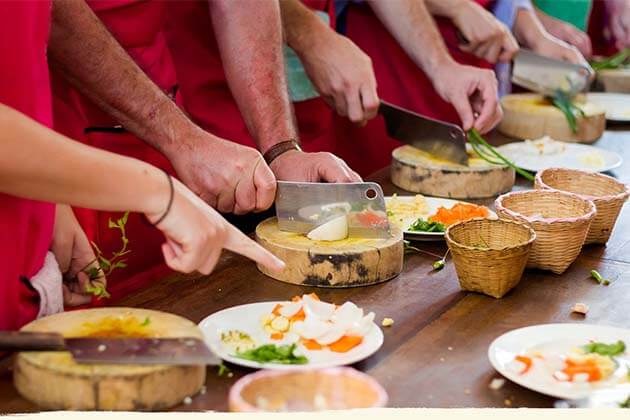 For another option, you could register yourself in
a cooking class
. Learn to cook Khmer food is a great experience to enjoy and feel this unique cuisine. This is also a good chance to immerse yourself in the Cambodian lifestyle and culture. The last word of advice for your
Cambodia 3 weeks itinerary
is that just come to Cambodia and feel in your own way, with an open mind, of course. Cambodia is still a hidden gem and waiting for you to visit and explore.
Recommended Itinerary for 3 Weeks in Cambodia
Day 1: Phnom Penh arrival Day 2: Phnom Penh: Royal Palace and Shopping Day 3: Phnom Penh: Killing Fields and S21 Prison – travel to Siem Reap Day 4: Siem Reap – Angkor Wat Day 5: Siem Reap – Angkor Thom Day 6: Siem Reap – Phnom Kulen, Beng Mealea Day 7: Siem Reap – Tonle Sap Lake, Kompong Phluk – travel to Battambang Day 8: Battambang – the Bamboo Train Day 9: Travel to Sihanoukville Day 10: Sihanoukville – Ream National Park Day 11: Sihanoukville Beaches Day 12: Fitness Retreat Sihanoukville Day 13: Koh Rong Samloem – Fishing Tour – Jungle Treks in Saracen Beach Day 14: Saracen Beach – Walk to Lazy Beach Day 15: Diving & Relax in M'Pay Bay Day 16: Try a "Happy Desert" – Swim with the Plankton Day 17: Clear Water Bay – travel to Kampot Day 18: Kampot – Sup tour Day 19: Kampot – Pepper Farms – Salt Fields Day 20: Travel to Phnom Penh - Day 21: Relax in Phnom Penh – trip ends.