Best Cambodia Family Tour, Holiday & Packages 2023 – 2024
Cambodia holiday packages 100% customized for a family with kids.
Are you planning a Cambodia vacation and still concerned about your children may get bored by the regular itinerary catering for adults? Every trip is a special experience for children to explore and sense the world; hence we delicately design following Cambodia Family Packages.
Steeped in history but young and heart, Cambodia makes for an unbeatable family holiday destination. Impressive museums sit alongside bustling street markets in the capital Phnom Penh, Battambang blends distinguished ancient space with amiable small-town charm and Siem Reap boasts both the timeworn temples of Angkor and a plethora of outdoor excursions. At Go Cambodia Tours, our Cambodia family vacation packages will help your family members to be acquainted with every Khmer life and traditions on guided city tours, cycling forays out into the surrounding countryside, visits to rural village homestays and explorations of World Heritage-listed Angkor Wat. With a careful balancing of included activities and free time, these Cambodia family tour packages below are perfectly crafted to the whole family.
Go Cambodia Tours – the leading local tour operator in Cambodia offers tourists the best Cambodia family tours, Cambodia private family holiday packages, and travel services. Check out our recommended tour packages below or contact us to customize a unique itinerary for your Cambodia holiday to meet your exact needs!
What Makes our Family Travel Unique & Distinctive?
Tour itinerary, activities specifically designed for family
A variety of food catered for kids as well as adults.
Each destination, private vehicles, the driver for the flexible itinerary
Professional tour guide with full of well-trained, kid-friendly, patient; responsible
Tour design to suit your children's age
Flexible in changing tour program to meet family needs
100% Customized for Cambodia Families Vacations
Share your plan 1 – 1 with our travel expert, and you can also customize your family tours. Because our mission that you and your children have a quality time while both have fun exploring Cambodia
Have you planed your family trip for this vacation? Why don't you go to Cambodia for your family trip? During 11 days Amazing Cambodia Family Tours, we would like to guide you with the best destinations in Cambodia to ensure your family has a meaningful trip to Cambodia. With the professional guides, you will visit the historical sites, the ancient temples over 100 years, cycle through the traditional villages in rich, or have unforgettable experiences at the biggest lake in South East Asia, Tonle Sap lake and take part in other activities that only Cambodia have. What are you waiting for? Travel with us!
---
Top Cambodia Family Tour Packages 2023 - 2024
Top Things to Do and See in Cambodia with Kids
A
trip to Cambodia
is a wonderful experience for your family vacation. If you're wondering which places suit to your kids as well as bring the fun for them. Here, Go Cambodia Tours will offer you the top 10 things to do and see in Cambodia with kids. I bet that this will be the best highlight in your
Cambodia family tour package
.
 1. Taste the Circus Show and Acrobatics
Cambodian Circus, a social enterprise located in Siem Reap, with a non-profit school, Phare Ponleu Selpak, based in Battambang, has changed the lives of hundreds of local children. It's a success story no less an attractive, engaging and entertaining day or night. You can watch the schools run circus skills and dance classes throughout the day before attending a real evening performance.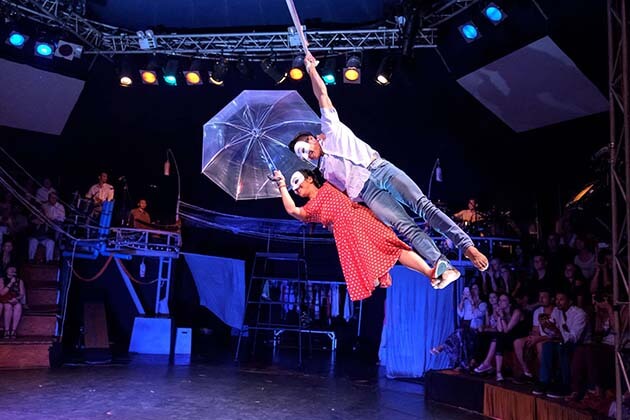 2. Take the Bamboo Train at Battambang
Less visited and touristy than Siem Reap yet Cambodia's second-largest city, Battambang is known for its French architecture and cosmopolitan feel. Travel to Cambodia, the bamboo train is a suggestion for kids during Cambodia Trip. Affectionately known as 'Norrie', the bamboo train is essentially a bamboo platform that balances over two sets of wheels and is powered by a motorbike engine. It was once used to great effect in the days following the overthrow of the Khmer Rouge and proved a lifeline to villages needing to transport goods across the country. Today, with the roads much improved, Norrie has become more of a tourist attraction, albeit a kooky one.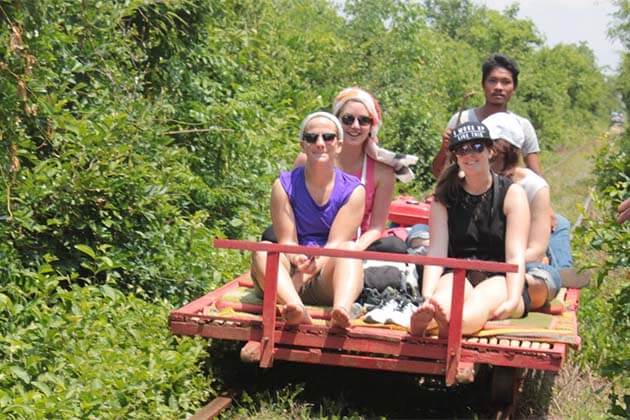 3. Cycle around the ruins at Angkor Wat
Angkor Wat is the ideal place for any trip in Cambodia including Cambodia Family tour with kids. Whilst you can easily visit the main temples of Angkor Wat, Bayon and Angkor Thom by foot, we find that families of every age much prefer cycling, thereby being able to explore the outer lying ruins more easily. Sunset at Angkor Wat can be a very touristy (a.k.a. busy) affair so you'll get a much better view from atop one of the less-visited ruins – and a view to yourselves too.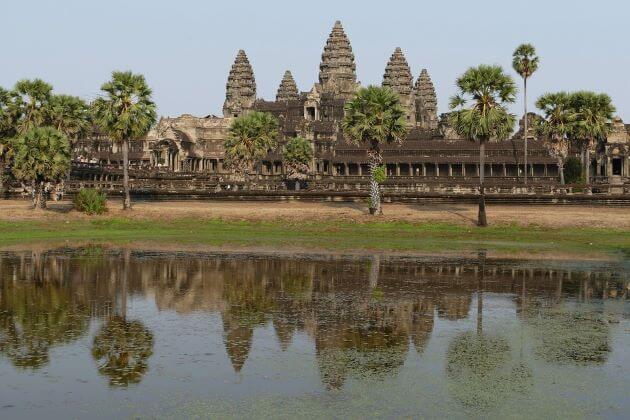 4. Visit a Floating Village on Tonlé Sap Lake
On the shores of the massive Tonlé Sap Lake, the largest freshwater lake in Southeast Asia and one of the richest fishing grounds in the world, you'll find Kompong Phluk, a village of floating houses suspended on 8-foot stilts. Your kids will love the boat trip visiting the village, weaving in and out of the stilts, checking out the local houses. Impress them even more by telling them that this is the only lake in the world where the waters change direction, then see if they can find out why…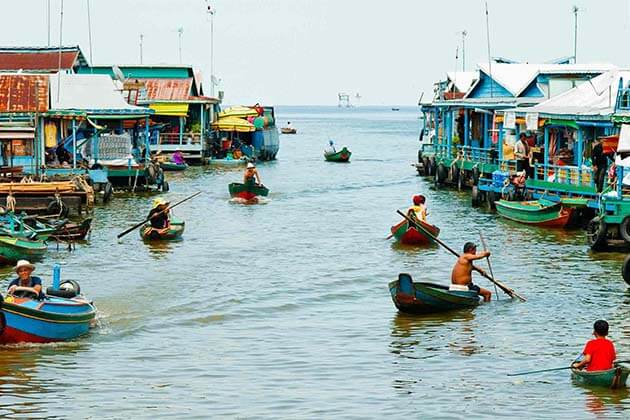 5. Explore the Beaches of Kep
Kep beaches may not be exactly what you shoot, but maybe it's a new experience, too boring with the usual beautiful white sand beach. Koh Tonsay Island is surrounded by flotsam beaches with chickens and wandering cows strolling like their own playground. Enjoy the breathtaking view of the beauty of nature through the coconut trees on the banks of the freshwater. Another activity when jumping on the Kep journey is to visit Kep National Park. Walk along the trails, immerse yourself in dense tropical forests and enjoy the clean, fresh air you can see in any bustling city.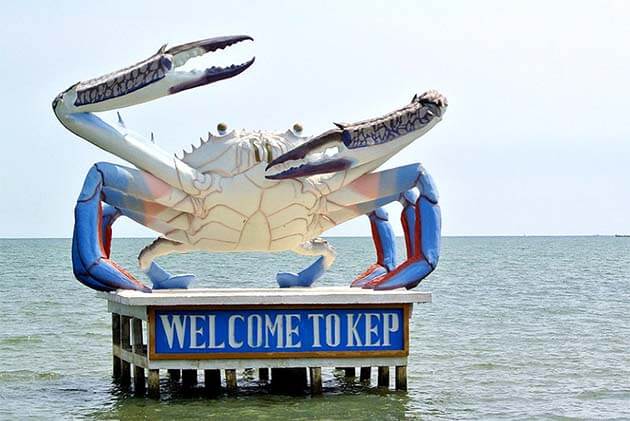 6. Visit Religious Sites in Phnom Penh
Phnom Penh is the capital of Cambodia, where the religion and beliefs of the people are clearly revealed through the many sacred sites scattered along with the city. Royal Palace is the main attraction with a gilded roof designed in the classical architectural style of the Khmer. Nearby, the Silver Pagoda is famous for its solid 90 kg Buddha image sparkling by more than 9000 diamonds.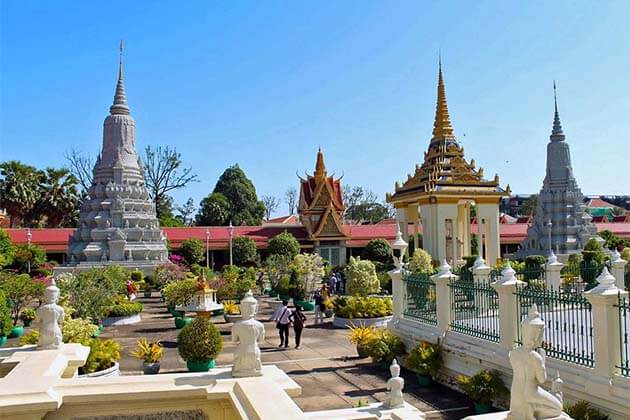 7. Watch Movie House in Phnom Penh
Empire is a cute Arthouse theater near the riverbank in Phnom Penh. They show different movies every night. The price is very reasonable and you can pay $ 3.50 USD for an all-day fee, including movies for the whole day! On Saturday, there is a special children's session and it costs only $ 1.50. They screen a different children's movie every week. Empire is also a bar and a restaurant and you can also hire a cinema out for private screening.
8. Quad Biking in the Cambodia Countryside
Our quad bike adventure with Quad Adventure Cambodia took us into the countryside around Siem Reap, through rice fields and local villages, as well as to a local crocodile farm. With two people per quad, an adult and child on each, the tracks are muddy, bumpy and wet, providing a truly adventurous time. Everybody absolutely loved it.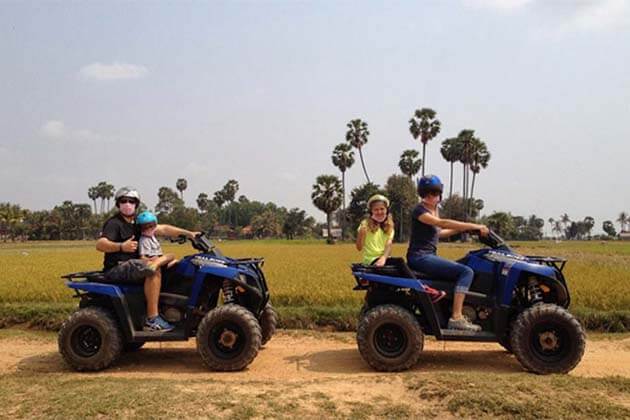 9. Join in Cambodia Traditional Cooking Class
Experience Cambodia cooking class will bring an unforgettable time with the members of your family. If you love Cambodia traditional dishes this class you cannot miss. Choose the fresh ingredients by yourself at the local market, you also learn how to bargain with the vendors. Then, cook with the "master chef" who teach you directly. And of course, after a hard time to cook, enjoy the dishes made by you. I bet that you will be amazed by the cooking level by your child.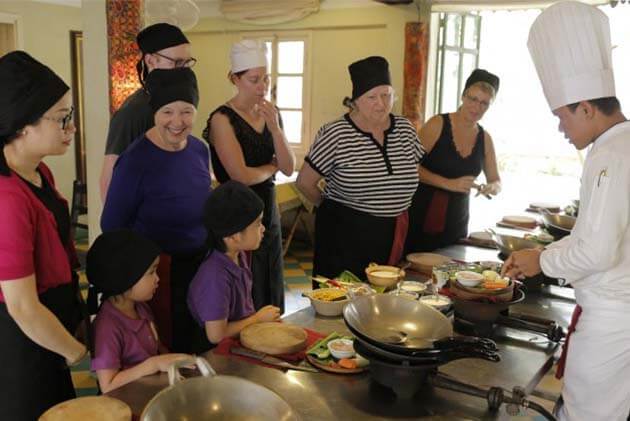 10. Discover the Nature in Mondulkiri
This place is blessed wonderful landscapes by the Mother of Nature created by lush green mountains, thick tropical forests, spectacular waterfalls, and rolling grass hills. Due to the lack of tourism development, Mondulkiri can be a paradise for those who want to challenge the beaten life with its rich ecosystem and rustic atmosphere. Spend a few days in hand-built bungalows to learn about the tribal lifestyles of ethnic minorities, have practical experience in growing rice, fruit trees, vegetables and then collecting strawberries fresh, coffee and cashew nuts. After a delicious dinner, enjoy an enjoyable night with folk songs performed by locals.