Cambodia Beach Holidays & Vacations 2023 – 2024
Cambodia beach holidays take you to the stunning beaches in Cambodia full of fascinating experiences to taste. Especially, we offer special vacations in Sihanoukville, Kep, Koh Thmei, and Koh Kong beaches which are filled with splendid stretches of soft, white-sand beaches lapped by shallow blue waters together with a shoreline dotted with thatch-roofed seafood shacks. Gearing up your suitcase and ready to enjoy a breathtaking beach vacation with us to stroll along the idyllic seashore in Sihanoukville beach and join in a fascinating dive into the bottom of the ocean in Kep. Ultimately, reward yourself after an exciting day to behold the heart-touched beauty sunset moment, a fabulous beach holiday in Cambodia is waiting for you to explore!
Go Cambodia Tours delivers tourists a wide range of Cambodia beach vacations in the list of best Cambodia Holiday Packages 2023 – 2024. Please select your ideal package and let us customize your great time in Cambodia. If you cannot find any of your following beach tour itineraries suitable for your beach vacation in Cambodia, let us know your ideas, it's our pleasure to help you. Free contact us!
A curious person about religious beliefs, splendid architecture, and diverse culture should not ignore this 8-day Cambodia tour package. Stand in awe of the ancient architectural achievement of Angkor Wat and soak up under the cool water which makes you leisure than ever. Known as the second Maldives in Southeast Asia, located at the Gulf of Thailand, Cambodia beaches that you cannot miss. Behold its unique natural beauty and explore long history making Cambodia become a truly exciting attraction. Rising from the darkness of war and revolution, Cambodia becomes the "Pearl of Asia" with alluring cafe rituals, bustling cities, and superb gastronomy. Now, come and travel with us!
---
Top 10 The Most Specular Beaches in Cambodia
Mention to Cambodia, the travelers know Cambodia as the home of the biggest Angkor complex, but no many people know that Cambodia is also own many beautiful and poetic beaches. Located in Southeast Asia and along the Gulf of Thailand, Cambodia beaches which is recommended you should visit once when taking a
tour in Cambodia
. If you are planning a
Cambodia Beach Holiday
, we list to Top 10 the most gorgeous beaches in Cambodia, which will make you entranced by the beautiful sights only Cambodia has.
Otres Beach
If you want to escape the hustle and bustle of Serendipity and Ochheuteal in Sihanoukville, Otres Beach is a great alternative. It is just south of the more popular coastal spots in Sihanoukville, but it is less crowded, a little quieter and a lot more relaxed. Before reaching the shoreline, enjoy a cocktail on the bars, feel with the music, which makes you relax all day. Besides, Otres Beach is great for soaking up the outdoors, and activities include kayaking and windsurfing. On Saturday nights, Otres Market is the place to be. The market is home to the food stall and live music that carries on until the early hours of Sunday morning.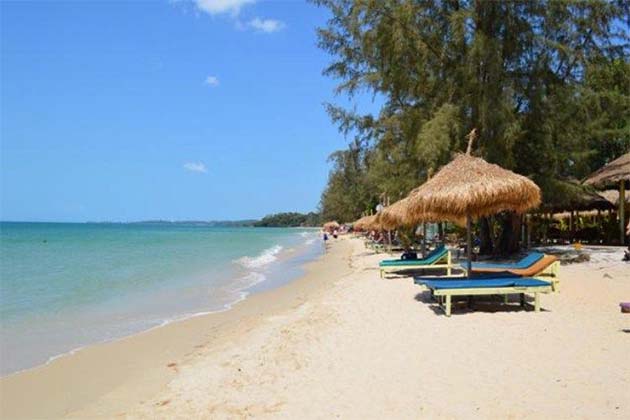 Serendipity Beach
In Sihanoukville, there are two neighboring beaches called Serendipity Beach and Ochheuteal Beach. Technically, Serendipity Beach is the rocky outcropping steps from the sand, but both beaches are often called Serendipity. There are nearly two miles of golden sand and a bustling ferry pier at one end. Not only dip into the water, but you also join in other activities in the bars or golfs. This is a spot that is very popular with backpacking tourists, but there are also a number of mid-range and luxury hotels to choose from.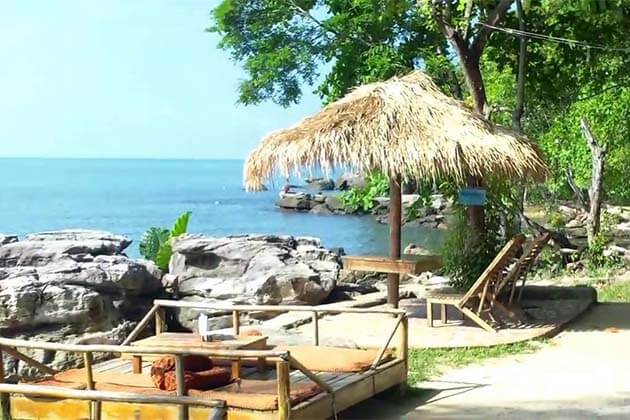 Lazy Beach
Another of the islands just off the coast of Sihanoukville is Koh Rong Samloem. Take a short boat ride to the island, which is known as the home to Lazy Beach. Just a short walk away, from the bungalows on the beach overlooking the clear blue water and white sand beaches will lead you to the lush green forests nearby. Scuba diving is a popular pastime, but relaxing in a hammock and enjoying the sea breeze is what visitors experience on this beautiful beach. You will not have to spend much time looking for good restaurants as well as entertainment areas. This beach also offers a full range of entertainment services for you, from luxury restaurants or bustling bars, the paradise on the Lazy Beach.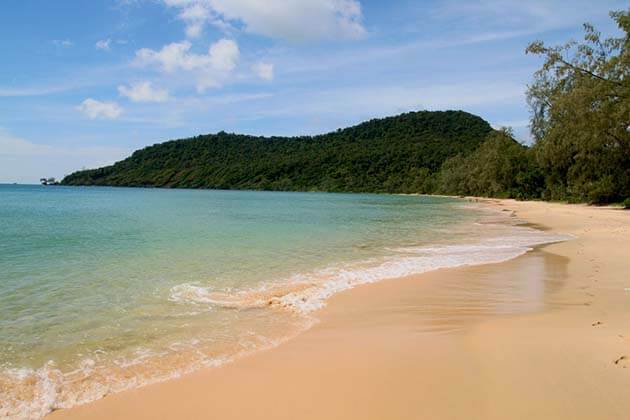 Sok San Beach
Koh Rong is an island off Sihanoukville, which is famous for pristine beaches. Sok San Beach is known as one of the most popular beaches on the island. Also known as Long Beach and 7km Beach, thanks to the size, Sok San Beach is accessible by foot or by boat. The television show Survivor was recently filmed on Sok San, which has increased tourism significantly. Nonetheless, it is a beautiful and uncrowded place to enjoy the water or go snorkeling. At night, there is a special point to make Sok San difference with others, the phosphorescent water actually sparkles, which is a spectacular reason you should visit after sunset.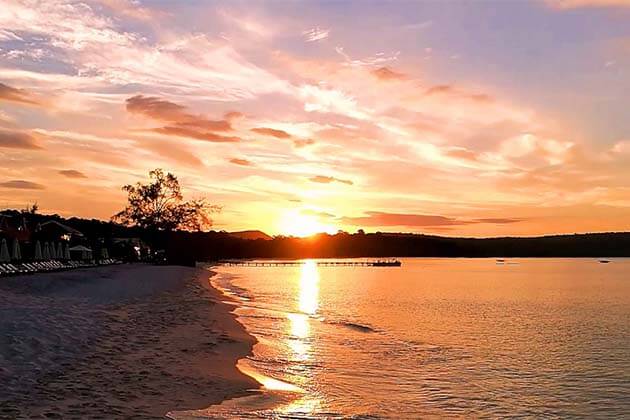 KEP Beach
Kep is a large beach town on the southern part of the Cambodian coast, close to Vietnam. The town, also known as Krong Kaeb, has a fun beach area that offers just the right amount of development. It's a raw, remote beach, but the beachfront promenade also has little cafés and some market sections where you can pick out your own fresh seafood and fruit. Kep Beach is known for its amazing, fresh-caught seafood. The area is especially interesting, as Kep was a former French beach resort popular during the period of French Colonialism (around 1867 through 1946). Some of the architecture and wide streets recall the days of French rule. The beach has vendors renting rafts, boogie boards, umbrellas, and beach chairs. The beach itself was overhauled by the government a few years ago, and massive amounts of sand were brought in from other areas to create a large, recreational beach.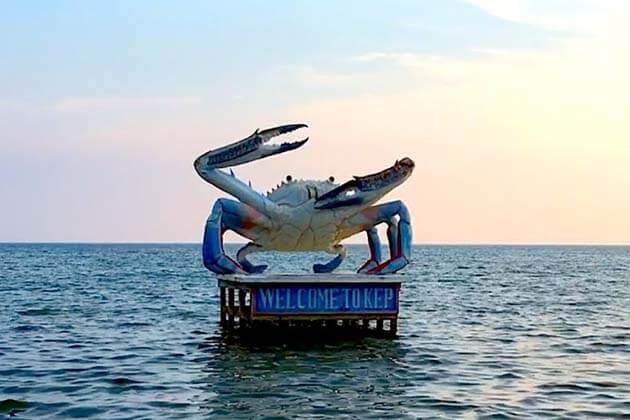 Sokha Beach
Sokha Beach in Sihanoukville is privately owned, making it one of the less crowded beaches on the mainland. It is also one of the cleaner, safer spots to relax and soak up the sun. You will have to pay an entrance fee to spend the day on the beach, or you can stay at the resort located right on the beach itself. If the snorkeling, suntanning and local restaurants aren't enough, there is a great hike that takes you between Serendipity Beach and Sokha Beach, and it goes right along the coast to offer remarkable views.
Koh Thmei
Just off the Sihanoukville headland is the island of Koh Thmei, which is part of the Ream National Park. While there isn't much in the way of infrastructure or attractions, Koh Thmei is a beautiful destination with amazing beaches. You can try bird watching or spot dolphins out in the Gulf, or you can explore the reef right off the island with the help of a mask and snorkel
Ream Beach
Ream Beach is a part of Ream National Park, located about 30 minutes from Sihanoukville City. This large nature preserve includes a long stretch of raw beach. There are some fishermen's shacks and a few tiny, family-run beach cafés. There are also covered seating areas with rows of hammocks. Nearby is a mangrove wetlands area. It's a good place to visit to escape the crowds of some of Sihanoukville's busier beaches, especially on weekends or holidays. Although it's a national park, the area is home to a local community of around 5,000 families who work farms or fish (or operate tourism businesses). This beach is close to Sihanoukville Airport for those flying in or out.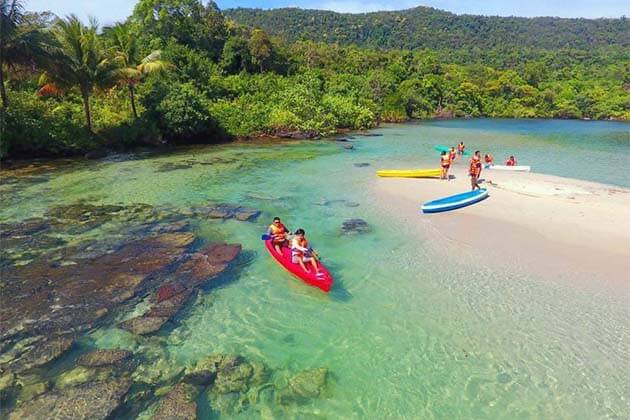 Victory Beach
The tip of the peninsula pointing to the Gulf of Thailand is home to Sihanoukville, the most popular beach destination in the country. While Sihanoukville is home to several beaches, one of the most conveniently located is Victory Beach. In the background, you'll see the Sihanoukville Port, where boats come and go regularly. The beach itself is lined with fine white sand and an abundance of palm trees for shade. Dine right on the beach with the seafood eateries, this will be a wonderful idea for the beautiful night. Victory Beach is fantastic if you want a quick and easy spot that is safe and welcoming for families.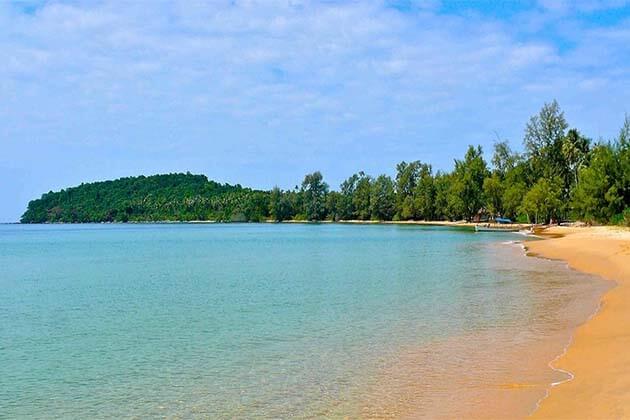 Coral Beach
Just off the coast of Southwest Cambodia, near the Ream National Park, is the island of Koh Ta Kiev. By owning the pristine landscapes, that why the island always attracts many tourists, but it still keeps the natural beauty. This makes it the ideal place to relax and unwind when you want to get away from it all but still remain comfortable. You'll arrive by boat, and you can choose to rent a hammock for the day. If you visit, you can try out snorkeling, cliff diving or even spearfishing.