General Information
Tour Route: Siem Reap – Sambor Prei Kuk – Phnom Penh – Vientiane – Vang Vieng – Luang Prabang
Duration: 12 days / 11 nights
Date: No fixed dates
Start/ End: Siem Reap / Luang Prabang
Tour Type: History, Landscape, and Experience
Tour Customizable: Available
Tour Guide: Local English speaking guide (others upon your request)
Tour Category: Cambodia & Thailand Tours
Transportation: Public bus, Plane, tuk-tuk, Private vehicle
Brief Itinerary
Cambodia Tour in 5 days
Day 1: Siem Reap
Day 2: Siem Reap – Angkor Wat
Day 3: Siem Reap
Day 4: Sambor Prei Kuk
Day 5: Phnom Penh
Laos Tour in 7 days
Day 6: Vientiane
Day 7: Vientiane
Day 8: Vang Vieng
Day 9: Vang Vieng
Day 10: Luang Prabang
Day 11: Luang Prabang
Day 12: Luang Prabang Departure
Day 1: Siem Reap Arrival (D)
Welcome to Cambodia! As soon as you set your foot in Siem Reap International Airport, our tour guide and driver will be waiting for you with your name tag. Transfer to your hotel in the late afternoon for check-in. Siem Reap will welcome you by a great dinner at the local restaurant.
Overnight in Siem Reap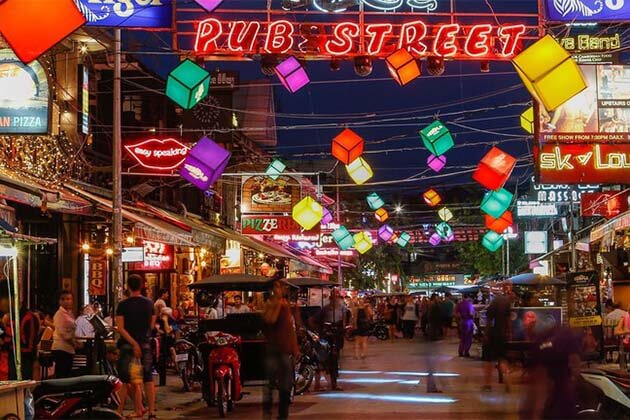 Day 2: Siem Reap – Angkor Wat (B)
Start today by visiting the world-famous Angkor Complex with your professional tour guide. With over 160 square kilometers, this is the biggest religious monument in the world. However, Siem Reap is home to many temples, the Heritage Sites such as Angkor Wat, the Bayon, and Ta Prohm.
Angkor Wat id suggested the best place to see the sunrise, if you want to catch this scenery, please tell your tour guide.
Overnight in Siem Reap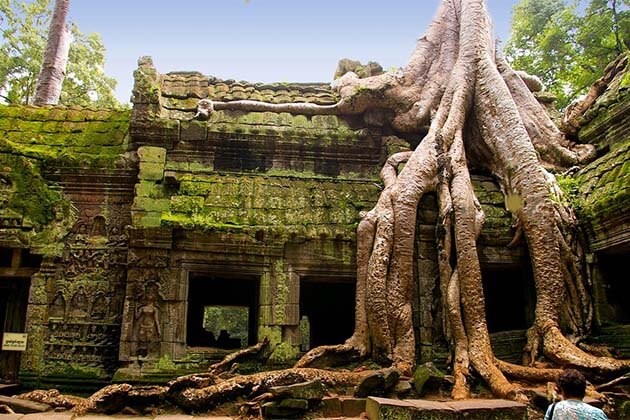 Day 3: Siem Reap Tour (B)
Today is your free day in Siem Reap. Explore Siem Reap in your own way.
For those who love some adventure tour, you can take the optional Angkor zip-line course, which gives you a bird's eye view of the rainforest, plus an adrenaline rush. The sobering Landmine Museum is special for you to visit. Located at a little further afield but is well worth the journey.
In the evening, let's enjoy the special show Phare the Cambodian circus, which performed by the artists combined with traditional music, dance, acrobatics, juggling, aerial acts, and contortion.
Overnight in Siem Reap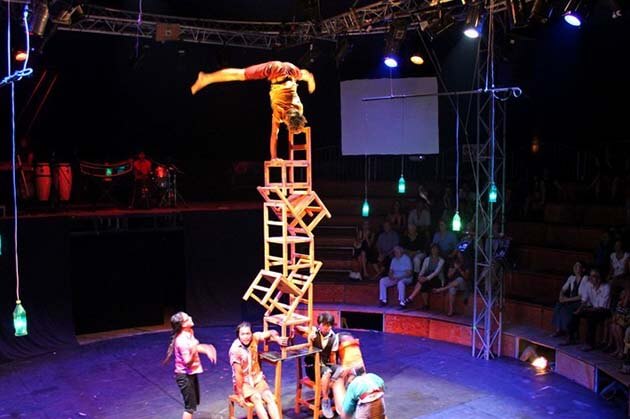 Day 4: Sambor Prei Kuk (B, L)
From Siem Reap, we transfer to Sambor Prei Kuk (about 3.5 hours). Embark on a tour of the village with your local guide, and he will introduce the local life. Continue to the trip, visit the temple ruins at Sambor Prei Kuk just nearby are some of the oldest in the country (dating back to the 6th century)
Have dinner with local people with many traditional foods and overnight at homestay.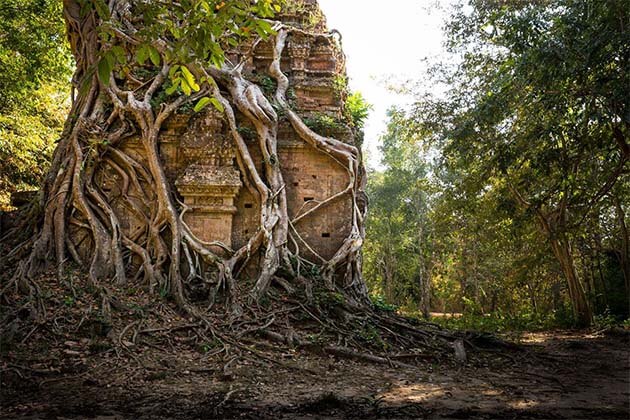 Day 5: Sambor Prei Kuk – Phnom Penh (B)
After breakfast, it's time to say goodbye with the host to travel to Phnom Penh in a private minibus. Stop at Wat Phnom, a peaceful temple situated on a local hill will be an interesting visit. Leaving the temple, a great way to see the capital of Cambodia is a cyclo tour. With a slow rotation, we will visit the main sites such as the central market, Wat Phnom, Mekong river front, Independence Monument and Royal Palace. Come to the National Museum, which is a great place to see the Khmer craftsmanship, housed in a beautiful traditional building. At the last destination is Central Market the art-deco Psar Thmei or Psar Tuol Tom Pong (Russian Market), which is the ideal place for you to shopping or buy some the souvenirs.
Overnight in Phnom Penh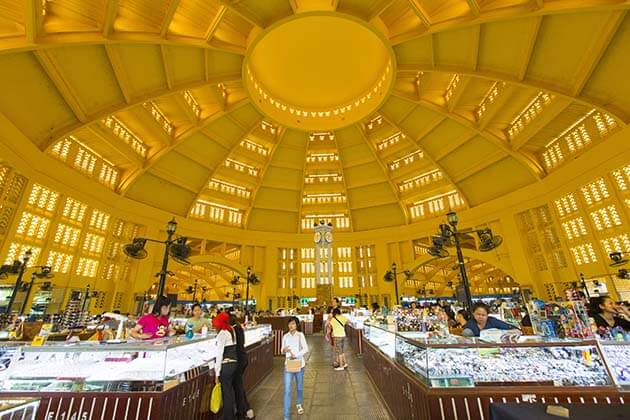 Day 6: Phnom Penh – Fly to Vientiane (B, D)
In this morning, we review about Cambodia's tragic. A tour guide will head you to the Tuol Sleng Genocide Museum, which is known a former school served as a Khmer Rouge torture center. After that, come to the Cheung Ek Memorial, where a stupa made up of some 8,000human skulls marks the sites of the infamous Killing Fields. This was the execution ground for the torture victims of Toul Sleng.
In the afternoon, stroll along the famous Sisowath Quay and taste a cup of coffee or cocktail. Back to your hotel and prepare your luggage to transfer to the airport to fly to Vientiane.
Arrive in Vientiane in the late afternoon. Our driver and tour guide will pick you up and transfer to your hotel in Vientiane.
Overnight in Vientiane.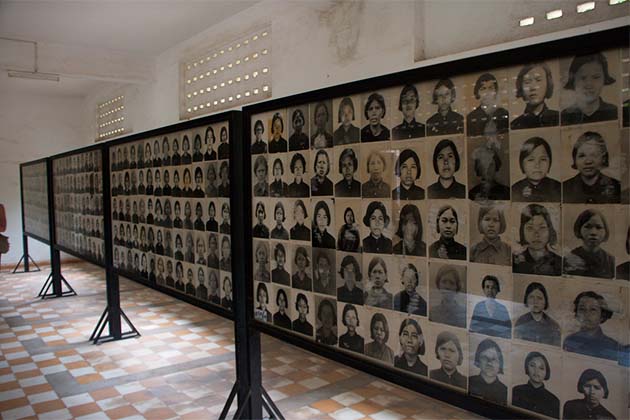 Day 7: Vientiane City Tour (B)
Good morning Vientiane, wake up early to join in the Almsgiving, the traditional ceremony in Laos. Our tour guide will prepare food for you to give the monks. After the ceremony, back to your hotel for breakfast. Gather at the location point, at the first site, we visit Wat Si Saket, a Buddhist temple is known as the oldest in Vientiane. Then, move to the Victory Gate (Patuxai) as the US funds that were used to construct it was meant for airport upgrades. Nearby, visit the symbol of Vientiane as well as of Laos, Pha That Luang, which is believed to build in the 3rd century. Next, stop at the COPE, an organization that rehabilitates children who have been injured by unexploded ordnance.
Note: Please, wear suitable clothes, don't show your chest, your shoulders and cover your legs.
Overnight at Vientiane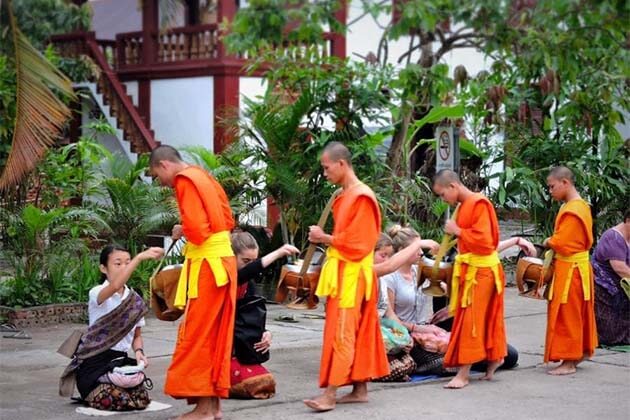 Day 8: Vientiane – Vang Vieng (B, D)
Leave the capital to go Vang Vieng, about 3.5 hours. On the way, take in scenes of small village life at various point along the hilly highway. Arrive in Vang Vieng, you will be greeted by stunning limestone karst scenery. These surrounding landscapes are the reason this town become the best outdoor activities in Laos and is chosen by tourists. There are many fascinating caves to explore, swimming, kayaking, air balloon are suggested for you.
At night, we will have a small party.
Overnight at Vang Vieng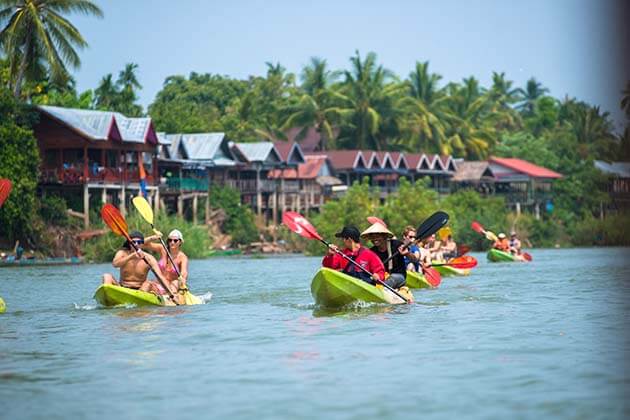 Day 9: Vang Vieng Adventure Tour (B)
On the second day in Vang Vieng, a bicycle tour to explore the village around. Along the way, stop at Khmu or Hmong village, which is some of the most populous ethnic peoples in Laos. Take a short trek to visit the breathtaking Keng Yui waterfall. This is a wonderful opportunity to relax and cool off with a refreshing swim. Then, move to visit Tham Chang Cave, which is the most famous cave in Vang Vieng.
Overnight in Vang Vieng.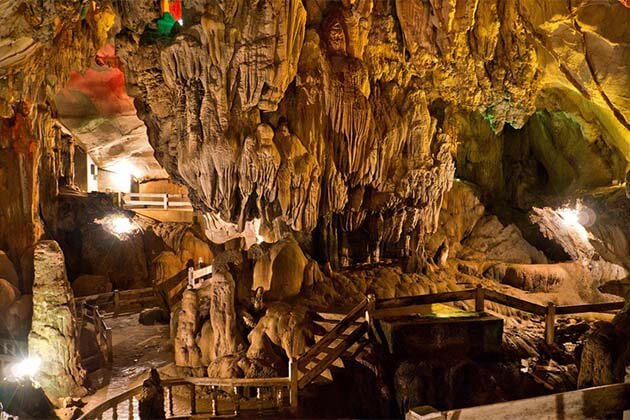 Day 10: Vang Vieng – Luang Prabang (B,L)
Wake up early to visit the ancient town, Luang Prabang. Located at the confluence of the Mekong and Khan rivers, Luang Prabang's French colonial architecture, ornate Buddhist temples, unique markets, and riverside ambiance make for quite a combination. It's easy to get around on foot or by bicycle to explore the ancient town.
Overnight at Luang Prabang
Day 11: Luang Prabang City Tour (B)
Start today to explore the ancient town. First, visit the Traditional Art & Ethnology Centre, a local non – profit museum dedicated to preserving Laos' many ethnic tribal cultures. Head out of the town to the beautiful Kuang Si Waterfall, where pale turquoise waters cascade over limestone formations. Then, move to the Tak Kuang Si Bear Rescue Centre which has been set up to protect, preserve and enrich the lives of Asiatic bears who have been rescued from trafficking.
At night, strolling along the Luang Prabang
Overnight at Luang Prabang.
Day 12: Luang Prabang Departure (B)
End of 12 days Cambodia and Laos Tour. Our driver will head you to the airport for the next trip. With 12 days tour, we hope that you have an interesting journey in two beautiful countries. Thank you for using our service, and wish you will have a safe flight. Don't forget to tell us about the story during 12 days tour.
End of our service!